Purdue University's College of Agriculture Fall Career Fair provides students and employers a one-of-a-kind opportunity.
"We've been told by recruiters across the nation that we may not be the largest fair, but we are the best as far as students being prepared," said Sherrelyn Meyer, Purdue's assistant director of Career Services. The title of best and largest is not out of reach. Purdue's fair is the second largest agricultural career fair in the United States. Economics have steadily forced employers to attend fewer fairs, yet Purdue Agriculture's fall career fair continues to grow. This year, the fair hosted 155 companies - maximum occupancy.
The fair has outgrown its home in the Purdue Memorial Union and now fills seven basketball courts in the Córdova Recreational Sports Center. Discussions are already underway for next year on how to accommodate the employers who were turned away as well as those who requested additional space to bring more recruiters and larger booths.
Meyer says phone calls from employers are not the only inquiries she receives. Nationwide, career fairs wait for Purdue to set its dates before scheduling their own, knowing they would not draw the same response from businesses were they to conflict. Additionally, other universities students have called Meyer to request admittance to the fair.
Attendance for the fall fair exceeds that of fairs held later in the year because companies know many of the top candidates will be hired early. "If they don't get them now, they're not going to get them," says Meyer. "They're just in that high of demand." Some companies have even tried to get a jump on the competition by hiring agriculture and biological engineering students through Purdue's Industrial Roundtable, an engineering career fair held a month earlier.
Scott Jamieson received a bachelor's degree in Urban Forestry from Purdue in 1984. Now returning as an employer, Jamieson continuously nurtures his Purdue relationships to draw students to Bartlett Tree Experts, the largest residential/commercial tree care firm in the world. He has served on the Dean's Advisory Board, Forestry Advisory Board, and visits campus to speak to classes.  These connections acquaint him with professors and students, so when they see him at the career fairs, the reputations of Bartlett and Jamieson precede them.
Few people know more about what it means to be a Boilermaker than Jamieson. His wife and son also graduated from Purdue, and his daughter is currently attending classes. He knows Purdue graduates are the type of people he wants to work alongside. "In our experience, they've been well-educated. They're well-versed in their field. I'm sure every employer will tell you that it gives you the basis to train them specifically for whatever they're going to do within your company," said Jamieson.
Laura Donaldson represented John Deere at this fall's fair. At the 2010 fair, Donaldson, established the connections that led to her current career. She interned for John Deere the summers following her sophomore and junior years. After graduation, she began her full-time position. Donaldson shared, "I truly believe students that come from Purdue have a sense of integrity about them. That's why we like to come back. They've got integrity, a good work ethic, they're educated and well-rounded. They're not just folks who go to class and go home and study. They really have it all together. They study abroad or have different club backgrounds with leadership. That's really pushed and promoted within Purdue."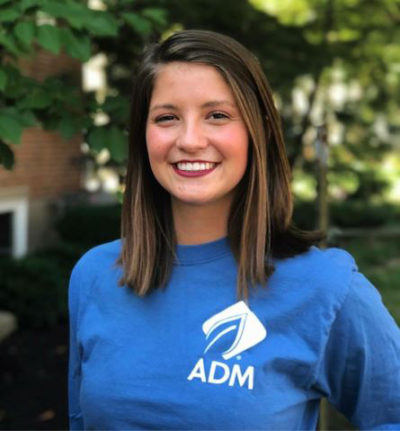 "Through the Purdue Ag Career fair I was able to meet representatives from various companies in the industry, interview and travel with multiple companies, receive the two internships I did in college, a part-time job my senior year, and my full-time position after college.
From my experience, companies are already eager to get the chance to talk with Purdue students so you're already ahead of the game!"
Events that prepare students to seize the opportunity surrounding the fair. Students are able to have their resumes critiqued by corporate recruiters. An employer panel and networking session allow students to ask questions, learn about the fair's companies, and make connections. Free professional photography was available at the career fair for students to have their all-important headshots taken for their LinkedIn profiles. Afterward, groups such as the Agribusiness Club and the Department of Animal Sciences host several industry networking events.
A separate resource available to students is Purdue's Center for Career Opportunities (CCO). The CCO provides year-round support and opportunities for job-seekers. Help with resumes, job searching, planning, and mock interviews are available. Additionally, the CCO Career Closet lets students select a free professional outfit to keep each academic year. A comprehensive listing of the CCO's offerings is available.
 With the wealth of support, demand, and opportunity surrounding students, it is not surprising to learn that the College of Agriculture has a 97% placement rate.