On September 29, 2023, Dr. Hongmei Li-Byarlay received the John V. Osmun Alumni Professional Achievement Award in Entomology! John V. Osmun was Head of the Department of Entomology from 1956 - 1972. Upon retirement from the Purdue Entomology faculty in 1987, an award fund, The John V. Osmun Alumni Professional Achievement Award in Entomology, was established in his honor. The award is in recognition of John Osmun's long career, professionalism, and great respect for Entomology alumni.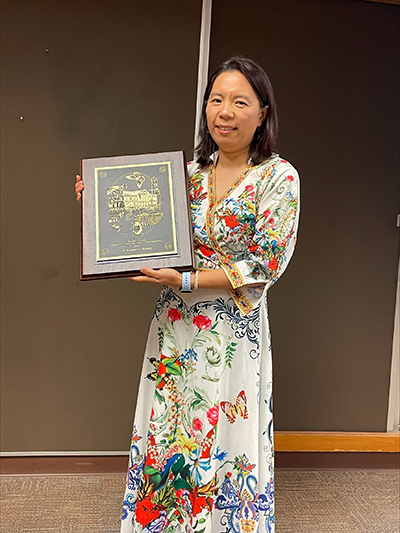 Dr. Hongmei Li-Byarlay obtained her BSc from Tianjin Normal University (China) in 1999, her MS from Nan Kai University (China) in 2002 and her PhD from Purdue Entomology in 2007. She subsequently completed postdoctoral fellowships at the University of Illinois (2008-2013) and the University of North Carolina (2014-2017). Since 2017 she has been a professor at Central State University, a historically black college and university and a new 1890 land grant institution in Wilberforce, Ohio, achieving tenure and promotion to Associate Professor in 2022.
Dr. Li-Byarlay's research focuses on honey bee genetics and genomics, balancing both fundamental research into bee genetic processes and applied research supporting bee health. Her recent work has been strongly supported by NSF and USDA grants across a range of programs, many of which develop under-represented undergraduate student scholars while addressing industry and public needs for pollinator protection. She is a prodigious mentor with over 40 student mentees across her time at Central State.
Congratulations Dr. Li-Byarlay!