Chance Clark
Chance Clark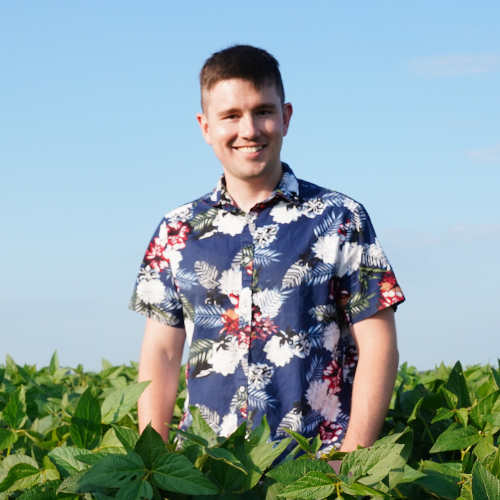 Q & A with Chance
Please tell us about yourself
I am a Ph.D. student in Dr. Jianxin Ma's lab. I also completed my undergraduate study in the agronomy department at Purdue University. I am from Hendricks County, Indiana and have been married for two years.

Why did you choose Agronomy's Graduate Program at Purdue?
I had wanted to go to Purdue since I was involved with 4-H and FFA as a kid. In high school I participated in soils judging through FFA and also really enjoyed biology, so plant breeding and genetics through the agronomy department was a natural fit. While I was an undergraduate I worked as a lab technician for Dr. Jianxin Ma and he later invited me to stay in his lab as a graduate student.

Briefly describe your experience as a graduate research assistant.
I have taken on several research projects. My thesis projects focus on understanding the genetic control of soybean architectural traits including main stem termination/floral transition and branch angle. I also have other projects focusing on drought stress improvement and have worked with other members of my lab to contribute to their projects through lab, field, or data analysis work. Our lab members have a wide range of skillsets, allowing me to be involved in diverse projects and gain a wide range of experiences.

What excites you about being at Purdue?
The faculty here are incredibly supportive and are leaders in their respective fields. If you want to succeed in a career, it helps to learn from the best. I have always felt welcomed by Purdue Agronomy Faculty, Staff, and my fellow students. Purdue also has cutting edge facilities that set it apart from some other universities.

What are your career goals?
I want to be a plant breeder or geneticist. Previously I was determined to pursue a career in private industry but recently have been exploring academic career options as well.

How have your interactions been with faculty and staff?
Very positive. Faculty and staff here have always been willing to help when the need arises and are willing to share their knowledge.

What are the strengths of the Graduate Program in Agronomy?
The faculty and staff, and their diverse areas of study. Although I am a geneticist I have been able to learn about cropping systems, soils, physiology, and other subjects that may not directly be involved in my own research but will make me a more well-rounded and holistic thinker for my future career.

What has been your greatest accomplishment while at Purdue?
I have been a co-author on four published papers and have submitted my first manuscript as a lead author.

What advice would you give an incoming grad student?
Communication and organization are key. More broadly, being a graduate student in the Purdue Agronomy Department is an incredible opportunity that. Take advantage of everything the university and the department have to make the most of your time here.