Meet Our FNR Ambassadors
FNR Ambassadors are student volunteers who share their passion for the department and Purdue with visitors to campus. Whether the visit is from a prospective student, alumnus, tour group, or one of the department's many stakeholders, ambassadors assist in providing visitors with useful information, answering questions about the department's programs, and showcasing the caring and inclusive atmosphere that is a hallmark of FNR.​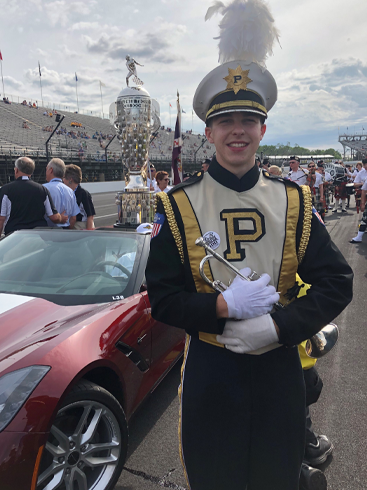 Name: Russell Duke
Majors: Forestry and Wildlife
Hometown: Evansville, Indiana
Email: duke4@purdue.edu
Ask Me About: Purdue All-American Marching Band, The Wildlife Society (TWS) club, undergrad research, changing majors, double majoring

I am a senior. I play the trumpet in the Purdue All-American Marching Band and serve as the reptiles and amphibians working group leader in The Wildlife Society. I currently work in a lab that researches the effects of manmade chemicals on aquatic food chains, in particular aquatic invertebrates and amphibians. A past research experience focused on the role of fire in oak regeneration and the effects of fire on amphibian populations. I hope to go to graduate school and conduct my own research in the future.
Name: Amanda Heltzel
Majors: Wildlife
Hometown: Akron, Indiana
Email: aheltze@purdue.edu
Ask Me About: The Wildlife Society (TWS) club, study abroad, cooperative housing, undergrad research, pursuing a minor, career experience with federal agencies

I am a senior and currently serve as the president of the Purdue Student Chapter of The Wildlife Society. While at Purdue, I have been involved in cooperative life, Purdue concert bands, and undergraduate research. After my sophomore year, I studied abroad in Sweden for a month as a part of the Purdue FNR International Natural Resources program with the Swedish University of Agricultural Sciences and North Carolina State University. In addition, I have spent 2 summers working in the Hoosier National Forest (Bloomington, IN) and the Mark Twain National Forest (Van Buren, MO) as an avian field technician collecting data for various research projects and to inform reintroduction efforts for brown-headed nuthatches in Missouri.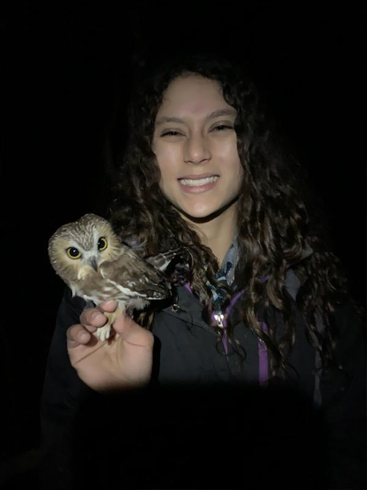 Name: Tabitha W. Olsen
Majors: Forestry and Wildlife
Hometown: Baltimore, Maryland
Email: olsen30@purdue.edu
Ask Me About: undergrad research, double major, out-of-state student, avian ecology, "The Nature of Wild Things" learning community, career experience in consulting forestry

While I am from out of state, the tight-knit Forestry and Natural Resources Department always makes me feel at home. I've always been an avid bird watcher, so when I got the chance to co-lead our campus' Northern Saw-whet Owl Banding Station I took advantage of this. Now, undergraduate research remains a big part of my Purdue experience and I even intend to pursue graduate school after I graduate in May. A word of advice: If you want something, do NOT be afraid to ask. Reach out to other students, staff, and faculty see what opportunities they have available. Get comfortable with putting yourself out there and taking advantage of every opportunity that comes your way!
Name: Phoebe J. Soldi
Majors: Aquatic Sciences and Wildlife
Hometown: Peru, Indiana
Email: psoldi@purdue.edu
Ask Me About: double majoring, Purdue All-American Marching Band, Greek life, changing majors

Upon getting to Purdue University, I was still unsure of what I wanted to do and decided to major in Ecology, Evolution and Environmental Biology in the College of Science. When I took a class titled Wildlife in America, I knew that my future was in the FNR department in the College of Agriculture. I am now a sophomore and have never reconsidered my decision of switching majors (except to add another one, of course!). Outside of the department, I play the tuba in the Purdue All-American Marching Band and am acting as a current sister of Tau Beta Sigma, the band service sorority. Within FNR and the tuba section, I was able to find like-minded people with similar interests to mine, and they are some of the closest friends I have made since arriving to campus! The most important advice that I think someone should know before coming to college is this: any experience is good experience. If you are offered the chance to try something unfamiliar to you, always say "Yes." In my experience, the most rewarding opportunities are the ones I never saw coming.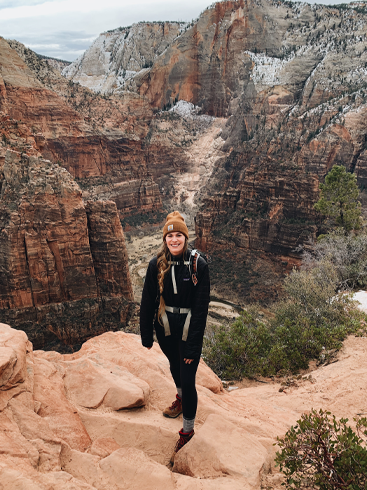 Name: Alexis Trumbower
Majors: Wildlife and Animal Sciences: Pre-Veterinary Medicine
Hometown: Fort Wayne, Indiana
Email: atrumbow@purdue.edu
Ask Me About: Greek life, pre-veterinary medicine, undergrad research, career change, Purdue Christian Campus House

I am a 5th year student who discovered Forestry and Natural Resources (FNR) late in my college career. I added a second major in Wildlife at the start of my senior year and I was so grateful to discover a career path that I was so passionate about. During my years at Purdue, I have been a part of Greek life, as a member of Alpha Omicron Pi, and attended Purdue Christian Campus House. I am involved in undergraduate research in FNR as a part of the Purdue Integrated Deer Management Project. My advice for students is to not be afraid of a career change later in college. It will be worth it because you may discover something new about yourself and find new opportunities in careers you didn't know existed.
Name: Jordan Wolfred
Majors: Aquatic Sciences-Marine & Freshwater Biology
Hometown: Noblesville, Indiana
Email: jwolfred@purdue.edu
Ask Me About: Marine Biology Practicum, undergrad research, Purdue University Dance Marathon, changing majors, Student Chapter of Environmental Education (SCEE) club

My goal is to work in marine science conservation and education after I graduate. I have participated in some student clubs, including the Student Chapter of Environmental Education, the Purdue Student Chapter of the American Fisheries Society, and Purdue University Dance Marathon, that have really helped make great and long-lasting connections with other students in and outside of my major. For the past three years I have been working in an aquatic ecology lab, identifying aquatic insects. Because of this experience, I have thought about helping with research projects wherever I go after graduation.