The Turf Science degree through the Horticulture and Landscape Architecture (HLA) Department in Purdue's College of Agriculture has a long history. For over half a century, students have enrolled as undergraduates to pursue a Bachelor of Science degree that prepares them for careers in the "green industry". This includes golf course management, athletic field maintenance, and lawn and landscape management, as well as the entire supply chain (equipment, fertilizers, plant protectants, and more) that supports the industry. According to Professor Cale Bigelow, career opportunities for students studying turf science are truly outstanding right now. "The Industry has tremendous needs for qualified talent. If you don't want a cubicle-oriented job, this is the career for you!"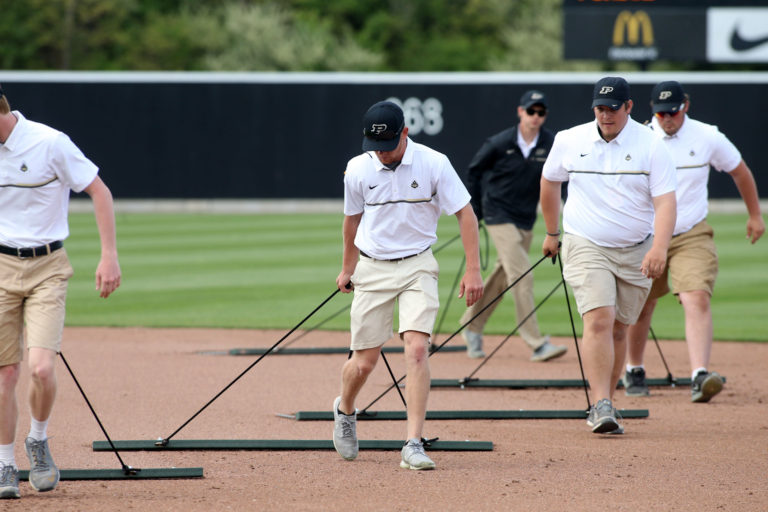 "Turf Science is one of the broadest degrees at the university," he said. "One of the strengths of receiving a Bachelor's of Science in this major is the curriculum covers the basic sciences like biology/chemistry and some of the technical aspects associated with the green industry but also emphasizes a strong business management component. All of the coursework is essential as management positions at large stadiums or high-level golf facilities, for example, include not just caring for the turf but managing large budgets, which may exceed $1,000,000."
As an agricultural commodity "turf" is often overlooked, yet most citizens can connect with its importance. Anyone with a lawn at their home realizes the importance of maintaining a healthy turf for aesthetic beauty, but also there is an urban sustainability component. A dense, healthy lawn helps filter excess rainwater reduces urban flooding, and keeps cities cooler during hot summers.  The Turf Science Program is researching various aspects of turf management systems. These include finding grasses or grass systems that use less fertilizer, methods to reduce mowing, strategies to maximize water use efficiency, and ways to minimize the need for pesticides.
The Turf Science program is overseen by five faculty members, including two in HLA.  The industry connections the staff have made, and the strong network of alumni throughout the nation, are especially valuable for students as they establish their careers. Bigelow said between five and 10 percent of undergraduate students enroll in graduate school, but most go directly to filling management positions for the golf and sports turf segments of the industry.
"You can pick almost any spot in the world, and Purdue likely has a turf science connection," said Bigelow. "One recent graduate is currently part of the management team at Augusta National where the Masters Tournament is played annually. We have several graduates in Major League Baseball and soccer."
Bigelow's research focus areas going forward are on ways to make water use in urban landscapes most efficient and maximizing nutritional inputs for turf areas using more natural/biological products.