As Shannon Newerth reached the top of an Australian mountain, the first rays of sunlight hit the mainland, and an email from Roadtrip Nation hit her inbox. The dense clouds began to break as she discovered that she was selected for a two-week road trip across the state of Indiana as part of a public TV documentary.
While making the descending hike, Newerth was in awe of the rainforest that she could not initially see on her 2:30 a.m. trek up the mountain. The Purdue University plant science student soaked up the lush plant diversity while FaceTiming her parents to tell them the news.
Her parents said they were proud of their daughter, who received her first lab coat in fifth grade. Now Newerth, along with two other college students, was preparing to spend 14 days connecting with leaders of Indiana's industries after a semester abroad.
Newerth's relationship with Purdue started before her sophomore year in high school. She attended Purdue's Summer Biology Experience (SBE) with Clark Gedney, director of Bio Media Center for Instructional Computing, where she excelled in collegiate-level physiology, microbiology, and molecular and cell biology.
She returned a second year as a mentor and observed Gedney's lecture on how the world's population is growing exponentially while experiencing more disease, less land, and climate change. Newerth realized that her generation must overcome these challenges to feed the global population. She knew that she found her calling in life.
Before Newerth's senior year of high school, she worked on a botany and plant pathology research project with John Cavaletto, teaching laboratories coordinator, that led her to discover a new species of microorganism: Foliophilomyces newerthii. She has continued to focus on plant pathology as a Purdue undergraduate research assistant.
However, after spending two weeks on the road, Newerth says that Indiana Roadtrip has shattered her ideas on how to plan her life.
"Before we even got to headquarters for our Roadtrip training in California, I had this idea of what I was going to do and who I was going to be," Newerth said.
A simple conversation with a farmer about his crops ended up being a life-changing experience for Newerth. He explained his concern that the food he grew would never reach third-world countries. It was at this moment that Newerth realized the importance of government and policy-making.
"You can grow however much food you want to grow, but it doesn't mean that it's going to get where it needs to go," Newerth said. "That is something I have never considered in my life, and it is a terrifying thing!"
This was eye-opening for Newerth as she now realizes there are numerous avenues she can pursue. Perhaps she could make a bigger global impact in a field that she never considered.
"There have been moments in my young college career where I've felt a lot of pressure," Newerth said. "You want to do what the people that you love do, and you want to be like the people that you're surrounded by."
Prior to Indiana Roadtrip, Newerth never spoke with professionals outside of her scientific community. She described that she previously had a negative connotation associated with industry.
"Within the academic realm of things, there is an underlying perception that industry is not a good place to be in and that you should stay in academia because that is where real progress is made," Newerth said. "It's not profit-driven."
Then she had the opportunity to meet with the lead solutions developer with Salesforce who also founded a chapter of Girl Develop It, a nonprofit that teaches young women how to code. Shocked, Newerth called her father to describe the meeting.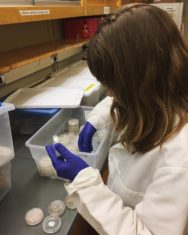 "I didn't even know that this was an option," Newerth said. "Then my dad said, 'Shannon, anyone can work for a nonprofit.'"
Newerth said she learned a lot about who she is as a person and as a scientist. She still remains humble after all of her experiences and is excited about making decisions for her own future.
While she did not list out her plans after graduation, Newerth explained that she does not want to put limitations on what she can accomplish.
"It can seem overwhelming when you have a lot of different people pulling you in different directions," Newerth said. "You have to listen to what you want to do."
Newerth's road trip is quite symbolic of her hike up the Australian mountain. Now that the clouds have parted and the sun is rising, she can see various paths that were not as visible before the Indiana Roadtrip.
The documentary will air in the fall of 2018.