Twelve undergraduates from the College of Agriculture recently attended the 2019 Borlaug Dialogue International Symposium in Des Moines, Iowa. Founded in 2001, the Borlaug Dialogue is named after Norman E. Borlaug, the founder of The World Food Prize, Nobel Prize Laureate and father of the "Green Revolution." This event honors his legacy by bringing 1,200 youths from 65 different countries together to discuss topics of food security, sustainable agriculture and nutrition. The theme of this year's dialogue was Pax Agricultura: Peace through Agriculture.
Rowan Wallar, a sophomore majoring in food science, was one of the attendees from Purdue. This was Wallar's second time at the conference. Her first involvement was as a senior in high school and she cites it as the event that cinched her decision to go to Purdue.
"Both of my parents went to and work at Purdue, so you could say I was born a Boilermaker," Wallar laughed. "What really decided it for me though was when I learned I wanted to study food science. I knew Purdue had one of the top programs. I came to this conclusion in high school, attending this conference. It's what prompted me to pursue a career where I can substantively contribute to ending world hunger. Returning to the conference this year just refueled my passion."
From attending the conference and listening to world leaders to her lab this semester with Haley Oliver, professor of food science and principal investigator of the newly funded Feed the Future Lab for Food Safety, Wallar said she already feels like she's received exposure to the most pressing issues in global food security.
Morgan Winder, a senior double majoring in Agricultural Sciences Education and Communication (ASEC) and Agricultural Economics, also attended the conference. Like Wallar, she is passionate about issues of food security and believes her degree will equip her to make strides against food and macro-nutritional insecurity.
The dialogue brought Winder in contact with leaders of countries currently struggling with issues of food security. Félix-Antoine Tshisekedi Tshilombo, president of the Democratic Republic of Congo, Akinwumi Adesina, president of the African Development Bank, Agnes Kalibata, president of Alliance for a Green Revolution in Africa and many other leaders from around the globe attended and spoke.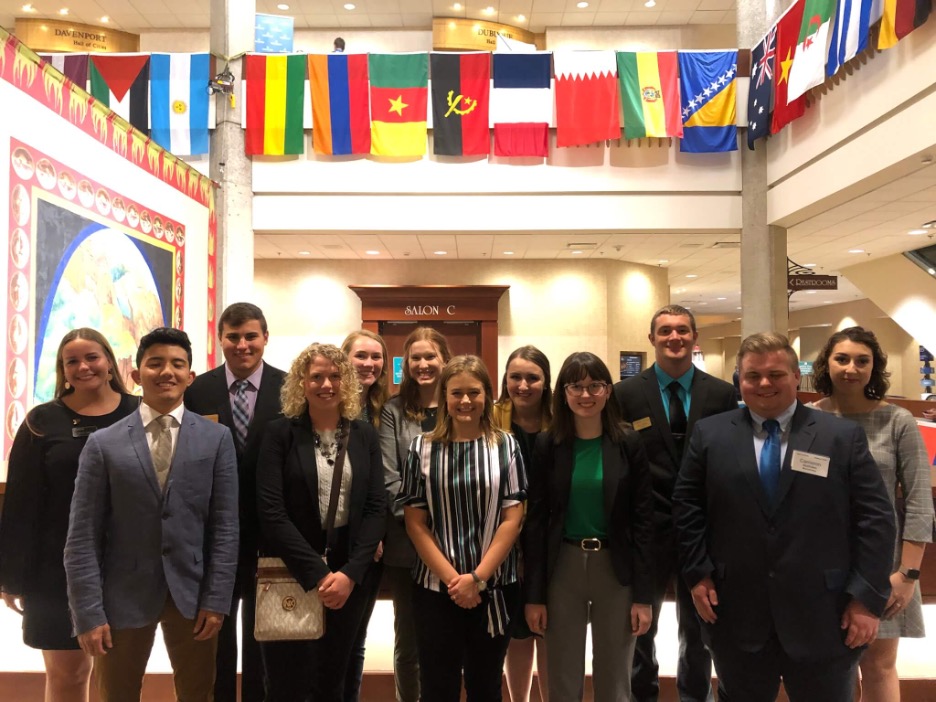 "They talked about so many different issues," Winder said. "But the main thread was how do we feed the world without starving the planet. It's really easy to feel overwhelmed by these issues and questions like that, especially as a student in agriculture, but being in that room with so many passionate people did give me hope."
Winder added that she returned from Iowa feeling energized and empowered and is currently looking for sustainable ways to address hunger insecurity in her community.
Cameron Matthews, a junior in biochemistry, felt the Borlaug Dialogue was an example of how the college provides opportunities for students outside the classroom.
"I believe it is as Shakuntala Devi once said, 'Education is not just about going to school and getting a degree. It's about widening your knowledge and absorbing the truth about life," Matthews reflected.
Amy Jones, assistant director for the Office of Academic Programs and co-coordinator for the Purdue Youth Institute explained that's exactly why the college strives to offer so many opportunities for students in and outside of the classroom.
"We are finding that both our current and prospective students are highly motivated to make a difference, and want to have a global impact," Jones said. "With three Boilermakers as World Food Prize Laureates, they have passionate examples to look up to. The Borlaug Dialogues are a great way to incorporate all three of those audiences, laureates, prospective students, and current students, into one space to talk about the issues facing the world in food insecurity, nutrition, and peace," Jones added.