Agriculture was supposed to be a quick detour for Tiffanna Ross. Just one semester while she waited for space to open in the University of Guyana's undergraduate biology program.
 "But I developed a liking for agriculture and it worked out for the best," said Ross, now a doctoral student in the Department of Botany and Plant Pathology at Purdue.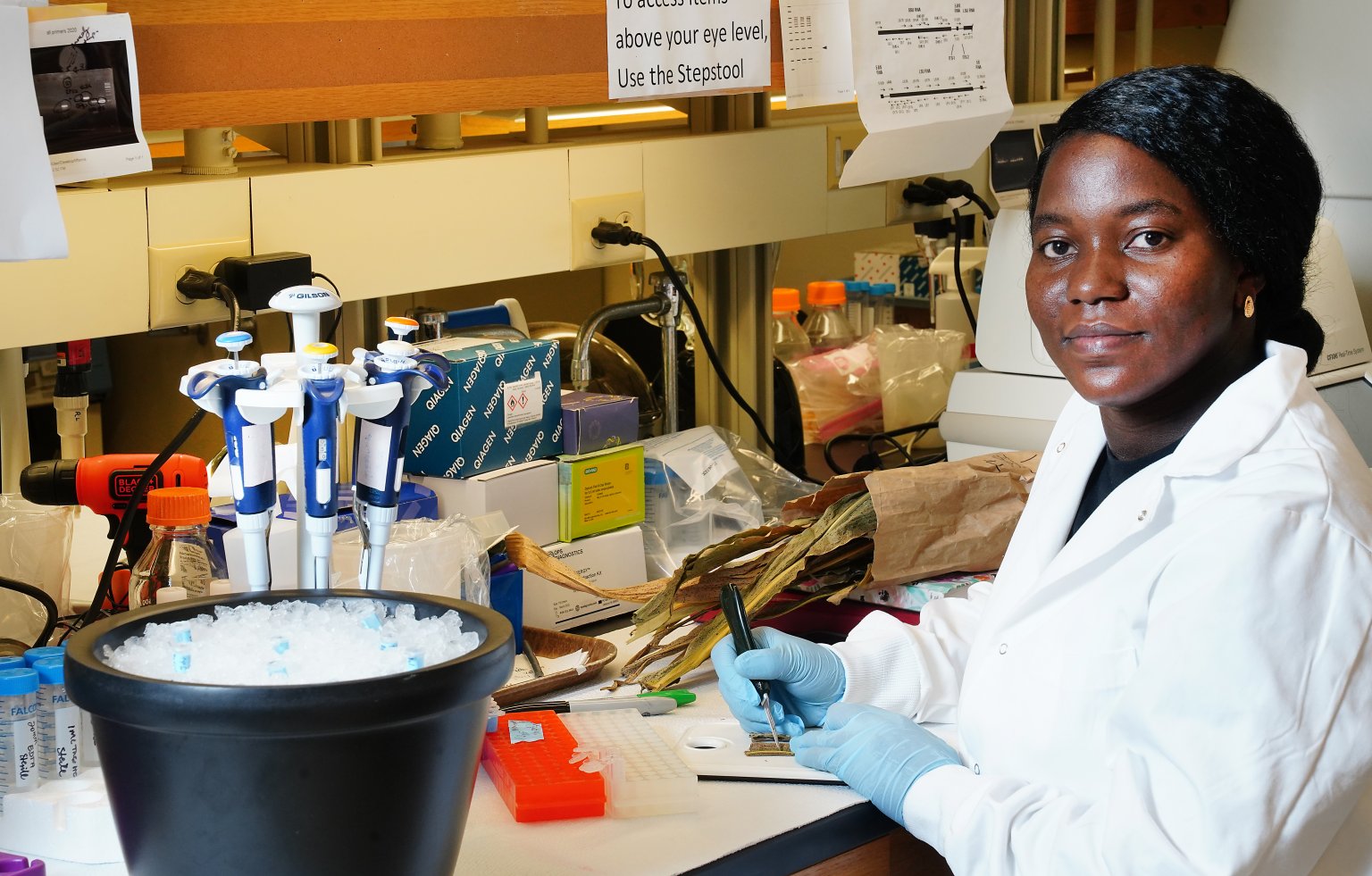 Ross earned her bachelor's degree and began work for the National Agricultural Research and Extension Institute (NAREI). As a top graduate in her class, Ross was selected for a master's-level research assistantship at the University of Arkansas Pine Bluff, a collaborator with the University of Guyana and NAREI.
While working toward a master's degree in agricultural regulations, Ross applied to American doctoral programs. "I wanted a place that saw plant sciences as being important," said Ross. Unsure of what research area she wanted to focus on, Ross joined the Purdue University Interdisciplinary Life Science (PULSe) program.
In 2019, her interest was sparked by an opening in the lab of Darcy Telenko, assistant professor of botany and plant pathology.
"I didn't have a strong background in plant pathology, but she took a chance on me," Ross recalled. "I think I found a well-suited lab and a great mentor."
Ross focused on tar spot, a disease in corn caused by an emerging fungal agent, Phyllachora maydis. Though common in Central America, South America and the Caribbean, tar spot was not documented in the United States until 2015, when the disease first arrived in Indiana and Illinois. Tar spot is now found in nine states and has raised concerns while damaging yields.
"All the states that are affected are trying to understand the biology and epidemiology of this fungus and how to combat it," said Ross. "It's spreading year by year and very rapidly. We want to know why."
Ross studies when Phyllachora maydis came to the United States and how it spread. She is also researching its population structure, economic impact and control in Indiana.
"Each day when I come to the lab, I try to do work that will move us forward in uncovering the unknowns," said Ross. "The more we know, the closer we are to dealing with this fungus."
"Since joining my program, Tiffanna has shown great scholastic excellence and initiative," said Telenko.
Ross said she has found opportunities in the United States that are unavailable at home. "I come from a country where resources for conducting research are limited, where you struggle a lot to accomplish your objectives. When you come to where it's abundant, you are motivated and you appreciate it. You develop the focus to accomplish the task ahead."
"Tiffanna embraced this opportunity and has already been a co-author on two publications, received a travel award, and made multiple presentations. As her mentor, it is a great pleasure to be part of her scientific journey," said Telenko.
Ross anticipates completing her Ph.D. by May 2023, after which she hopes to begin a career involving research, mentoring, and impact on corn development or pathology.
"There are no limits to what can be accomplished and discovered with available resources, the right mentorship, and a focused mindset," said Ross.