O
n April 22, the College of Agriculture honored some of the year's most outstanding students, faculty and staff during the annual Spring Awards Banquet. The virtual event was a collaborative effort between the Purdue Agricultural Council and the Office of Academic Programs. 
Karen Plaut, the Glenn W. Sample Dean of Agriculture, addressed the nominees during the broadcast. 
"Regardless of whether you win, your nomination puts you in rare air, in the company of the very best in our college," said Plaut. "I know that you have worked hard for this and hard for the things you believe in. Whether you are being recognized for academic excellence, leadership or mentoring, you have made a difference." 
The following students won the college's most prestigious student awards.
Outstanding Sophomore Award:
Halee Fisher is majoring in agricultural economics with a quantitative analysis concentration and political science, with minors in psychology and global food and agriculture systems. In addition to Fisher's involvement in the Agricultural and Applied Economics Association Quiz Bowl Team, Agricultural Economics Honors Program, Ag Ambassadors, Ag Council, Rising Professionals, Pi Beta Phi, and undergraduate research, she is a Climate Smart Agriculture Youth Network intern through the Center for Global Food Security.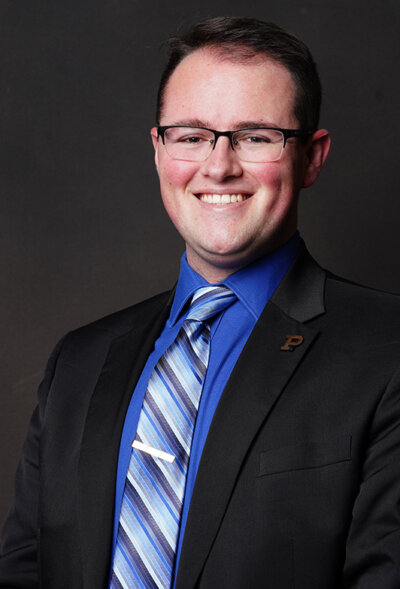 Outstanding Junior Award:
Clayton Hicks is seeking a dual degree in biochemistry and philosophy with a concentration in pre-medicine. He is a Dean's Scholar and is pursuing certificates in medical humanities and leadership development. Hicks recently worked as an undergraduate teaching assistant for BCHM 100 and is a member of the Biochemistry Club, Ag Council, Purdue Foundation Student Board, Boiler Gold Rush, Old Masters, Honors College, Global House, and College Mentors for Kids. He has earned numerous scholarships for research and academia and is a member of the American Medical Student Association and the American Society for Biochemistry and Molecular Biology.
Outstanding Senior Award:
Chaela Minor is double majoring in agricultural systems management and agribusiness management with a minor in organizational leadership and supervision. Minor recently served as director of recruitment for the Ag Week Task Force, Mortar Board National Council student representative, vice president for Sigma Alpha Professional Agriculture sorority, and has been an agricultural and biological engineering department ambassador since 2017. Minor has completed internships with Deere & Company, Planting Profits, Monsanto, and Purdue University Center for Food and Agricultural Business. Minor is active in Agriculture Future of America and the Ag Alumni Mentorship Program and currently works as a peer success coach leader for Purdue's Academic Success Center.