Purdue Honors College requires students who want to earn honors credit for a course to do additional work above and beyond the regular requirements of the class. When Michelle Bao approached Alex Pasternak to discuss a project she could add to his Physiology of Reproduction (ANSC 33300) course to meet this honors college requirement, she expected the usual assignment.
"I thought I'd be writing a paper like I do for every honors contract, but he emailed back and told me he had an 'artistic idea,'" said Bao, a junior majoring in Animal Sciences.
"I really didn't want to grade a 10-page paper, and I am not sure the students get much out of writing one either" said Pasternak, an assistant professor of animal sciences.
Instead, Pasternak asked Bao to develop plans for a model of a cell or anatomical structure of importance to reproductive biology. She chose a sperm cell and developed the plans with nearly a dozen elements. Pasternak was so impressed that he had it 3-D printed – in black and gold, of course — into a nearly 3-foot-long model that can be disassembled to give viewers closer looks at critical and unique cell components.
"I was blown away," Pasternak said. "She more than delivered."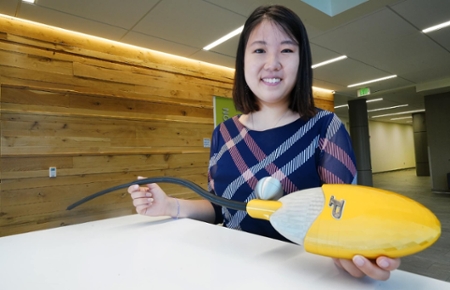 A DIFFERENT EXPERIENCE
While the prospect of another paper wasn't exciting to Bao, she also wasn't sure about developing a model.
"It sounded really fun, but it wasn't something I'd done before. I gave the idea some thought and decided that I was up for the challenge," she said.
She decided on a sperm cell because of its unique shape and its importance in animal reproduction. And apart from her desire to learn more about this unique cell, she saw practical use for it herself. As a pre-vet student, Bao hasn't decided on whether she'll focus on small or large animals in her career. Having a deeper understanding of sperm cells could help her down the road if she finds herself caring for animals on a farm.
The project also jolted Bao from her normal routine.
"As students, we write so many papers. In almost every course, we have a paper,"  Bao said. "So, this was different. I gained a lot more because it was out of the ordinary. I will definitely remember this more than any paper I'll write."
IN CLASS AND ON FARMS
Development of the model wasn't just an idle exercise. Pasternak plans to use the model in future sections of his class when students are asked to evaluate and quantify sperm samples in labs. Sperm cells have a special shape and a number of unique structures that are critical for them to function. So having a 3-D model that can be turned different directions and viewed close-up will be incredibly helpful, he said.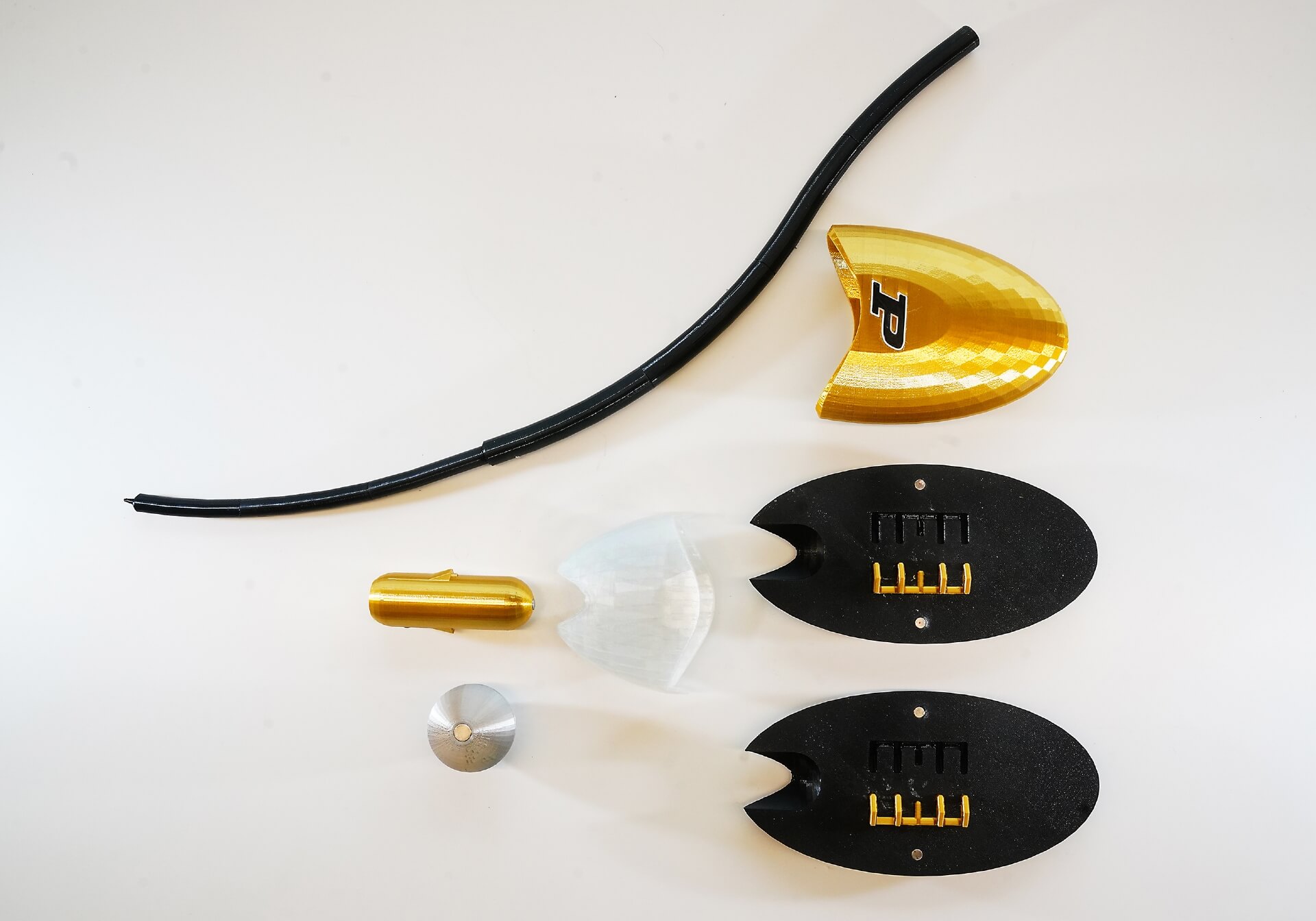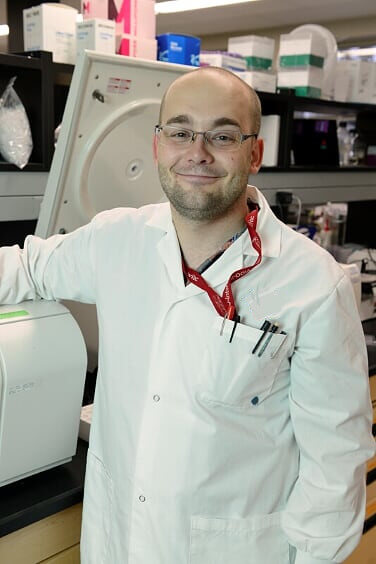 "It's difficult to quantify sperm in a sample. They're oddly-shaped cells and if one is turned a certain direction, you might not recognize and count it. This is something that's extremely difficult to explain to students," Pasternak said.
The components of the model also allow Pasternak to show students the different stages of a sperm cell's maturation. Sperm cells start out round and eventually eliminate their cytoplasm, pushing it out of the cell in a droplet that moves down the tail of the cell as the sperm matures.
"Understanding where that cytoplasmic droplet is and how it moves is important in managing stud farms. If you over-collect a male, you get immature sperm cells and you see the presence of these droplets," Pasternak said. "Again, it's difficult to show under a microscope if you don't know what to look for, so this model is quite helpful.
Kara Stewart, an associate professor of animals sciences who made suggestions on how to improve the model, also plans to take a version of the model to Extension workshops around the state. Because of biosecurity measures, she can't bring semen samples to events and has to rely on photos that don't always work well enough to illustrate her points.
"Thirty years ago, we could bring producers together with live pigs and demonstrate a semen collection and artificial insemination, but we can't do that today," Stewart said. "We do Extension workshops and trainings without anything for participants to touch, feel or see.
"This model is wonderful," Stewart said. "It has all the right parts and pieces, and I can take that kind of model to any meeting, from youth groups to adults who manage boar farms."
Bao said she learned a lot doing this project, and she's gratified to know that students and producers will benefit from her project.
"When I signed up for this class, I had no idea this is what I'd be doing," Bao said. "I'm flattered that it's been received so well and that it will help so many people. It's a very special experience."