DNA extractions and polymerase chain reactions (PCRs) are just a couple things that Mia Brann, a junior majoring in plant sciences from Schererville, Indiana, loves to do in her day-to-day mycology research lab.
"Doing those PCRs are really fun," Brann said. "And the results always show me something interesting."
Mycology, which is the study of fungi, helped Brann gain new experiences, find her true calling, and make her who she is today. It also did something more. Brann described herself as being a shy person, but the work she has done in mycology has boosted her confidence and has helped bring her out of her shell.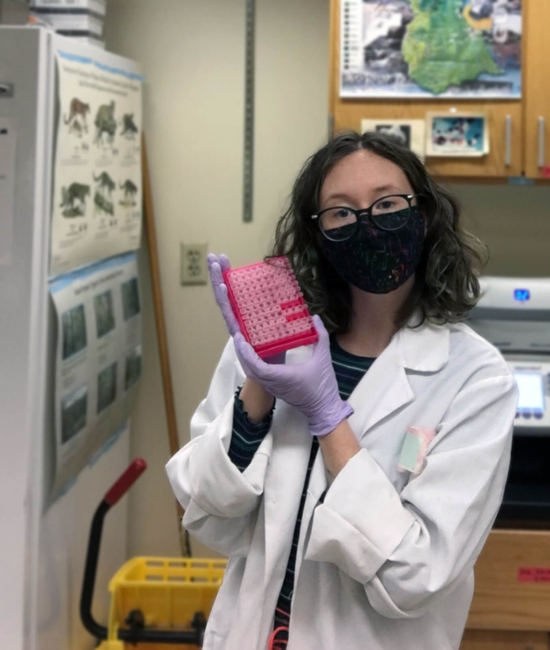 During her freshman year, Brann took a course with M. Catherine Aime, a professor of mycology. Brann said she knew that she wanted to work in Aime's lab before even coming to Purdue, so she overcame her shyness right away.
"On the first day of class, I went up to Dr. Aime and said, 'Hi, do you have any openings in your mycology lab? I really want to work in your lab,'" Brann recalled. "She said 'Yes,' and I have been working with her ever since."
That mycology lab is where you can still find Brann extracting DNA from fungal samples, but her experience in the lab also created other opportunities for her. One of those opportunities was serving as a teaching assistant, or TA, in a botany course and a grader for an entomology course.
"I think being a TA was really cool, because it helped me learn the material even more," Brann said. "I also got to know other students in the department and in other grade levels that I had never met before."
The lab coordinator asked her to consider the TA position. Brann decided to take the opportunity since she liked the material, and she thought the labs were interesting.
"I thought that I might as well, because why not try everything?" Brann said.
The added perk of becoming a TA was that the experience further built her confidence and communication skills. The experience was one of the top factors that helped her overcome her shyness.
"Having to get up and say, 'This is what we are doing today,' helped me break out of my shell a bit," Brann said.
Being a TA will also help Brann's future goals and career path. She said she plans to go to graduate school, which will require her to give a lot of presentations and meet a lot of new people. After graduate school, she could become a professor herself, just like her mentor Aime. But Brann is not set on becoming a professor. Some of Brann's class work was out in the field, which sparked an interest in field work. This would also allow her to travel, be outside, and collect samples of things she is studying.
"My favorite part is learning about the bigger picture," Brann said.
She is able to see the bigger picture even more when she is out in the field, since she is able to physically collect samples and see all the diversity that environment has to offer.
Another appeal of fieldwork is Brann's interest in natural systems and biodiversity. Brann has a minor in natural resources and environmental science because of that interest. She said she has a strong love for anything outdoors: hiking, environmental science, sustainability, plants and fungi. The environment is important to her since she works with plants and studies natural life science. But it also forms a part of who she is.
"I was raised to care about the environment," Brann said.
She will be able to get some fieldwork experience during an internship over the summer of 2021. This internship will mainly focus on conservation and restoration.
"It is sort of a complete 180 from mycology, but it is something that I am interested in," she said.
She hopes experiences like the internship will help her grow even more and help guide her to what she truly wants to do upon graduation.