A beloved snack for road trips, concession stands and all things on-the-go, jerky production has been around for hundreds of years, evolving from sun drying to a sped-up smoking process.
At the Boilermaker Butcher Block, although the process has become a bit more high-tech, the craft of whole muscle jerky is still very hands-on and so it can take several days to restock the display case in the campus store.
Laura Kerr, assistant meat lab manager of the Butcher Block, said the process begins with a round cut, generally taken from the hip area of a cow or pig, that is removed of as much fat and connective tissue as possible to create large, solid sheets of jerky. Kerr said the butcher block only produces whole muscle jerky, versus formed jerky, which is typically crafted into a stick.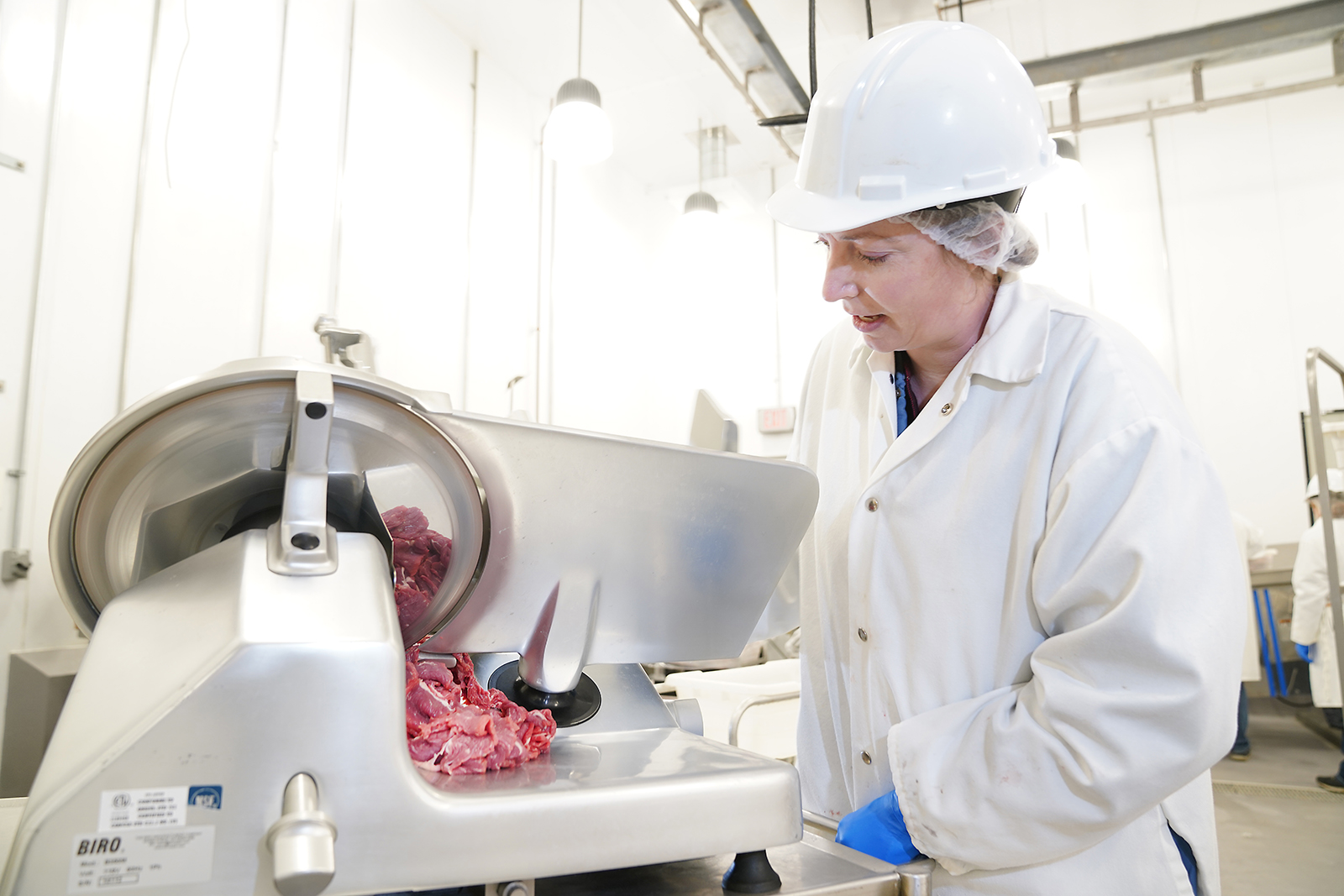 The pork or beef round is then placed in the slicer, set to shave off cuts approximately a quarter of an inch thick. Once the meat is shaved, the sheets are then placed into a large tumbler to be evenly coated with seasoning. Kerr said the butcher block's top flavors are spicy barbecue, teriyaki, peppered and their original beef jerky.
After the meat has rested following its flavor-tumbling, Kerr said the most time-consuming step to making jerky is unfolding the strips of meat to lie flat on drying racks, allowing time to rest before they head into the smokers.
"One rack can hold up to 25 pounds of pre-smoked jerky slices," she said.
Once the racks are rolled into the smoker, the thin strips are smoked for between four and five hours, coming out of the chamber paper thin. The amount of time and manual labor that goes into making jerky is what makes this favorite snack so pricey, Kerr said.
"The time, the equipment, the manual labor all are factors in this, because it isn't like buying a steak from the butcher counter and taking it home," Kerr said. "After it's finished smoking and it's rested some more, it is placed through a strip slicer to get those smaller, uniform pieces that are then weighed out and vacuum sealed in its sale packaging."
The several-day process of making jerky and restocking supply is a very hands-on experience for students, Kerr said, who play a key role behind the scenes at the butcher block.
"I love that aspect of working here," she said. "From conception to product on display, students here on campus are educated through every step of the animal's life whether it is directly through campus programs or through Extension outreach.