Students from Purdue Forestry and Natural Resources took their classroom knowledge to the field for summer internships and paid positions across the country, gaining valuable experience, hands-on training and career guidance. The FNR Field Reports series will offer updates from those individuals as summer positions draw to a close.
Emma Johnson, a sophomore wildlife major from Luray, Virginia, had a two-fold internship as an interpretive park ranger and aquatic nuisance species inspector for Colorado Parks and Wildlife at Vega State Park.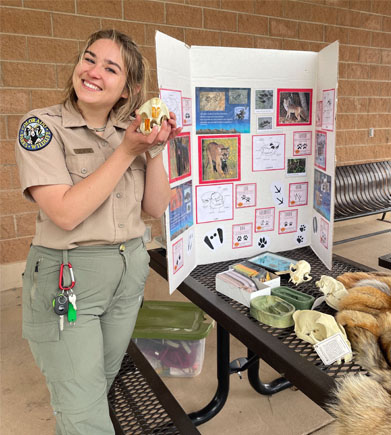 As an interpretive park ranger, Johnson worked with another intern to lead Vega State Park's nature interpretation programs. Each weekend, she brought programs to the campgrounds and educated young campers and their families.
"Our Pelts, Tracks, and Skulls program was the most popular program we ran throughout the summer because it was the most interactive," Johnson said. "This program involved teaching kids about native Colorado wildlife and giving them the opportunity to feel real animal pelts, skulls, and tracks. Kids also got the chance to ask any questions about what we are presenting."
Johnson also presented educational materials at a local library, including the use of a puppet show to explain the Leave No Trace program, which teaches children to leave nature as they found it.
When she wasn't busy preparing educational materials or running an interpretive program, Johnson inspected boats for aquatic nuisance species requiring her to learn how to identify species like zebra and quagga mussels in all of their stages, and how to decontaminate watercraft infected with them.
"Colorado Parks and Wildlife is very serious about keeping their lakes, rivers, and reservoirs clean from nuisance species especially since there currently are no mussels in their waters," Johnson explained. "Quagga mussels, Zebra mussels, Eurasian Milfoil, and Rusty Crayfish are the 'Big Four' that we inspected each boat coming into our reservoir for. I did come across an infected boat with the beginning stages of mussels once, in which case I had to perform a decontamination." 
Johnson was able to apply concepts and skills she learned in the FNR classroom.
"Dr. Dunning's bird banding lab grew my love and appreciation for birds and bird identification," Johnson said. "I learned a lot in his lab on how to identify birds, and I was able to share that knowledge by creating Vega's first birding program! The program I created, 'Anyone Can Bird,' teaches people how to identify birds using a step-by-step process and shows examples of birds common to the Western Colorado region. I made birding pamphlets with photo ID and let people interact with raptor skulls and mock eggs to get a literal feel for the features of birds of prey. It was a success!"
Johnson also gained real world experience she can bring back to her studies and on into her future career.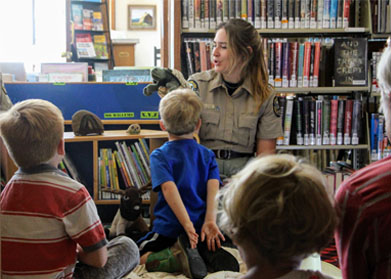 "I learned how to take conservation and wildlife concepts and make them comprehendible to all age groups: children, adults, and seniors," Johnson shared. "I learned the importance of educating the public on how to leave nature as they found it and how to interact with wildlife. With increasing traffic to state and federal parks, now more than ever it is vital that people know how to keep our parks and wildlife areas WILD and how to stay safe in interacting with nature. I learned how to take initiative with creating and leading programs, because I was trusted to lead interp how I saw fit."
The positions challenged Johnson, but also gave her the freedom to be creative and take in her surroundings.
"In my role as Interpretive Ranger, I was trusted with deciding what education programs to run over the summer and how to run them," Johnson explained. "My boss left the responsibility to me and my co-ranger. This challenged me to follow my intuition and my own ideas as no one was specifically telling me what to do. Creating and running my own program for the park was super rewarding and confidence boosting! It's one thing to follow a booklet and say what is written down, but it's quite different to create your own program and then witness how it's received by the public! I truly realized how important wildlife education is to our youth, and how much I love it!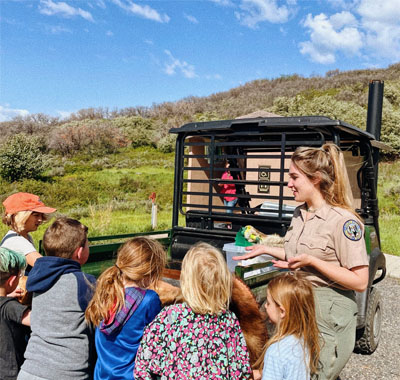 "Hands down, my favorite part of my job was presenting our wildlife specimens to kids. Seeing the excitement on a child's face from feeling the sharpness of a beaver tooth or discovering the size of a bear track fueled my own excitement for our education programs. I also loved working hard outside in a beautiful place where I could go birding every day!"
Her experiences not only impacted Johnson, but the future of the summer programs at Vega State Park.
"At my exit interview, my boss told me that the number of attendees to this summer's education programs were higher than he had ever seen," Johnson shared. "He said my co-ranger and I essentially revamped the education program for the park and set the standard for all interp programs in the future. That was something I was particularly proud hearing and that I am thankful to my Purdue education for preparing me for. It feels great knowing that I contributed to something that will further wildlife education for youth in the future."
Her time at Vega State Park also encouraged Johnson to consider careers in natural resources she hadn't previously.
"I've known I want to work in the fish and wildlife field, but I didn't know just how much I would love the educator aspect of it," Johnson said. "After leading the nature interpretation programs at the park this summer, I realized that wildlife education, especially for kids, is a job I thoroughly enjoy and can see myself pursuing as a career."
Johnson, who completed her associate's degree at Ivy Tech before transferring to Purdue in January 2022, is excited to continue learning.
"Even though I'm later to the game of college, I appreciate school even more going back as an adult because I'm more focused and I've had life experiences that have given me a love for what I am studying!"