Freshman Spotlight
Freshman Spotlight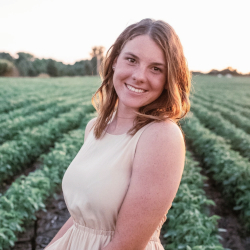 Maddie Brink
Agronomy
Class of 2027
I am from Hamilton, MI which is a small town in West Michigan. I got into agriculture through my parents; my mom is and agronomist and my dad owns a trucking business that specializes in agricultural  commodities. I have held several part-time jobs in agriculture, including this summer when I interned with a Michigan co-op where I scouted a lot of fields and pulled a lot of soil and tissue samples.
I chose Purdue because it is one of the best agriculture schools in the world and I love how students get connected within the industry while they are still at school!
I am not completely sure what I want to do specifically with my degree yet, but I am hoping to go back to west Michigan as an agronomist where I hope to work directly with and advise farmers.
Adrie Frieden
Agronomy - Soil & Water Sciences
Class of 2027
I am from Wheatfield, IN where I have always lived on the family farm. I have been surrounded by agriculture all of my life. My passion for agronomy grew through my love of FFA and 4-H. Giving me the opportunity to learn and grow a desire for Ag.
My years in FFA gave me an opportunity to branch out and find what struck me themost about Agriculture. This is where I learned that Agronomy is what I needed to be in. Purdue was just a home college to me and ended up being the best option for me,as it wasn't that far from home.
After college I plan to pursue a career in Agronomy. This being anything from soil science or turf management.
Emma Howard
Agronomy - Crop & Soil Management
Class of 2026
Hey everyone, my name is Emma Howard and I am from Hamilton, IN. I am an agronomy crop and
soil management major, and I am expected to graduate in 2026.
Agriculture has always been a huge influence in my life, and my ultimate goal is to give back to the
industry. I grew up on a farm where we raised beef cattle, and had some acreage. I showed cattle in 4-H
for six years and was involved in FFA.
Purdue just seemed like the place to be, so I made the decision and I am so happy I did. Out of college
I plan to be a crop consultant, and make an impact on the industry that made me who I am today!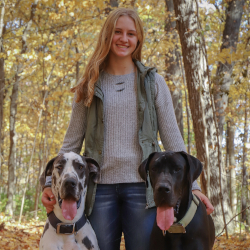 Katelyn McMillan
Agronomy - Crop & Soil Managment
Class of 2027
I grew up on a rural farm in Wells County, IN, and have always been passionate about everything involving agriculture. From raising and showing livestock since I was 2, to running my family's greenhouse, agriculture is something that has always been a normal for me. In addition to my family's farm, my involvement in 4-H and FFA have also helped fuel my passion for Ag!
Purdue Agronomy was an easy choice for me because they offered the best program for what I wanted to study, and campus isn't too far from home. My grandpa, dad, and brother have all attended Purdue, and I love the community-like campus. I have also been cheering on the Boilermakers since I could talk,
so it made sense to become one.
I plan to use my degree in Agronomy to help the 2% of the population, who are farmers, provide the best products available for the world.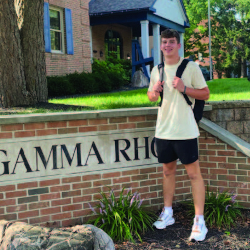 Dylan Ross
Agronomy
Class of 2027
I come from a small town in northeastern Indiana called Lagro, just east of Wabash, IN. I come from a
background of agriculture from animals to crops my whole life. I was a 10 year 4-H member in swine, member of the FFA and Treasure of Junior Leaders for 3 years.
I chose Purdue agronomy for the fact that it's one of the best programs in the country. From all the well-known professors to all the clubs and extra activities. Also, for the fact on how welcoming and at home you feel on the campus.
I hope to get a job after I graduate from Purdue as an agronomist for a seed company, where I can go around to fields and help the farmer discover the best yield for their crop.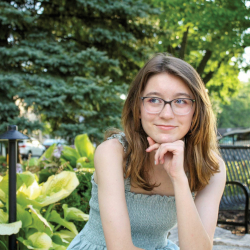 Kate Seida
Agronomy - Plant Genetics, Breeding, & Biotechnology
Class of 2027
I grew up in the suburbs of Chicago in a town called Frankfort. However, I have recently moved near Indianapolis. I've always been drawn to nature but during high school I started growing houseplants and vegetables. In the harsh winters of Chicago, variegated plants would be unable to keep their variegation due to the lack of quality sunlight. This piqued my interest as I began wondering how far plants could be pushed and how they recover.
Purdue's Agronomy program caught my eye because they offered exactly what I was interested in and minors that would also help me. Purdue felt like home every time I visited, and all the professors were extremely welcoming and helpful when I spoke to them.
I plan on getting a Master's degree or PhD so I can work in a lab and research how to help crops withstand harsh conditions. I'm particularly interested in drought tolerance and disease resistance.
Macy Tucker
Agronomy
Class of 2027
I am from Clay City, IN which is a small town about an hour and a half south of Purdue. My family
drew me to agriculture. My dad and my grandpa both farm and I want to carry on that tradition. I
also grew up doing 4-H and living on a farm, so that is just part of my lifestyle.
I chose Purdue Agronomy because a lot of my family members went to Purdue, and I've been a big fan of Purdue my whole life. Also, Purdue's Ag program is really good.
I'm not sure what my future plans are, but I know I want to move back home and help on my family's farm.