ACTIVE PROJECTS
An oversupply of hemp in the market led to a plummet in the crop's overall value. Paired with the COVID-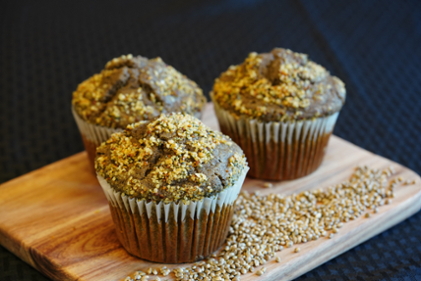 19 pandemic, this has left many growers and processors struggling to figure out how hemp can fit into their operation.
This project provides the basis for novel applications of hemp in the food industry through collaboration with the food science department, Laila Hossain and Dr. Senay Simsek. Even before hemp was legal to grow in the U.S., hemp seeds were imported from Canada and Europe to make oils, hulled hemp hearts and protein powders. Other applications of the hemp plant in the food industry include modified cellulose as a food additive, food packaging and better-tasting plant-based foods derived from seeds, oil and seed cake. Developing new products is necessary to propel the industry forward. However, we have to understand which grain and fiber cultivars grow well in Indiana, and the different qualities of each to assess the applications they would work best for.hildr exposure, psychological stress and educational deprivation. Many are migrant and seasonal Latino farmworkers (LFW youth), who are made more vulnerable by mobility and marginalization. Purdue researchers recently began a longitudinal cohort study of how family context affects LFW youth's mental and physical health. This study will expand that effort to examine the effects of workplace factors and access to community-level resources.
PROJECT LEADER
 Marguerite Bolt
Industrial hemp statewide Extension specialist, Department of Agronomy
Animal and plant fungal pathogens are a global concern for production agriculture and human health.
Developing new antifungal drugs or fungicides is critical to treating plants, animals and humans with fungal diseases.
This project will impact agriculture and public health by providing fundamental and mechanistic new insights in antifungal drug resistance, fungal pathogenesis and drug discovery. Its central hypothesis is that epigenetic factors via histone modifications regulate key pathways that confer antifungal drug susceptibility and/or pathogenesis. Based on preliminary observations that genetically deleting epigenetic histone modifiers alters antifungal drug susceptibility and pathogenesis, this project has two goals: to develop an auxin-inducible degradation (AID) system; and generate histone mutation strains to study the role of epigenetic histone modifications and show that epigenetic factors are "druggable" targets. These additional molecular targets could lead to new, convenient and innovative platforms for future antifungal drug discovery.
PROJECT LEADER
Scott Briggs
Associate Professor of Biochemistry
Current methods to detect and quantify diseases depend on visual assessments of signs and symptoms.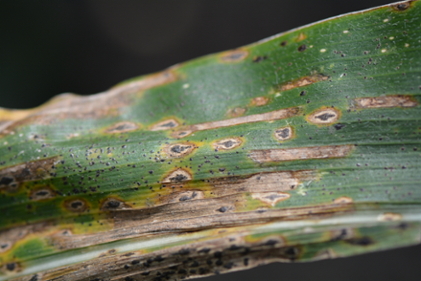 This traditional approach can be reliable if done correctly, but it is costly, labor-intensive, low-throughput and prone to human subjectivity.
Image-based phenotyping combined with weather-based modeling offers a potential solution to describing host plant interactions with pathogens and the environment at multiple spatio-temporal levels. However, it has remained largely untapped in cereal crops. This project leverages large data sets to develop a proof of concept for a next-generation epidemiological system capable of simulating infectious disease epidemics on corn plant populations. Researchers will work primarily with corn tar spot, one of the most destructive diseases in Indiana and the Americas. The project seeks to characterize naturally occurring tar spot epidemics based on homogeneous data (i.e., imagery or environmental), and cross-analysis of heterogeneous data (i.e., imagery and environment) using data fusion methods.
PROJECT LEADERS
Christian D. Cruz
Assistant Professor of Botany and Plant Pathology
Mohammad Jahanshahi
Associate Professor of Civil Engineering
The amount of data available to producers has grown exponentially. However, much of the data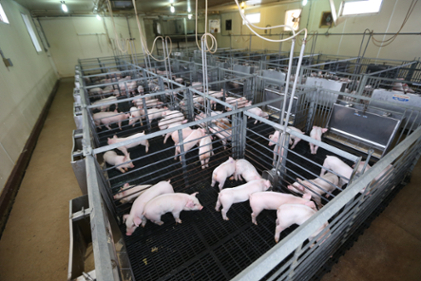 generated from animal agriculture is underused or not collected and evaluated in a meaningful way.
This project seeks to improve how data generated from livestock farms is integrated and used in decision making. In swine and dairy specifically, an interoperability issue and poor communication between data from sensors and software creates a challenge in interpreting the data. Researchers propose a data pipeline that automatically or semi-automatically collects and integrates data from the Purdue Animal Science Research and Education Center (ASREC) dairy and swine facilities to allow for increased research, teaching and Extension activities that evaluate management decisions impacting productivity and survivability. This is the basis for  training programs that use all available data to answer challenging questions. It  directly impacts profitability for Indiana agricultural communities and improves welfare and public perception of animal industries.
PROJECT LEADER 
Thomas Cully
Assistant Professor of Animal Sciences
Crop domestication drives functionally relevant traits and ecological processes, but it also might reduce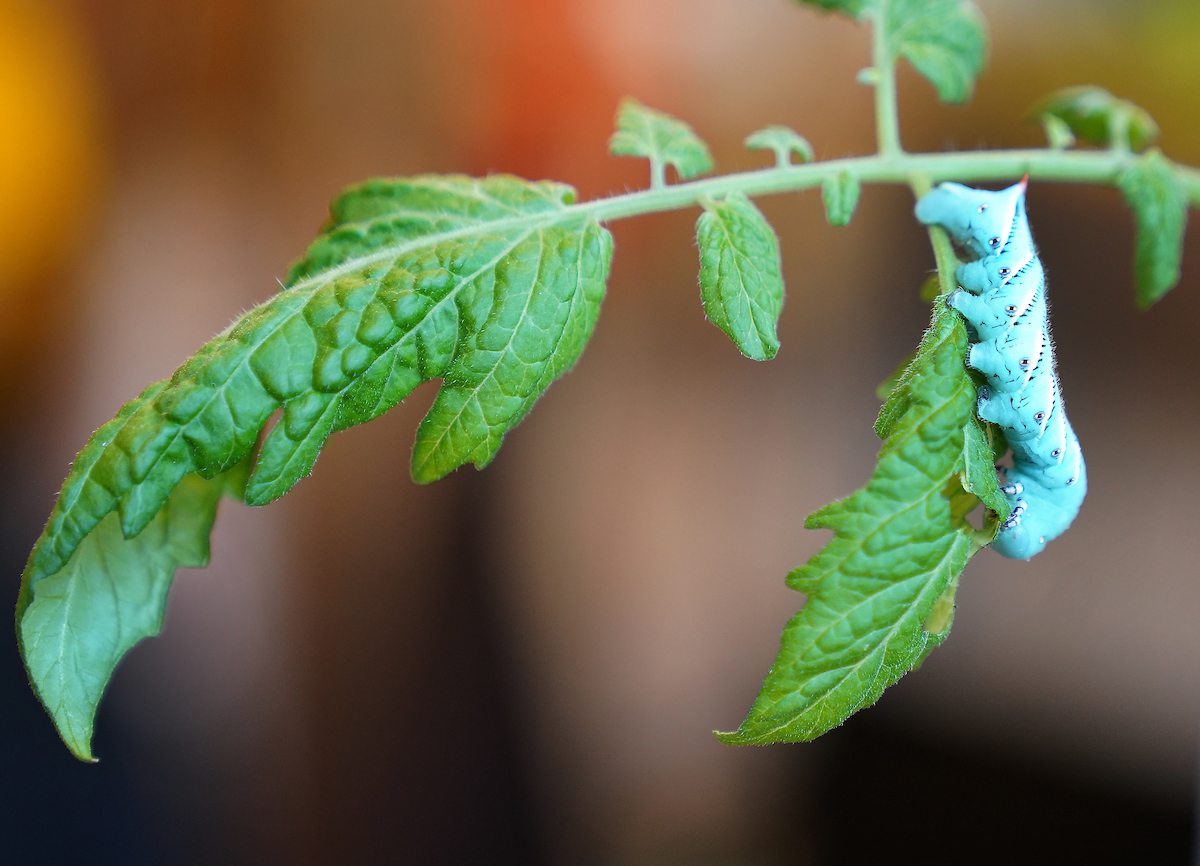 plants' defense against pest insects and plant-microbe interactions. Little is known about how domestication has altered complex plant-insect-microbe interactions that contribute to crop health.
This project uses tomato as a model crop to investigate wild-crop grafting as a novel tool for understanding the impacts of domestication on root- and leaf-associated microbial communities involved in plant defenses against aboveground insect attack. The study uses a  reciprocal grafting design to characterize impacts of domestication on rhizosphere and phyllosphere microbiome assembly and test whether wild rootstock enhances aboveground microbial-mediated defenses. These are key steps toward developing grafting as a technique to identify and counteract negative impacts of domestication on plant-insect-microbe interactions. Developing wild-crop grafting as a means to restore those defensive functions could allow growers to optimize natural pest biocontrol, crop rotations and emerging microbial biotechnology.
PROJECT LEADER
Laramy Enders
Assistant Professor of Entomology
Leveraging interest in home gardening may help solve long-term challenges with food and human
nutrition while furthering research and Extension collaborations in consumer horticulture.
This two-year project brings together research faculty and Extension specialists at three universities to establish a multistate citizen science home gardening program. It will assess if participatory research, coupled with a nutrition Extension program, can boost fresh produce consumption. Participants also will provide data on their preferences, motivations and challenges related to home gardening. The project gives diverse gardeners resources to compare eight cultivars of new compact tomato plants grown outdoors in containers in year one; and tomato production indoors using hydroponic systems vs. containers with substrate in year two. Online and in-person educational sessions will engage and educate participants. In addition to assessing Extension education's impact in gardening and healthy eating, researchers are laying the groundwork for national citizen science research and Extension efforts.
PROJECT LEADER
Celina Gόmez
Associate Professor of Horticulture and Landscape Architecture
Searching for preventive agents to inhibit the progression of colorectal cancer (CRC) is key to reducing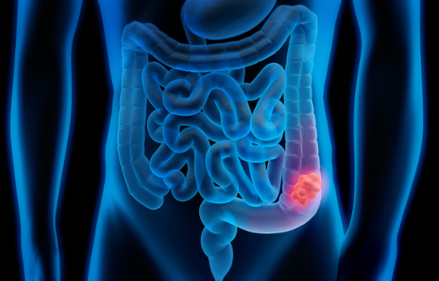 mortality. Genetically-engineered animal models are indispensable in this research, but few accurately resemble human CRC. Commonly used models develop tumors mostly in the small intestine, unlike human CRC patients who have tumors in the colon.
This project uses a new and innovative murine (mouse) colon cancer model — the only one that has human-like mutations and the correct tumor location. Despite its clinical relevance, this model has not been fully characterized or used for screening anticancer candidates. This project delineates this model with state-of-the-art technologies and testing cancer-preventing effects of novel preventive compounds, such as soybean-rich vitamin E tocopherols. In addition to generating  data for future chemo-preventive candidates, the project will create fundamental knowledge of a useful cancer model and provide anticancer efficacy data of promising preventive compounds that are rich in Indiana agricultural products.  
PROJECT LEADER
Qing Jiang
Professor of Nutrition Science
Human microbiome research determines the impact of the microbiome on the host by transplanting
human feces from individuals with contrasting phenotypes (for example, obese and lean individuals) to germ-free mice. If the same phenotype is observed in the mice as their human fecal donors, then the microbiota is confirmed to play a role in establishing the phenotype in humans. This microbiome model system has been instrumental in determining the role of the microbiome in many human conditions.
This project seeks to establish the same microbiome model system to study the role of the microbiome in livestock animal phenotypes. The advantage of the mouse model system is that fecal microbiota transplantation (FMT) can remove confounding factors to determines the role of the commensal gut microbiota on complex animal traits, such as animal growth and nutrition. Specifically in this project, low-birth-weight piglets that receive antibiotics gain about 50% more body weight per day than their untreated peers. The commensal intestinal microbiota are not the sole cause of improved growth, but a contributing factor among many. This project will isolate the effect of the microbiome through FMT to germ-free mice in the absence of the other factors to confirm or refute the importance of the microbiome to animal growth phenotypes.
PROJECT LEADER
Tim Johnson
Assistant Professor of Animal Sciences
Nonalcoholic steatohepatitis (NASH) is the more aggressive form of nonalcoholic fatty liver disease, a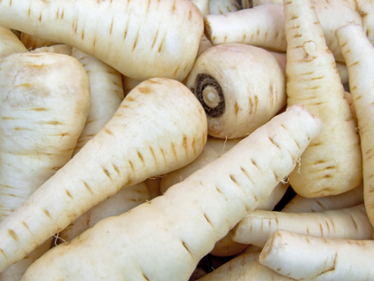 major health risk. Noninvasive ways to diagnose NASH and therapeutical drugs for it are limited, and little is known about whole food-based functional food for protecting the liver from diet-induced NASH.
This project studies whether post-harvest aged parsnip, a USDA specialty crop, protects the liver from diet-induced NASH. Preliminary data showed that a parsnip-containing diet blunted Western diet-induced genes in lipogenesis and inflammation in the liver. Researchers then developed a post-harvest processed parsnip powder to improve the parsnip extract's polyphenol content, anti-oxidation capacity and bioavailability. Now they will study its function in a mouse model of diet-induced NASH; determine its major anti-NASH compound(s); and explore its mechanisms in regulating NASH. This provides the scientific foundation for recommending post-harvest aged parsnip as a novel functional food to improve liver function against diet-induced NASH.
PROJECT LEADER
Kee Hong Kim
Associate Professor of Food Science
Poultry products provide high-quality and affordable protein for consumers. However, they are also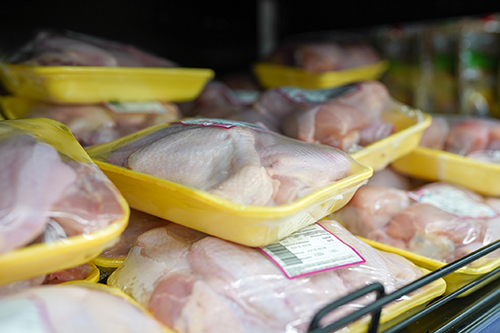 perishable and a leading vehicle for foodborne illness. Economic losses due to spoilage and contamination-related recalls impact the of the U.S. poultry/meat industry's profitability and sustainability.
This project seeks to identify key metabolic compounds in meat exudates to explain spoilage and pathogen growth mechanisms, which can be used later to develop quality control biomarkers. The researchers will establish the biochemical changes in microbial communities that occur over time during spoilage conditions and in response to Salmonella proliferation. Then they will characterize the major metabolites present in chicken exudates and identify key compounds associated with microbial growth during storage. Together, these will provide the basis for development of biomarker-based spoilage and contamination prediction model systems using simple, valueless and easy-to-obtain meat exudate. Results could positively impact the profitability and sustainability of the U.S. meat/food industries
PROJECT LEADER
Brad Kim
Associate Professor of Animal Sciences
Indiana mint growers have suffered significant losses to their perennial mint crop due to the invasive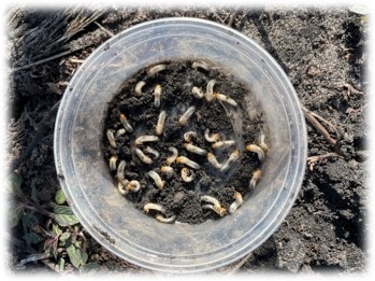 Asiatic garden beetle (Maladera castanea), or AGB. Difficulty detecting AGB grub damage in large acreage fields, and limited knowledge of the sustainability of short and long-term management strategies for AGB in mint, challenge growers who are battling this relatively new insect pest in one of their most valuable rotational crops.
Researchers will partner with commercial Indiana mint producers and a local Extension educator to evaluate a set of unique, persistent, insect-parasitic nematode strains as a sustainable, long-term management strategy against AGB in mint. The project will evaluate these nematodes against AGB grubs in replicated commercial mint fields; and continue development of an Extension program to help growers manage AGB in commercial mint. These applied research and extension objectives will improve understanding of sustainable management practices and provide research-based recommendations for mint producers.
PROJECT LEADER
Elizabeth Y. Long
Assistant Professor of Entomology
Despite the confirmed environmental benefits of a cereal rye cover crop (RCC), farmers have been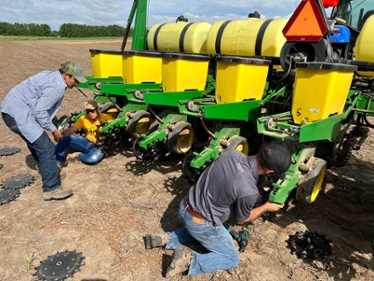 hesitant to adopt this sustainable management practice prior to corn due to observed plant stand and yield losses. Farmers often use after-market equipment and precision attachments on their planters, including closing wheels marketed to improve seed furrow closure and seed-soil contact, and to limit sidewall compaction in high residue systems. However, little is known about after-market closing wheel use in combatting residue interference, poor furrow closure, corn emergence and yield losses following a RCC.
This project will utilize field research trials and planter-mounted sensors to determine the impacts of various after-market planter closing wheel types on seed furrow closure, seed-soil contact, corn emergence, and yield following a RCC. The  information from this research will help farmers improve their knowledge of planting into high-residue systems and assist in the adoption of a RCC prior to corn. 
PROJECT LEADER
Daniel Quinn
Assistant Professor of Agronomy and Purdue Extension corn specialist
A critical need exists for therapies to reduce tumor burden and promote bone repair in patients with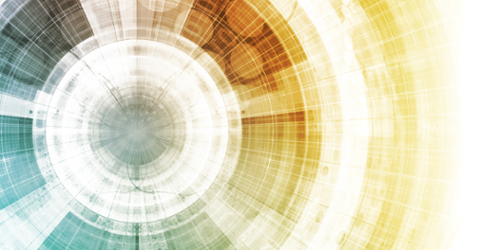 bone-metastatic prostate cancer, which affects thousands of Indiana residents each year.
This project is an interdisciplinary collaboration between ABE and veterinary medicine groups to develop and test a novel nanoparticle formulation of cabozantinib (Cabo), a potent kinase inhibitor chemotherapeutic drug. Cabo cannot be dosed intravenously and has low bioavailability when administered orally. Researchers will formulate Cabo into a fast-dissolving organic nanoparticle to address these issues. The project involves designing Cabo nanoparticle formulations using the Ristroph lab's scalable Flash NanoPrecipitation technology and then evaluating the efficacy of the best-performing Cabo nanoformulation in vivo in the Figueiredo lab's bone metastatic model of prostate cancer. This approach may improve quality of life and decrease morbidity in patients suffering from bone-metastatic prostate cancers, and could be applicable to other diseases involving bone/tumor pathology.
PROJECT LEADER
Kurt Ristroph
Assistant Professor of Agricultural and Biological Engineering
Camelina sativa is an emerging oilseed crop that produces a high amount of oil  — about 35% of seed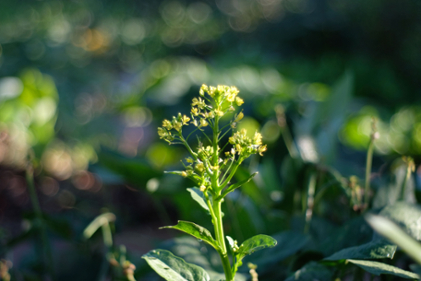 weight. Farmers like its cold tolerance, short lifecycle and low fertilizer demand. Increasing the seed oil content further would enhance its profitability.
This research team discovered nine novel regulators of seed oil biosynthesis and demonstrated their ability to enhance seed oil content and/or composition in Arabidopsis, a species closely related to Camelina. In this project, they  are expressing three of these regulators in Camelina by genetic transformation. The transgenic Camelina will be grown in a controlled environment, and the lines with the most improved oil content will undergo a field trial to evaluate improvements to oil production in production conditions. Enhanced oil-producing Camelina lines generated here would be the basis for a broad genetic strategy to improve seed oil production in multiple oilseed crops.
PROJECT LEADER
Kranthi Varala
Assistant Professor of Horticulture and Landscape Architecture
Citizen science gives the public a unique experience in critical thinking, reasoning and active learning,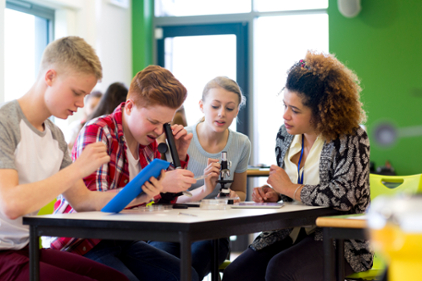 and yields more scientifically literate individuals. Incorporating younger learners into citizen science promotes scientific knowledge, encourages nonscientists to be involved in a new learning process, and drives a greater interest in STEM disciplines and careers.
This project is developing a Citizen Detective education program for youth 15 to 18 years old in  a collaborative effort with 4-H Academy. The program will introduce forensic science as a means to explore different STEM fields using a flipped classroom approach to learning, with online modules and in-person experimental design and implementation. To evaluate this approach's effectiveness in learning, career inspiration, hypothesis testing and evidence-based reasoning, researchers will measure its impact with reflection surveys and focus groups. This project is a novel approach in nonformal education and engages the public in STEM, with learners contributing to data collection, experiments, scientific reasoning and evidence-based decision making.
PROJECT LEADER
Hui-Hui Wang
Associate Professor of Agricultural Sciences Education and Communication