Martell Forest
Martell Forest was acquired to provide research and outdoor lab teaching opportunities close to the West Lafayette campus. It is named for Dr. Eldred R. "Shorty" Martell, who was head of Purdue's Department of Forestry and Conservation, now known as the Department of Forestry and Natural Resources, from 1940 to 1957. It was originally called Shidler Forest after the family the land was acquired from. Throughout its history, the forest has been central to the education of hundreds of natural resource professionals as well as a center for diverse research activities.
Martell Forest is the site of the John S. Wright Forestry Center, a research , teaching and conference facility located at 1007 N 725 W, West Lafayette, Indiana.​​​​
---
Property Information
Oak/hickory cover the slopes and uplands on this heavily hills and ravine property. 2.6 miles of stream also provide bottomland and mesic species like sycamore/cottonwood and black walnut. Located in Central Till Plain.
Acquisition date: 1958 (additional tracts acquired up to 2008
Total acres: 477
70% forested
21% plantations
12 acres of prairie
2.4 acres of open water
2.6 miles of stream
4.5 miles of road
477 total acres
---
Research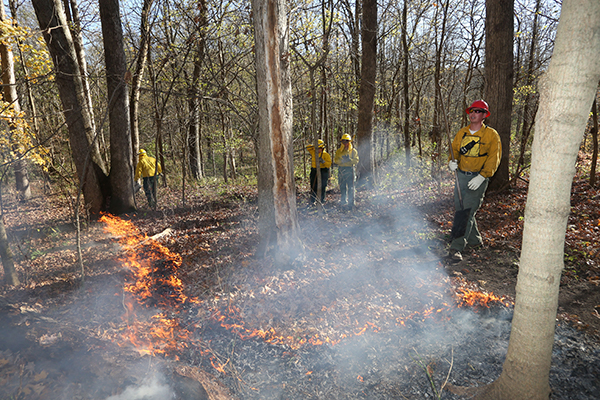 All researchers who want to conduct research at Martell must have their project approved prior to starting. Please fill out  FNR Property Request for approval.
Current Research Activities
Extension: 45% of field extension events held on FNR property occur at Martell Forest (Purdue Extension -Foresty & Natural Resources Website).
Teaching: 22 class labs from seven departments utilize the property for teaching.
---
Invasive Species Management
2010 invasive plant assessments indicated 144 acres requiring attention. High priority sections covered 60 acres. These areas had high density and large sized plants of bush honeysuckle, autumn olive, and eastern burning bush.
2020 assessment indicated 21 acres require follow up respraying or hand pulling and 9 acres indicating medium infestation. The work has been accomplished by staff, student interns, invasive plant workshops, and FNR class labs.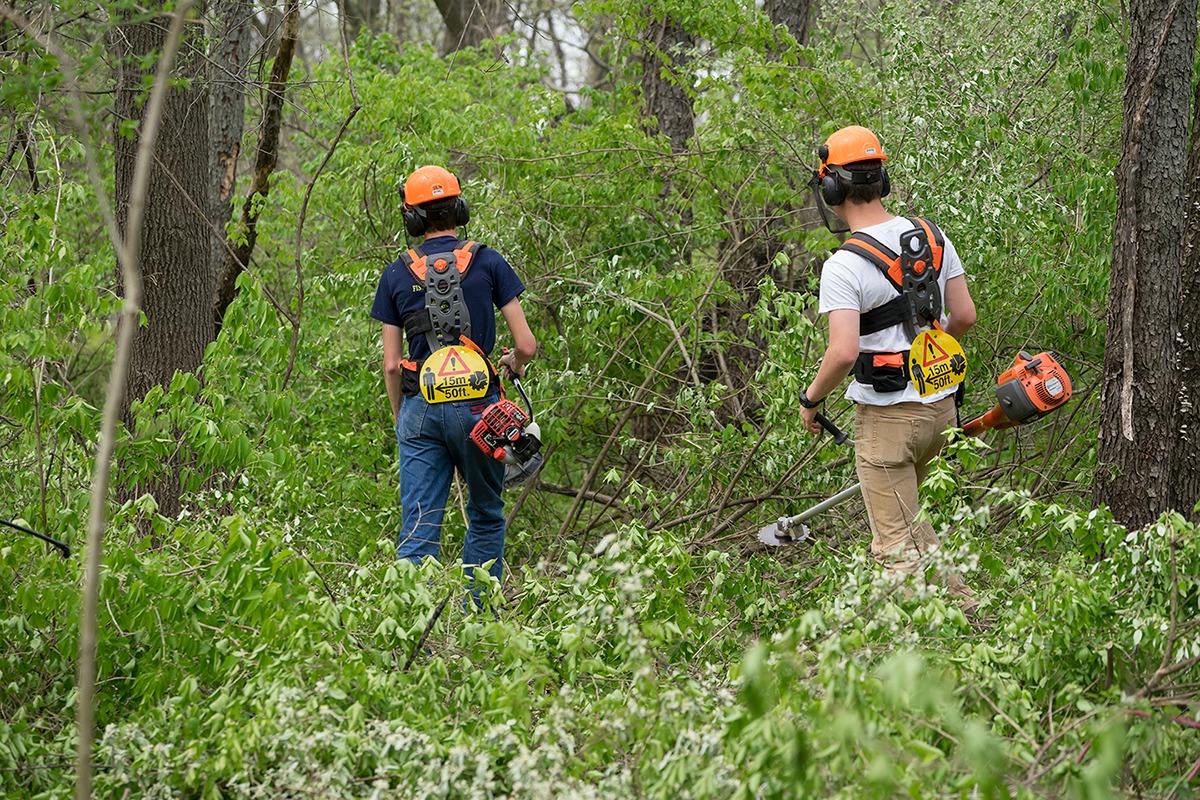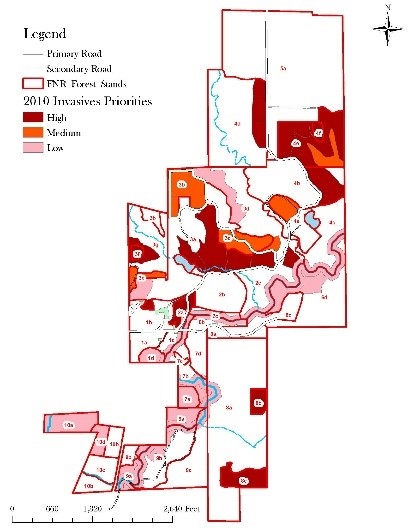 ---
2018-2020 Indian Creek Stabilization
Thanks to 2 IDNR Lake and River Enhancement grants totaling $108,000, Indian creek had a natural channel design construction project completed fall of 2019 near the Van Camp arboretum. The creek was threatening to wash out the access road into the property as well as damage to the pedestrian bridge over the creek. The project will protect the infrastructure and improve stream habitat.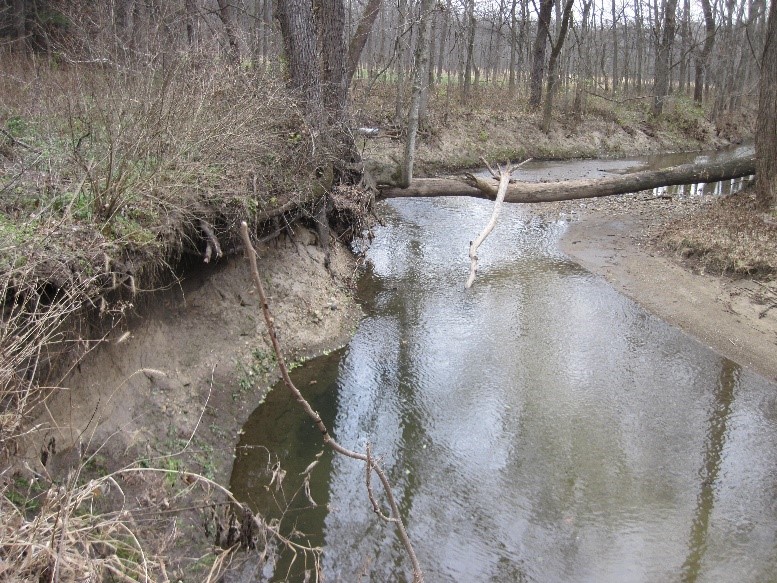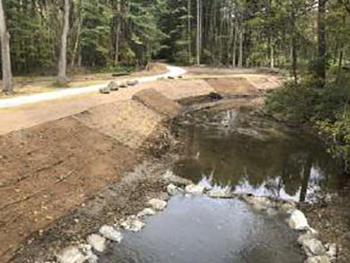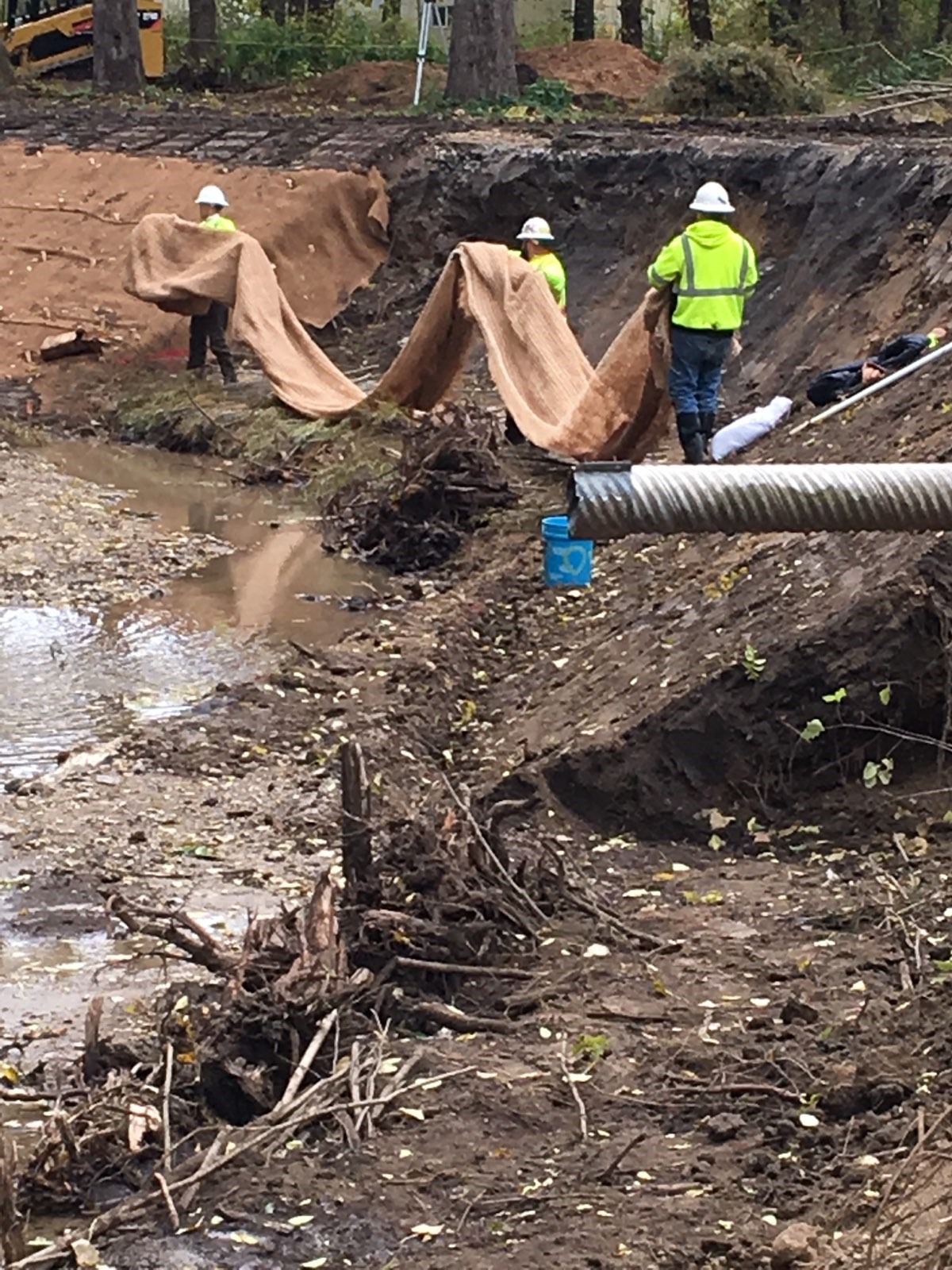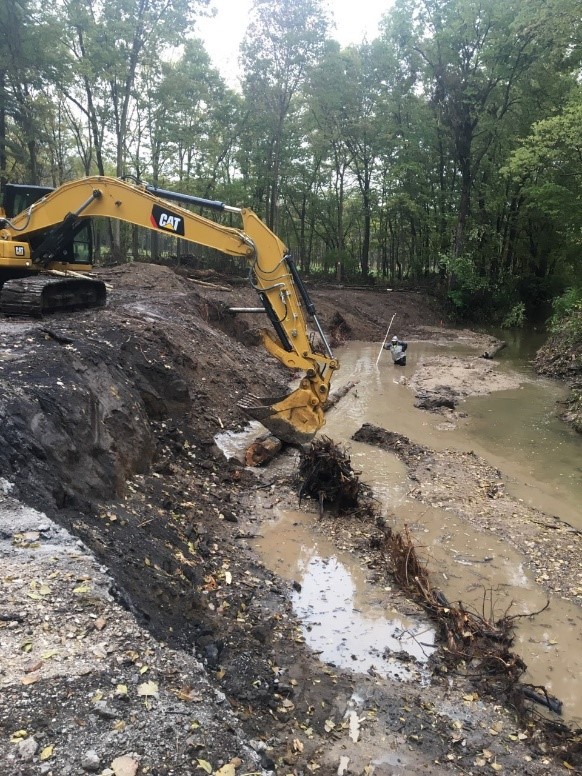 ---
Purdue Mesonet Data Hub
To find out air temperature, soil temperature and wind speed click on Martell Forest at The Indiana State Climate Office - Purdue Mesonet Data Hub website. This information is brought to you by a collaborative effort with the Purdue Institute for a Sustainable Future and the Indiana State Climate Office.
---
Maps, Property Manager & More About Our Research
Martell Forest is home to the John L. Van Camp Arboretum, a collection of 100 trees native to Indiana provided to the Department of Forestry and Natural Resources as a gift from the family of former faculty member John L. Van Camp.
About the Arboretum

John Lloyd Van Camp (1898-1999) was born in Toronto, Ontario, Canada on June 9, 1898. He received a B.S. in Forestry and a M.S. in Botany, both from the University of Toronto. Van Camp held various forestry-related jobs throughout Canada until coming to the United States in 1932, when he accepted a position as Instructor in Forestry at Michigan State University.
Van Camp began his career at Purdue University when he was appointed Assistant Extension Forester in 1936, when Forestry Extension in Indiana was in its infancy. Professor Van Camp, known affectionately as "Van" by his colleagues, was instrumental in expanding 4-H and other youth programs, particularly those in forestry and wildlife. He eventually became State Extension Forester and served in that capacity until his resignation in July 1949, when he accepted the position of Secretary of the Canadian Forestry Association in Montreal.
One of his Purdue extension publications 50 Trees of Indiana, coauthored by T.E. Shaw, continues to be a very popular educational bulletin, and is used by school teachers and 4-H educators across the state for tree identification exercises. It is currently being revised in CD format to include not only updated material, but also educational exercises.
In recognition of Van Camp's life-long dedication to forestry and education, his family and friends created an endowment in 1998 and presented it as a 100th birthday present to him. The endowment helped to establish and will perpetuate an arboretum originally designed to showcase 50 common native trees of Indiana.
The Van Camp Arboretum currently contains 75 native tree and 12 native shrub species and will likely continue to grow as new species are added. It is located at Martell Forest in Tippecanoe County, 8 miles west of Purdue University's West Lafayette campus. The native trees and shrubs of the arboretum are grouped so as to reflect the natural forest communities that occur in Indiana.
In photos below you will find the J.L. Van camp plaque and rock that it sits on along with J.L. Van Camp's daughter Boo Wuestenfeld, her husband Bill Wuestenfeld and their daughter Pam Sebrey at the Van Camp Arboretum.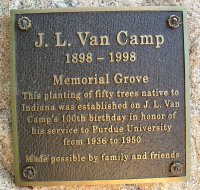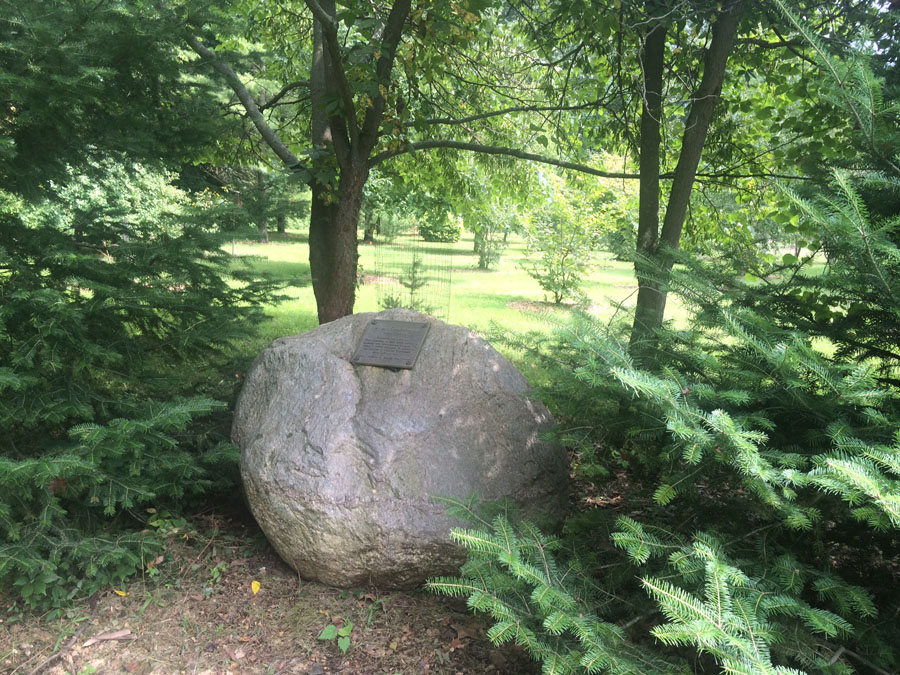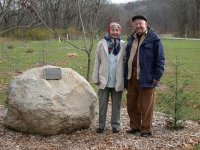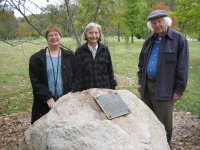 In photos below you will find the finished gazebo for the Van Camp Arboretum, maintenance done for foot bridge to enter the Arboretum and J.L. Van Camp's daughter, Boo Wuestenfeld, and granddaughter, Pam Sebrey, visiting the Arboretum.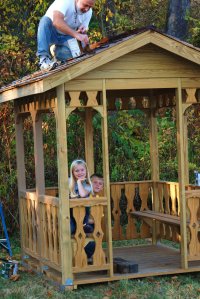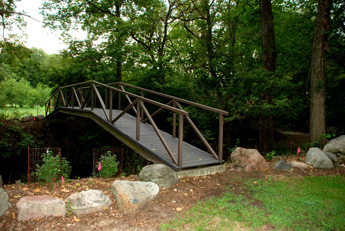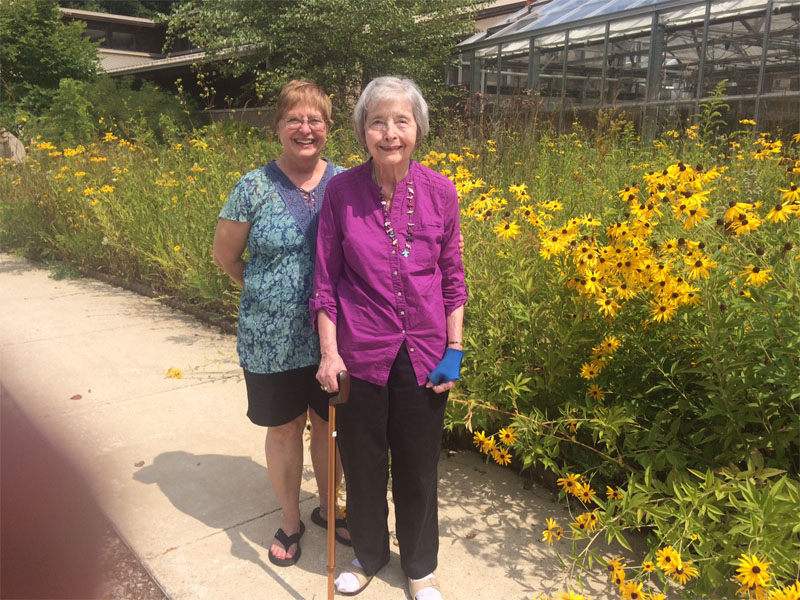 Purdue centers seek to support and enhance the research and partnership enterprise at Purdue University. The centers are valued and encouraged at Purdue as they create a venue for faculty to come together to pursue common goals. Forestry and Natural Resources have faculty and staff involved in six centers here at the University.
The Department of Forestry and Natural Resources maintains an impressive collection of state-of-the-art research and education facilities. These labs, green houses, and educational facilities are a fundamental component that enables our faculty and students to learn, make new discoveries, and engage our clients in using these discoveries to sustain our nation's ecosystems and natural resources.​