GRADUATE STUDENT PROFILE-  Ajay Rawat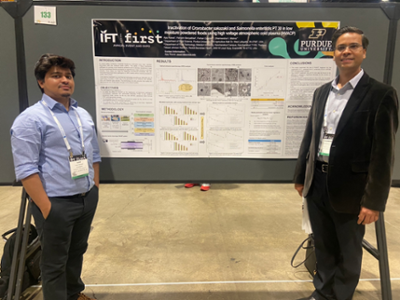 Ajay Rawat successfully defended his Master's thesis on August 18, 2022. Ajay is originally from Mumbai, India. Prior to attending graduate school at Purdue University, Ajay obtained his Bachelor's of Engineering in Biotechnology from Mumbai University.
Ajay's thesis was entitled, "Inactivation and modeling of food-borne pathogens in low-moisture foods using thermal processing and non-thermal cold plasma." Although Ajay had diverse experiences as a graduate student, he says that research has unquestionably been the most rewarding component of his degree. Ajay began his research by designing and modeling a novel rapid cooling heat exchanger for continuous flow food manufacturing systems to reduce the cooling time and improve product quality. For his Master's research, Ajay also investigated the microbial inactivation kinetics of foodborne pathogens, including Salmonella and Cronobacter, in low-moisture foods using thermal processing and newly emerging cold plasma technology. Ajay's mentor was Dr. Dharmendra Mishra. Other members of his graduate committee included Dr. Ferhan Ozadali and Dr. Fernanda San Martin.
Ajay had several options for where he could pursue his graduate education further. He chose Purdue Food Science for a multitude of reasons. "Purdue is a giant leader in innovation and technology. There are lots of funding opportunities available for graduate students in the form of scholarships, fellowships, and teaching assistantships. Additionally, I was interested in working with Dr. Mishra because of his expertise in the area of process engineering and modeling with immense food industry experience. I always had a passion to learn and explore more in the area of thermal processing in food manufacturing systems, which is why Dr. Mishra's Process Modeling and Validation Lab was a perfect opportunity for me to pursue my Master's degree." 
Ajay proudly recommends Purdue Food Science to prospective graduate students, stating, "Purdue is one of the top universities globally in the field of Food Science. I would definitely recommend Purdue Food Science to prospective graduate students due to its wide academic curriculum in various disciplines of Food Science such as Food Chemistry, Food Microbiology, Sanitation and Safety, Food Processing, Aseptic Processing Technologies, Food Nutritional Sciences, Product Development, and Sensory. The faculty and staff members are very resourceful, dedicated to teaching, and extremely helpful."
Beyond his research and learning, Ajay gained valuable industry experience by participating in Food Science workshops including the Aseptic Processing and Packaging Workshop, Validation Workshop: Aseptic Filling and Packaging, and Better Process Control School. After obtaining his certification in these areas, Ajay assisted with workshop delivery in subsequent years. These experiences allowed Ajay to network with industry professionals while acquiring hands-on experience in aseptic processing and filling of low acid and acidified beverages, plant sanitation, and food safety. 
Outside of the laboratory and classroom, Ajay was involved with several campus organizations. Ajay is an international FIDE-rated professional chess player and excelled as a member of the Purdue University Chess Club, where he represented Purdue University in many intercollegiate chess tournaments. Ajay also served as a member of Phi Tau Sigma and the Institute of Food Technologists (IFT). Finally, Ajay received recognition as the 2019 Ross Fellowship recipient.
Since defending his thesis, Ajay has moved on to his next challenge as a Quality Engineer (Aseptic) at Niagara Bottling LLC. We are proud of you, Ajay, and we wish you the best as you continue your career!