Graduate Student Profile - Dongqi Liu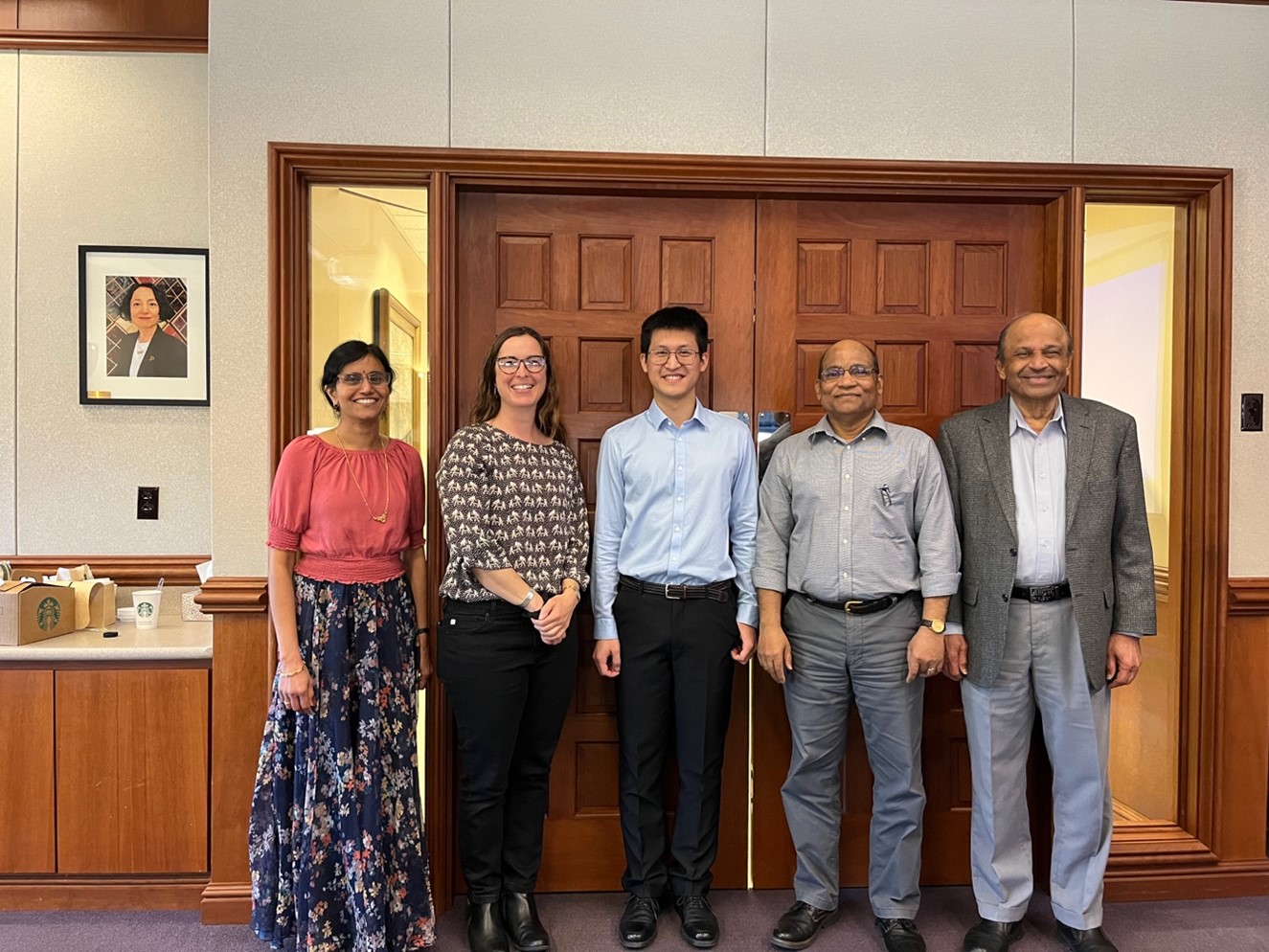 Dongqi Liu successfully defended his Ph.D. dissertation on April 7, 2023. Dongqi is originally from Guangzhou, China. He obtained his Bachelor's of Medicine in forensic medicine from Sichuan University in Chengdu, China.  
Dongqi's dissertation was entitled, "Deciphering the Mechanism of Action of Moonlighting Virulence Factor Listeria Adhesion Protein: from Bacteriology to Host Pathology." Listeria monocytogenes (Lm) is a deadly foodborne pathogen that utilizes a variety of virulence factors to colonize and invade the animal and human. Dongqi's dissertation discovered a novel surface binding mechanism of a special conditional moonlighting virulent factor, Listeria adhesion protein (LAP). LAP is a secreted acetaldehyde alcohol dehydrogenase (AdhE) that anchors on Internalin B (InlB) of the Lm surface, which is critical for Lm intestinal and neuro-invasion. The study is published in Cell Reports, titled "Cell Surface Anchoring of Listeria Adhesion Protein on L. monocytogenes is Fastened by Internalin B for Pathogenesis".
Dongqi's mentor was Dr. Arun Bhunia. Other members of his gradate committee included Dr. Lavanya Reddivari, Dr. Genesan N. Narsimhan, Dr. Abigail D. Cox, and Dr. Seleem Mohamed (prior to 2021).
Dongqi has a strong interest in Dr. Bhunia's research areas, stating that this is the primary reason that he chose Purdue Food Science for his graduate degree. However, there were other factors that contributed to this decision. "Purdue also encourages interdepartmental collaboration. I believe this is crucial for academic success, because most research breakthroughs could not happen without the collaborative efforts from multiple disciplines. Additionally, on campus research centers like the Purdue Proteomics and Imaging Facility, Histology Research Laboratory, greatly facilitate my research progress."
Dongqi recommends Purdue Food Science to prospective graduate students because of the department's strong industry ties. "Purdue Food Science has developed extensive relationships with local, national, and international food companies. Students will have many opportunities to learn about how food industry operates even before graduation."   
Dongqi had a few experiences that enhanced his experience as a Ph.D. student at Purdue. Dongqi locked up an internship with Zoetis in Kalamazoo, Michigan in 2020. (Unfortunately, this opportunity was cancelled due to the COVID-19 pandemic.) Dongqi also participated in several clubs and professional organizations including Purdue GK-12 Program (2017), The Protein Society (TPS) (2020-present), American Society for Investigative Pathology (ASIP) (2019-present), American Society of Microbiology (ASM) (2017-present), and ASM Indiana Branch (2021-present). Donqi was also the recipient of the Bilsland Dissertation Fellowship in 2022.
After graduation, Dongqi plans to continue working in Dr. Bhunia's lab as a post-doctoral research assistant until August 2023. After that, Dongqi will work as a post-doctoral research assistant at Indiana University-Purdue University Indianapolis with Dr. Xiongbin Lu. Congratulations, Dongqi! We wish you all the best!