GRADUATE STUDENT PROFILE-  Maeve Swinehart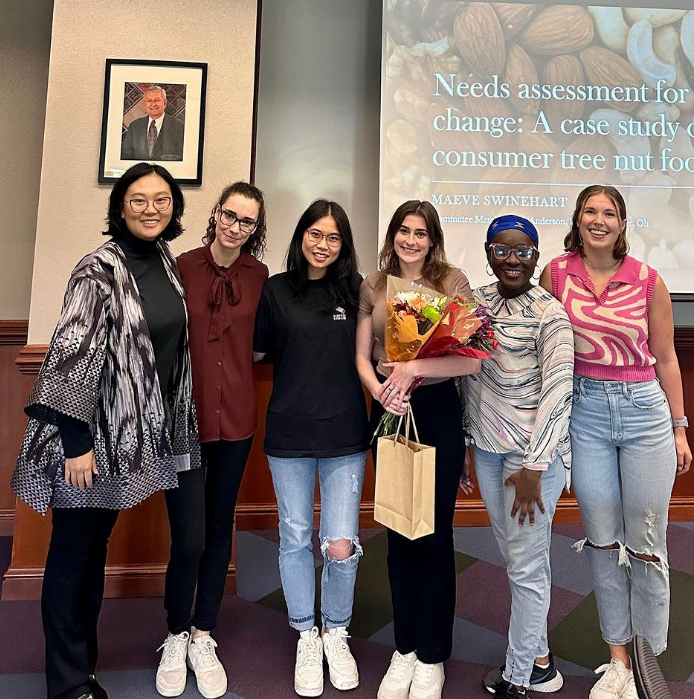 Maeve Swinehart successfully defended her Master's thesis on on September 19, 2023. Maeve is originally from Western Springs, Illinois, and she obtained her Bachelor's degree in Biology from the University of Notre Dame in South Bend, Indiana.
Maeve's thesis was entitled, "Needs Assessment for Behavior-Change: A Case Study of Consumer Tree Nut Food Safety." Tree nuts are popular foods and typically perceived as a low risk for foodborne illness. However, there have been several foodborne outbreaks and recalls associated with these products in the past two decades. Maeve's research assessed tree nut food safety knowledge, risk-perceptions, and handling practices of consumers in order to identify research and extension needs.
Maeve's mentor was Dr. Yaohua (Betty) Feng. Other members of her graduate committee included Dr. Eun Joong Oh and Dr. Nathan M. Anderson.
Maeve's decision about where to obtain her Master's degree was swayed by Purdue's reputation and impressive track record. Maeve said, "I choose Purdue because it is a highly regarded institution. Its food science program is top-notch with renowned professors and 100% job placement."
After her valuable Purdue experience, Maeve highly recommends the Purdue Food Science graduate program to prospective graduate students, stating, "It is a great opportunity to learn from incredible faculty with likeminded peers. The community is welcoming and growing. "
While working toward her degree, Maeve was also involved in the Food Science Graduate Student Association and was a student member of the International Assocation for Food Protection (IAFP). In her next chapter, Maeve plans to work as a Liquid Commercialization Specialist at Diageo in Plainfield, Illinois. Congratulations, Maeve! We wish you the best in your future endeavors.