Graduate Student Profile - Travis Woodbury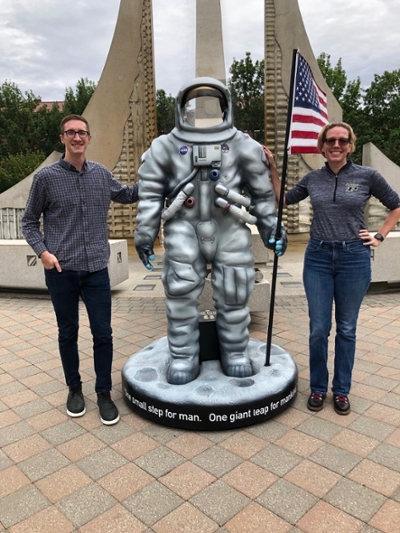 Travis Woodbury successfully defended his Ph.D. dissertation on September 21, 2022. Travis is originally from Draper, Utah, and he completed his undergraduate degree at Brigham Young University (BYU) in Idaho.  
Travis' dissertation was entitled, "Sugar reduction in baked goods systems." His research investigated the effectiveness of different sugar replacing agents on wheat starch thermal properties and the baking performance of cookies to help prevent obesity and related diseases. Travis' mentor was Dr. Lisa Mauer. Other members of his gradate committee included Dr. Bruce Hamaker, Dr. Stephen Lindemann, and Dr. Ganesan Narsimhan.
Travis cites a couple of reasons for why he chose Purdue Food Science for his graduate degree, stating, "My research interests were in structure-function relationships with carbohydrates, specifically starch, and it made sense to apply to Purdue since it houses the Whistler Center for Carbohydrate Research. I was particularly interested in Dr. Mauer's lab because she's an expert in food material science as well as water-solid interactions. Another reason which drew me to Purdue was my undergraduate advisor, Dr. Kerry Huber, who completed his Ph.D. at Purdue under Dr. James BeMiller, and highly recommended the program. Finally, the funding was better than most other schools, a tuition waiver was included, and the cost of living was affordable in West Lafayette/Lafayette area."
Travis adamantly recommends Purdue Food Science to prospective graduate students. "The Food Science Department at Purdue is a top-tier program in the U.S. and around the world. The department is also heavily recruited by some of the largest food companies, and its students have 100% job placement after school. The faculty are leading cutting edge research across multiple food science disciplines (carbohydrate chemistry and nutrition, food safety, aseptic processing, and food material science) and are amazing mentors. The staff are incredibly supportive, kind, and willing to drop what they're doing to answer questions. Anyone applying to grad school would be hard pressed to find a better food science program than at Purdue."
Travis had several experiences that enhanced his experience as a Ph.D. student at Purdue. In the Summer of 2021, Travis held a position as an R&D Food Scientist Intern at Cargill Inc. in Minneapolis, MN. Travis also participated in several clubs and professional organizations including Phi Tau Sigma (2019 – 2020), Food Science Graduate Student Association (FSGSA) (2019-2021), Purdue College Bowl Team (2018-2019), and Institute of Food Technologists (2018 – 2021).
After graduation, Travis plans to continue his career as a Carbohydrate Research Scientist at ADM in Decatur, Illinois. Congratulations, Travis! We wish you all the best!