GRADUATE STUDENT PROFILE - Uriel Urbizo Reyes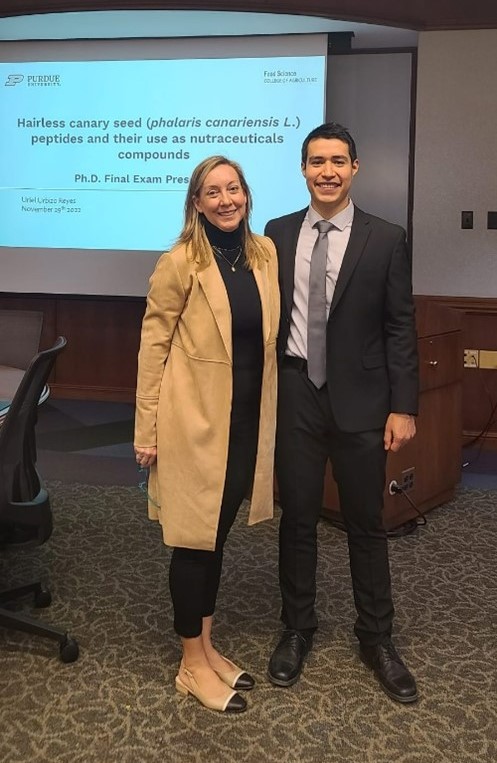 Uriel Urbizo Reyes successfully defended his Ph.D. dissertation on November 29, 2022. Uriel is originally from Tegucigalpa, Honduras, and he completed his undergraduate degree at Zamorano University in Honduras.  
Uriel's dissertation was entitled, "Hairless canary seed (phalaris canariensis L.) peptides and their use as nutraceuticals compounds". His research focused on canary seed peptides as a source of bioactive compounds to help prevent chronic diseases. During this dissertation, Uriel aimed to understand what mechanisms were involved in the health benefits of these seeds. He and his team found that the seeds were rich in non-polar proteins. When these proteins were broken down into peptides, they inhibited enzymes involved in certain diseases like hypertension and obesity. Uriel used various cell, animal, and in vitro models to understand and corroborate the observations seen in the preliminary studies. Uriel's mentor was Dr. Andrea Liceaga. Other members of his graduate committee included Dr. Lavanya Reddivari, Dr. Kee-Hong Kim, and Dr. Joseph Anderson.
Uriel credits an internship as the reason that he selected Purdue Food Science as the institution where he would continue his education. "As an undergraduate at Zamorano University, I participated in an undergraduate internship program. They were various options, but within them, I read about Purdue University and its strength in agriculture and engineering. I was very interested and decided to apply for an internship at Purdue. When I arrived, I joined the bioactive peptide and protein laboratory, where I started to work with alternative proteins. I was delighted to learn about sustainable protein and how to modulate health. After my internship, I was invited by Dr. Liceaga to join her team as a graduate student."
Uriel has enjoyed his time as a graduate student in the department, and he recommends Purdue Food Science to prospective graduate students. "Purdue is a great place to pursue your graduate studies, with hundreds of tools and options to collaborate and grow academically and personally. In addition, the food science department offers the mentoring of first-class faculty and researchers that will help sharpen your critical thinking, making you a more competitive professional."
Uriel had several impressive accomplishments during his time at Purdue. In 2022, he was awarded the Bilsland Fellowship, as well as the Kirleis Graduate Student Award. Uriel was also highlighted in the College of Agriculture Graduate Student Spotlight in 2022. In addition to his research and academic ventures, Uriel was also involved in the Phi Tau Sigma Honor Society and the Zamorano Alumni Association.
After graduation, Uriel plans continue work as a research assistant in the Food Science department while transitioning to an opportunity in the food industry. Congratulations, Uriel! We can't wait to see what you accomplish next!