Students
Information for Students



The College of Agriculture hosts career fairs in the fall and spring semesters. More than 250 companies attend annually. Students and alumni are provided the opportunity to learn about their organizations, submit resumes and interview for permanent or internship positions. 
Freshmen and sophomore students are welcome to join upper-level students at the career fairs to learn about careers and develop the art of professional conversations very early. 
COLLEGE OF AGRICULTURE Career fair 
Spring Career Fair, Wednesday, February 28, 2024 
France Córdova Recreational Sports Center | 10:00 AM to 2:30 PM
Students and alumni from all majors are invited to attend the Career Fair. View the list of employers attending here. 

Get Ready for the Career Fair


Receive tips on preparing for the career fair and links to helpful resources using your Student Career Fair Guide.
Make sure your resume is up to date. Be prepared to bring a minimum of 20 copies to the career fair. 

---

 

On-Campus Interview Day, Thursday, February 29, 2024
Purdue CCO, Second floor of YONG Hall
Select employers will be conducting interviews on campus. Schedule an interview time by speaking with employers during the fair. 

Since 2005, the College of Agriculture has supported the Public Policy Internship Program. A select student cohort will work and live in Washington D.C. for eight to ten weeks. Students will learn about agriculture policy, obtain professional work experience, and network in their field of interest.
The program is open for students in any major in the College of Agriculture. Internship opportunities abound in our nation's capital. From congressional internships on Capitol Hill to positions with think tanks, international affairs associations, nonprofit organizations, and advocacy groups, there is truly something for everyone. Students will secure a paid or unpaid internship placement that reflects their specific areas of academic or career interests.
Applicant Eligibility
Purdue University College of Agriculture undergraduate student
Eligible to work in the United States (I-9 documentation required)
At least 18 years of age by the start of the internship semester
Be classified as a sophomore, junior, or non-graduating senior
Maintain a cumulative GPA of 3.0 or above
Application process 
Interested students are encouraged to attend the fall semester Public Policy Internship Call-out.
Applications are due online in October.
The application requires a resume, cover letter, and two letters of recommendation.
Applications are reviewed by a committee of faculty and staff shortly after the deadline.

Students selected for in-person interviews will be invited to the Office of Academic Programs.

Selected interns are announced by November/December.

Selected interns are required to attend the professional development workshops held in the spring.

---
Interested in learning more?
Complete an interest form to receive updates about the program.
Hear from two students about their policy internship experiences in the videos below.
---
Related Career Events
IU McKinney Law School Information Session
November 29, 2023 
Carli Meihofer, an admissions counselor from IU McKinney School of Law, will be on Purdue's campus Wednesday, November 29 from 11am – 3pm to meet individually with students. She will also conduct an information session at 12:30. View the registration details here.
Career Insights: Exploring Careers in Policy and Legislative Affairs
November 30, 2023 | 3:30 PM Discussion
YONG 454
Featured Guest: Brad McKinney, Vice President of Strategic Initiatives, Krach Institute for Tech Diplomacy at Purdue, Purdue alumnus. Register here.
Career Insights D.C. Edition: Interview Techniques & Strategies for Federal Internships & Jobs
December 4, 2023 | 4:00 PM 
Microsoft Teams
Featured Guest: Enimini Ekong, Recruitment & Placement Specialist, U.S.Office of Personnel Managment. Register here.
Career Insights D.C. Edition: Writing a Winning Resume for Federal Internships & Jobs
January 22, 2024 | 4:00 PM 
Microsoft Teams
Featured Guest: Enimini Ekong, Recruitment & Placement Specialist, U.S.Office of Personnel Managment. Register here.
---
Indiana Policy spring internship organizations & resources
---
National Policy internship organizations & Resources
Selection for the Public Policy Internship Program and national internships is competitive. This is a limited list of resources to get you started.
Lucy Laudeman
"Interning in the U.S. Senate for Senator Cardin was an incredibly eye-opening and exciting experience. I got to intern with the environment and infrastructure team where I gained invaluable knowledge about environmental policy and solidified my future career plans. I had the opportunity to work on memos, constituent letters, and a guide about the Inflation Reduction Act grants. I absolutely loved working for the government, and I got to meet great people who are dedicated to serving their constituents."
Lucy Laudeman, Congressional Intern, Office of Senator Ben Cardin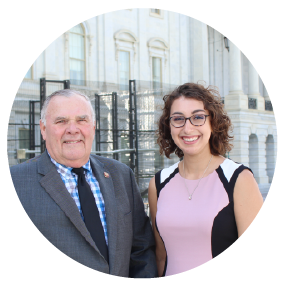 MORGAN WINDER
"I have a lot more autonomy to take initiative on tasks, hearings, briefings and tours in the congressional office. It's been an immersive experience and I really enjoy the type of work I am doing. I enjoy that every day I'm diving into a new subject to learn as much as I can in order to report to the Legislative Assistants. The best office-related task so far was attending a USDA briefing on crop insurance and reporting back to the legislative director."
Morgan Winder, Congressional Intern, Office of Congressman Jim Baird
Photo with U.S. Congressman Jim Baird (IN-4)
Halee Fisher
"Washington D.C. was a transformative and life changing experience. Being able to network with policymakers across the district solidified my love for international policy. I had the opportunity to be a part of the Cochran Fellowship team where I helped eligible countries develop agricultural systems necessary to meet the food and fiber needs of their domestic populations. I loved discussing food security methods through agriculture with individuals all around the globe!"
Halee Fisher, Agricultural Economics
Previous
Next