Proceeds from Boiler Gold-American Golden Ale to benefit university ag research
Ongoing Purdue University research and partnerships to aid the growing craft beer industry have brewed up one unexpected result: a Boilermaker-branded ale.
People's Brewing Co. owner Chris Johnson, who attended Purdue, has had an ongoing partnership with the university to work on collaborative studies, and he has also been a regular speaker at classes in the Department of Food Science on topics related to the craft beer industry. On Friday (Sept. 1) Purdue and People's announced that relationship has resulted in the creation of Boiler Gold-American Golden Ale.
The new ale will initially be available at Ross-Ade Stadium and the 1869 Tap Room in the Purdue Memorial Union. It will also be on shelves at Indiana and Chicago-area retailers in time for the holidays.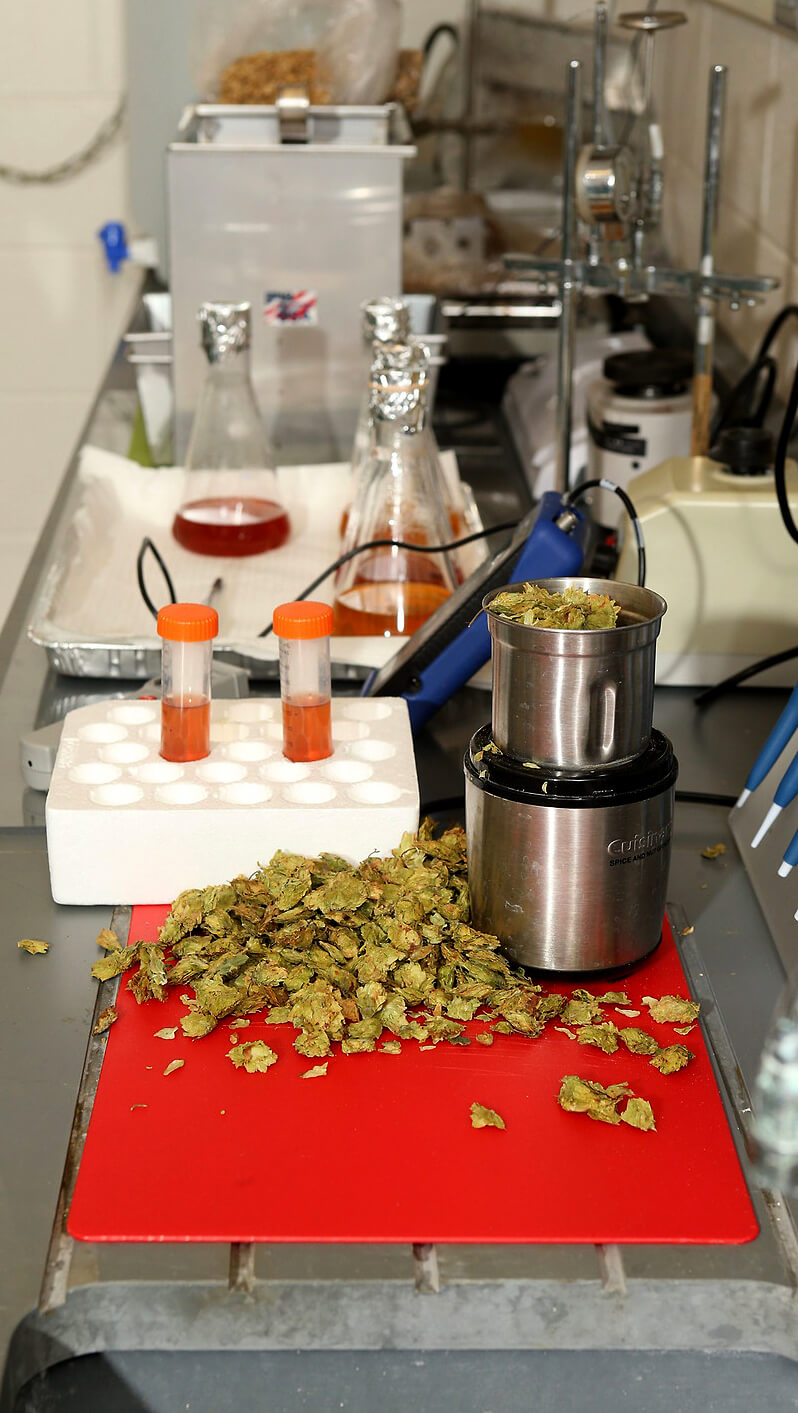 "Boiler Gold ale is an expression of Boilermaker pride, and university proceeds from sales will support agricultural research, including in areas that support the state's and nation's growing craft beer industry through hops and fermentation sciences research," Purdue President Mitch Daniels said.
Johnson said, "For me, this is the intersection of two things I'm passionate about: brewing and Boilermakers. Boiler Gold-American Golden Ale – from the hops to our company to the packaging – speaks to the connection I have to our state and Purdue."
Purdue works with the Brewers of Indiana Guild, and the university's Department of Food Science houses the Hops and Brewing Analysis Lab, which works with the agricultural and craft brewing industries to test hops, malted grains and finished goods. Among services offered is the evaluation of hops sent by growers to help them determine the optimal time to harvest.
The largest area for hops production traditionally is in the Pacific Northwest, and Indiana's high humidity makes growing hops in the state a challenge, said Brian Farkas, head of the Department of Food Science. Purdue researchers in the Department of Horticulture and Landscape Architecture are testing different hops varietals to determine which are best suited to Indiana's growing conditions and to identify the most problematic pests and how to effectively control them. Researchers in the Department of Food Science then test the hop quality to determine which, if any, show promise for producing a desirable product.
Farkas said there are several opportunities in the area of fermentation sciences, as well as in plant sciences and agriculture, that the ongoing partnership with People's Brewing Co. and the broader craft beer industry helps advance.
"We have plans in place to begin offering a minor in fermentation sciences in the fall of 2018, with a long-term goal of allowing students to major in the discipline," he said. "Our engagement with breweries and hops producers gives us the input to play a role in expanding a growing industry and creating curriculum that is relevant to students and potential employers."
Farkas said fermentation sciences is a field that touches on many basic sciences, such as microbial and biological chemistry, biology, and engineering, and has practical applications in the food and beverage industry, pharmaceuticals, biofuel production, and other ag-related industries.
Boiler Gold, Johnson said, is what is known as a "session beer," which means it is not heavily hopped like an IPA or dark like a stout, making it a good choice for those wanting to enjoy a beer during a football game.
Beer, wine and liquor have been available in Ross-Ade premium seating sections and suites since 2003, while beer and wine have been sold on the South End Zone Patio since 2015. In Mackey Arena, beer, wine and liquor have been available in club spaces since 2011. Beginning this season, sales were expanded throughout both venues, with the exception of the concourse area immediately adjacent to the respective student sections.