Haley Oliver, Associate Professor of Food Science, was the first woman to present the Justin Smith Morrill Memorial Lecture in early November in New Orleans. On December 10, she delivered her presentation once more at Purdue University.
The memorial lecture is one of three sponsored by the U.S. Department of Agriculture (USDA) National Institute of Food and Agriculture (NIFA) and Association of Public & Land-Grant Universities (ALPU) to honor the founding fathers of the land-grant system. NIFA selected Oliver "in recognition of her demonstrated leadership in education as well as her contributions to promoting excellence in the food and agricultural sciences."
Oliver was the second Boilermaker chosen since the lecture series began in 1980, following 2004's selection of former Purdue President Martin Jischke. The selection capped an exciting year for Oliver, during which she also received the Charles B. Murphy Outstanding Undergraduate Teaching Award, Purdue's highest undergraduate teaching honor.
Oliver titled her lecture "A Millennial's Perspective on the Land Grant System and its Role in Global Resilience." The millennial viewpoint came from her lifetime of experience in the land-grant system. Extension has been a constant in Oliver's life since she joined 4-H at nine years old.  Oliver went on to study at two land-grant institutions, the University of Wyoming and Cornell University, before joining Purdue University's faculty in 2010.
"Because it's a millennial's perspective," Oliver said, "I asked what can (those with more experience in the land-grant system) do to help the newer faculty not make mistakes with this framework we've been given?  How do we keep it healthy and well?  How do we scale and flex the land grants to changing stakeholders so it's not all about production agriculture, where it started?"
Oliver shared her story at the ALPU's 131st annual meeting, its largest ever.  "The theme of the ALPU conference was resilience," Oliver recalled. "I'd been thinking a lot about that word because of a proposal we'd just finished putting together where resilience is a big piece of how to develop better food safety around the world. Let's think about how we use that as a strategy for the land grants domestically, but also with international development."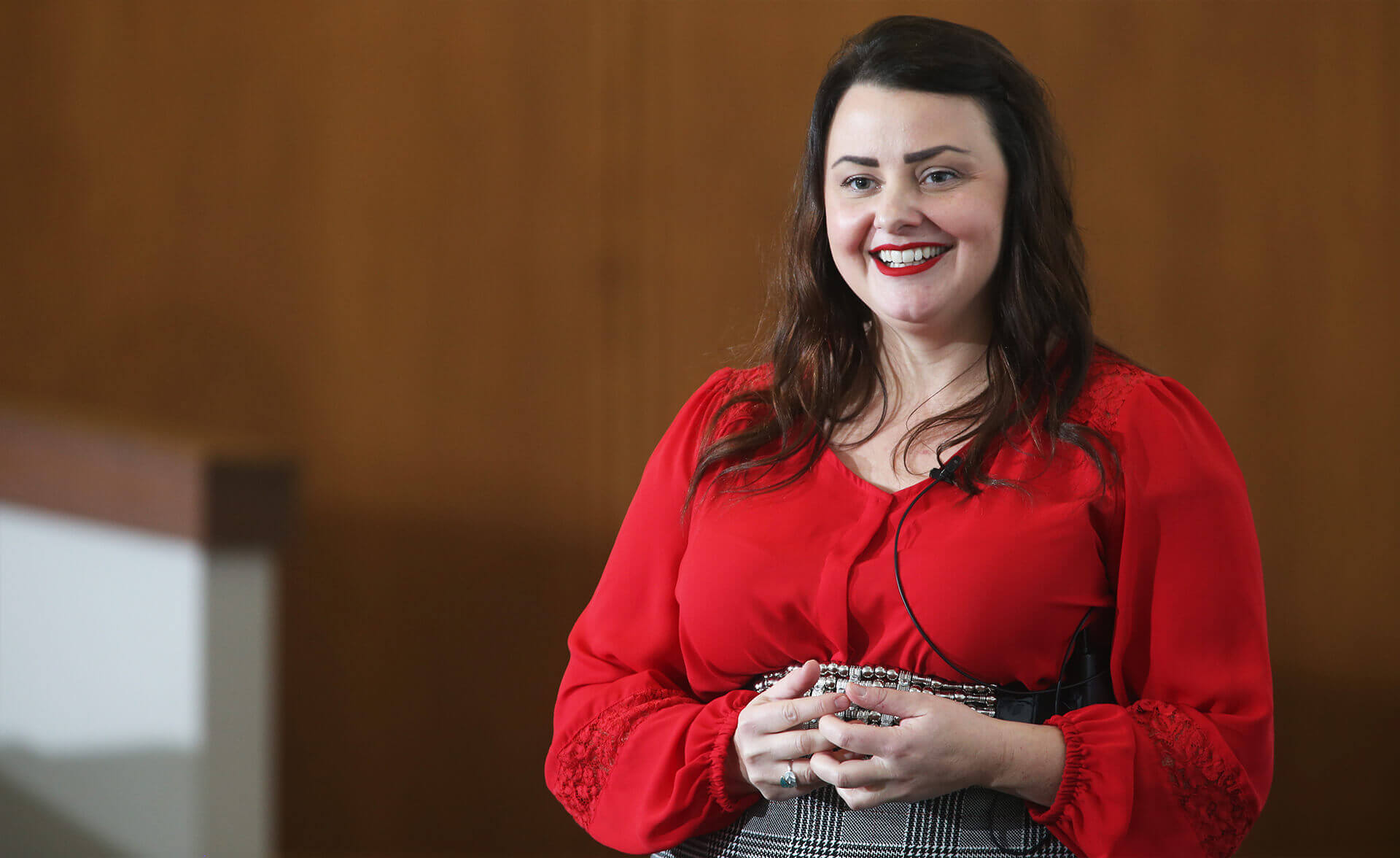 A focus of Oliver's speech was her work with Purdue scientists to develop a food technology program at Herat University in Afghanistan. The US Agency for International Development funded the efforts to increase food safety in the developing country, agreeing with the significance Oliver places on food security.
Oliver explained: "In Afghanistan, if we can make sure that people can eat, can feed their families and they're at that level of well-being, you're less motivated to seek alternative income sources like ISIS or other extreme opportunities in order to achieve the same income. Why we care about agriculture, why we care about food safety and food systems in these countries is that if you can eat, you can have a stable economy in that sense. It helps mitigate some of the other challenges down the road."
Oliver emphasized how important the land-grant system is to her, calling it her personal doctrine. "If I'm finding something to believe in today, it's this kind of system," she said.  "I think the systems we've built are foundational to the success of the United States. I think it's a platform for integrating government industry and academia.  With all those stakeholders at the table, that's what will really help angle the policy."
Oliver continued, "We've done a great job in this college of holding on to Extension through budget cuts, through flat-line amounts of money coming from the state. When we look at how challenged some of our neighbors are, we should be very proud of that, but we can't be complacent."
 Karen Plaut, the Glenn W. Sample Dean of the Purdue College of Agriculture played a large role in Oliver's nomination and explained the reasoning behind her endorsement. "We nominated her because she really has an excellent story to tell. She has so much great work she's doing."