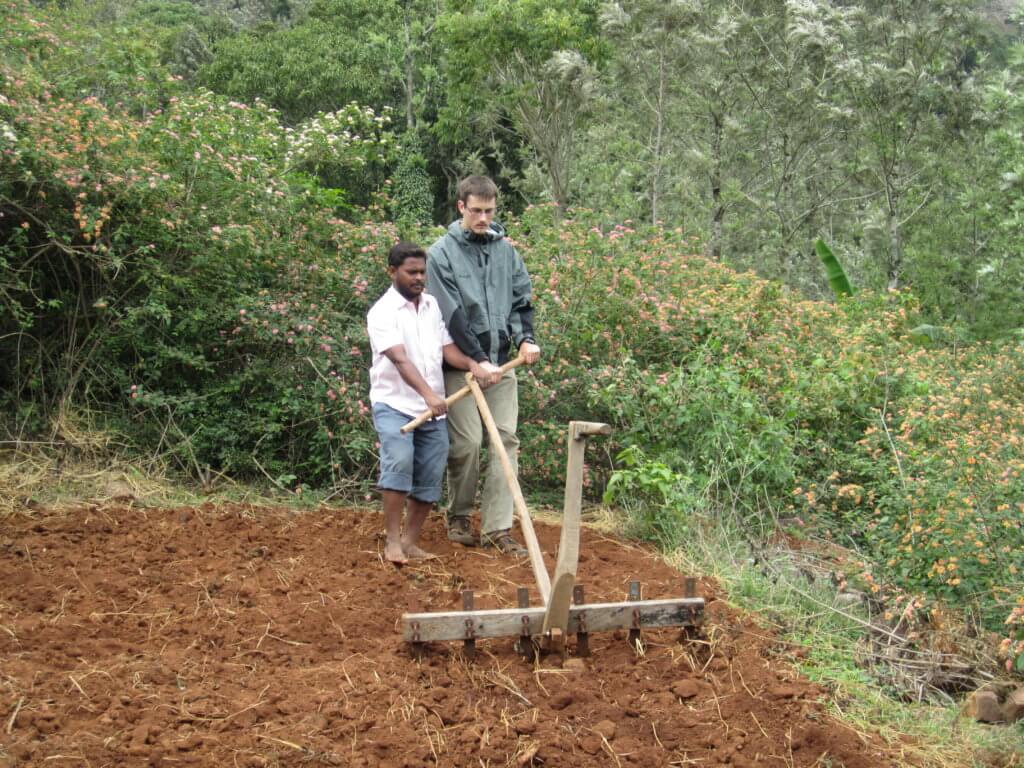 At 18 years old, Mark Gee decided he wanted to graduate from Purdue with majors in biochemistry, biological engineering, and agronomy. Now, as a fifth-year senior at Purdue, he is set to do just that.
Growing up in Iowa, Gee was surrounded by farmland and developed an early interest in plants and agriculture.
"When I was ten, I started a business with my brother to sell our vegetables at the local farmers' market. We experimented with growing techniques, soil enrichment, pest control and crop rotation," Gee said.
In subsequent years, Gee and his brother investigated how soil enrichment, pest control and crop rotation could optimize yields. Fortunately, he adds, his family wasn't dependent on their crops for survival, but he soon learned that's not the case for many smallholder farmers around the world.
After high school, Gee traveled to India where he worked closely with millet farmers, helping them adapt farming practices to cope with climate variability. Shortly after that, Gee traveled to Mexico where he worked with a plant breeding team to better understand how research in genetics, pathology and engineering can benefit the smallholder farmer. 
"I have experienced firsthand the challenges of agriculture in the United States, Mexico and India and seen the significant need for, and impact of, interdisciplinary scientific discoveries to make a difference in the world, especially for smallholder farmers," Gee added. This worldview has been furthered by his research at Purdue and the opportunities to work closely with researchers like Cary Mitchell and Marshall Porterfield.
Gee added that travel, research and other formative experiences have been made possible by funding he's received from the university and outside sources. In the summer 0f 2016, Gee received a scholarship that underwrote an internship in D.C. with DuPont's Government Affairs office. The funding for this opportunity came, in part, from the Ag Alumni Trust Fund, which supports students like Mark who go above and beyond.
While scholarship opportunities like this are not sparse at Purdue, the funding for the Ag Alumni Trust Fund has an unusual source. Purdue's Ag Alumni office has sold Purdue-branded Swiss cheese since 1969. The proceeds from these sales go to benefit scholarships as well as trips and student spaces. Sales are one of many sources of funding for the trust fund.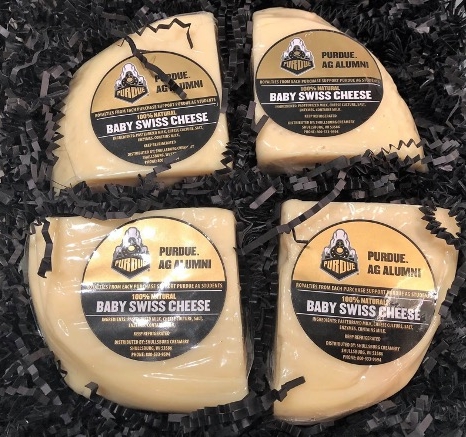 "The money from sales goes into the Ag Alumni trust fund and that money is then allocated for different projects," Danica Kirkpatrick, executive director of the Ag Alumni Association, said. "That could be an internship program, scholarships, professional conferences for students, or updating space and equipment that students regularly use."
The Purdue Swiss cheese is a popular gift, Kirkpatrick added and can be purchased in 2lb wheels, 5lb wheels, and smaller 1lb segments. While the cheese is available at Purdue's Butcher Block, gift boxes can also be ordered online. "It can be shipped anywhere in the U.S., from the West Coast to Florida," Kirkpatrick said. "The quality won't be compromised."
Without opportunities like those provided by the Ag Alumni Trust Fund, Gee explained, the scope of his work, travel, and research would have been much narrower.