The annual Purdue Agriculture Fish Fry, which took place on February 2 at the Indiana State Fairgrounds, featured a panel discussion with the past five College of Agriculture Deans: Karen Plaut, the Glenn W. Sample Dean of Agriculture, and former deans Bob Thompson, Vic Lechtenberg, Randy Woodson and Jay Akridge, Purdue's Provost and Executive Vice President for Academic Affairs and Diversity.  Longtime agriculture broadcast journalist Max Armstrong moderated the conversation as the panel discussed how the College of Agriculture can continue to make major strides while upholding the three pillars of the land-grant university: research, extension, and education.
In her opening remarks, Plaut highlighted Purdue's commitment to Extension, digital agriculture, and to continuing to be an international leader.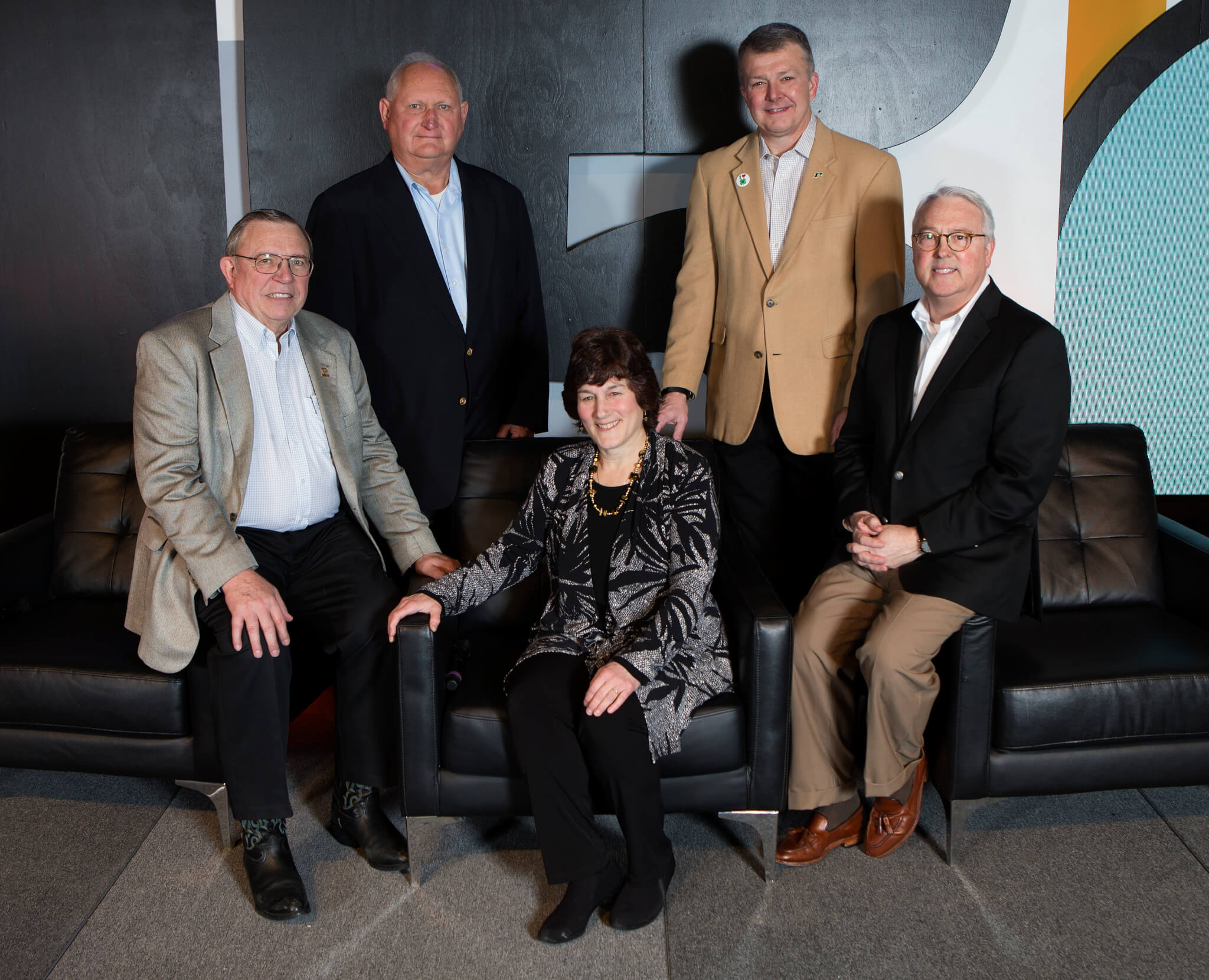 "As we look forward, my prediction is that Purdue Agriculture in the year 2100 will be known as the model for the land grant of the 21st century, a hub for innovation and education, a hub for research, a hub for Extension, both here and around the world," Plaut said.
All four former deans emphasized Purdue's commitment to the mission of the land-grant university. "Being a land-grant university is an idea woven through the DNA of this college," Akridge said.
Thompson discussed the need to enhance technologies in digital agriculture as a means to support large-scale agriculture as well as the smaller, independent farmer.
"We live in an era of great scrutiny of agriculture with respect to its environmental impact. And with climate change occurring, we find all ecosystems shifting," Thompson said. "It's going to take data-driven agriculture together with the best available biological technologies in order to ensure that our crops get enough nutrition, that we get precise control over the pests impacting our crops, and that we do it in a manner that's consistent with the migration of ecosystems."
And part of promoting digital agriculture, Lechtenberg added, involves a strong Extension program, which has always been a priority for Purdue and the College of Agriculture.
"Extension was created to be the short circuit, to take technology and innovation directly from the laboratories and the classrooms at the university to the people that put it into practice every day of the week. That need still exists," Lechtenberg said.
Part of furthering innovation and adoption of cutting-edge technologies, Woodson continued, is nurturing public-private partnerships, which can spark innovation and fast-track adoption of technologies.
"I think one of the things that we're all going to realize with the changes in the tax structure in our country is that corporations with a reduced corporate tax burden are going to have the opportunity to invest more in research," Woodson explained.
Plaut concluded the panel discussion by reflecting on how commitment to research, Extension, and innovation has remained strong within the college over the past three decades of leadership.
"I think the interesting thing is that we span 32 years, but the basic fundamentals of how we think are all very similar and it really is about fostering the land-grant mission," Plaut concluded.
Danica Kirkpatrick, executive director of the Purdue Agriculture Alumni Association, said this year's fish fry sold nearly 1,500 tickets. College alumni remain essential, she added, in supporting the College's mission.
"I look forward to taking giant leaps with our Purdue agriculture alumni," she said.