Beth Hall, who most recently served as the Midwestern Regional Climate Center's director, has been named director of the Indiana State Climate Office at Purdue University.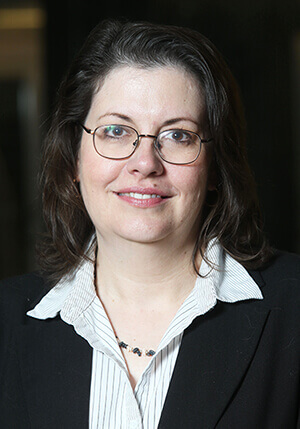 "Dr. Hall brings tremendous experience and excitement to this position," said Ron Turco, department head for the Department of Agronomy, where the position of state climatologist resides. "We are looking forward to seeing the impact and contributions she makes." 
Since 2012 Hall led the MRCC, one of six such federally funded centers. Housed at the University of Illinois, the center served stakeholder climate needs across a nine-state region. She previously served as the New Hampshire state climatologist, an experience that drew her to the position at Purdue.
"Having been a state climatologist before, one of the aspects I liked about that job was the more direct interaction with the people of the state – sharing with them climate knowledge, climate information and trying to discover how they use climate, either in their day-to-day personal decisions or in their business," Hall said. "I was intrigued to get back to that direct, interpersonal connection. I want to have a strong presence across the state so that people know they can turn to us when they have questions."
Because the Indiana State Climate Office (IN-SCO) supports the research and Extension missions in the College of Agriculture, Hall sees abundant opportunities for the office to be involved across the state with any sector that relies on weather data, such as federal, state and local governments; other universities; the health care industry; and agriculture.
"When I was at the MRCC, the state climate offices that I thought were particularly effective were often associated with their Extension programs," she said. "They had the opportunity to have a far more intimate knowledge of how the end user needs climate information to make their decisions. I want to follow more of that Extension path when I'm talking with people."
IN-SCO was established in 1956 to study and document the state's climate and act as the official archive of weather observations recorded throughout the state. Its staff interprets and applies data to help address climate-related issues and make data broadly available.
Hall said her most pressing goal is to determine what climate information the state and its residents need to be more successful and profitable, and then to provide that data in a way – whether through tools, educational materials and presentations, or targeted communications — that can be used to drive decision making.
For example, climate data could be used to examine historic rainfall and flooding patterns to make predictive assessments that could aid in the design of roads and stormwater and drainage systems. Additionally, if farmers face a plant disease risk that is tied to climate, a tool could be developed to provide alerts when those conditions are likely to exist.
"This is practical and usable information," Hall said. "People think that climate science is just about averaging the weather conditions, but it's going beyond that. We are constantly analyzing what has happened to try to better understand what might happen in the future."
Hall is no stranger to the variability of Indiana weather. She received her bachelor's degree in physical geography with an emphasis in meteorology in 1994 from Indiana University. Lightning also struck personally for Hall at IU, where, as an undergraduate, she met her husband, David Ivey.
"When we left Indiana, we said it was only going to be for two or three years," she said. "We've always been trying to get back to the state, and this was a great opportunity to get us back to home, if you will."
Hall earned her master's degree in atmospheric physics and doctorate in atmospheric sciences from the University of Nevada, Reno, in 1998 and 2006, respectively.
In addition to leading the MRCC and serving as New Hampshire state climatologist, Hall was an assistant professor at Towson University and an associate research scientist at the Desert Research Institute's Division of Atmospheric Sciences.
Her research interests include applied climate science, extreme climate and weather, drought, climate variability, ecosystem database management, and scientific visualization. Hall also has an interest in applied climate, weather and/or earth science research that contributes to the advancement of understanding environmental relationships, including data acquisition and product development. She is a member of the National Weather Association, American Association of State Climatologists, American Geophysical Union and the American Meteorological Society.