Gerald Shively, an agricultural economics professor who has been at Purdue University for more than two decades, has been named associate dean and director of the College of Agriculture's International Programs in Agriculture.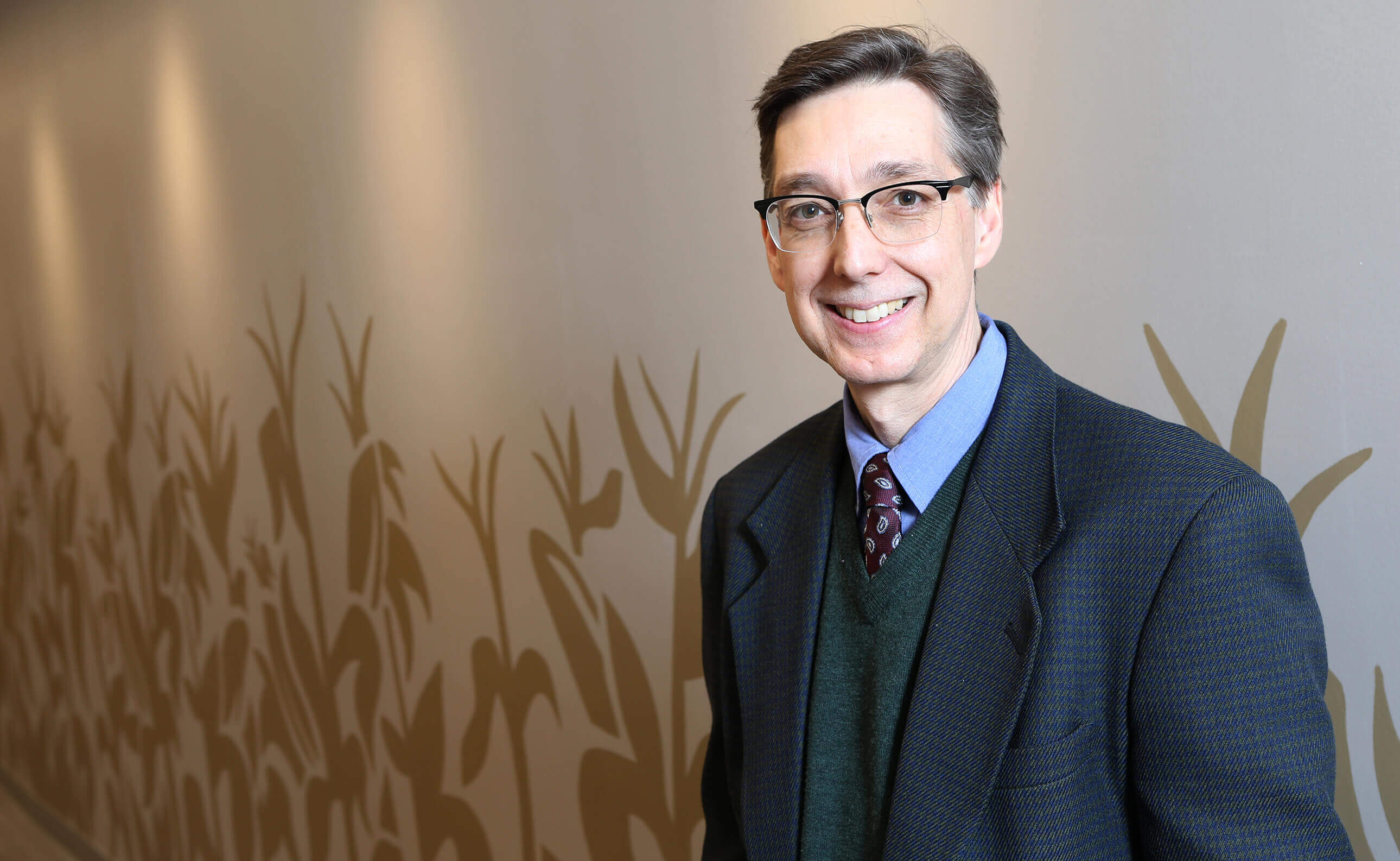 "Gerald's diverse scholarship and travel experiences will distinctively inform his work as associate dean," said Karen Plaut, the Glenn W. Sample Dean of Agriculture. "We are fortunate that he will be assuming this key leadership position within the college."
Shively has focused much of his research on the international arena, and his interactions with Purdue colleagues and graduate students on those projects drew him to this latest challenge.
"You might say that international agriculture is in my blood," he said. "It seemed like a very natural thing after benefiting so many years from Purdue's international legacy to be in this position so I can give something back. The College of Agriculture has done great work internationally through the years, and a big part of my job is to be a good steward of that reputation and to try to grow and enhance the college's global footprint."
International Programs in Agriculture (IPIA) assists and facilitates international experiences, collaborative relationships, and projects that aid faculty and staff, undergraduate and graduate students, and international visitors. It also provides administrative support through sponsoring seminars related to international agriculture; assisting and advising faculty, staff and students in preparation for international travel; aiding in the preparation of grant proposals with an international focus; and disseminating information on international opportunities for grants, fellowships, internships and exchange opportunities.
Shively will work closely with associate deans in the college as well as partners across campus to increase IPIA's profile and strengthen and enhance the college's missions of research, engagement and outreach, and learning. He is particularly interested to find new ways to promote outreach efforts in the international domain and to expand study abroad offerings for students.
"Purdue students will be going out into the workplace, many of them working in environments where they will be in a multicultural setting or working for multinational corporations," he said. "They need to be well-versed in global affairs, global challenges and be comfortable operating in that space."
Shively came to Purdue in 1996 and, in addition to serving as a professor in the Department of Agricultural Economics, is a Faculty Fellow for Global Affairs in the university's Office of the Executive Vice President for Research and Partnerships. His research focuses on the links among poverty, land and labor use, and natural resource management in developing areas of the world. He has conducted studies in Bangladesh, Ethiopia, Ghana, India, Indonesia, Malawi, Nepal, the Philippines, Thailand, Uganda and Vietnam.
He has received several teaching awards, including being listed in Purdue's Book of Great Teachers, and is the author or co-author of more than 200 scholarly contributions. He currently serves on the executive committee of the World Bank-Land Grant Partnership for Agriculture; the editorial board of the journal Land Economics; a blue-ribbon panel for the Council on Food, Agricultural and Resource Economics; and the executive committee of the Purdue Center for Global Food Security.
Shively received his bachelor's and master's degrees in economics from Boston University and earned his doctorate from the University of Wisconsin-Madison in agricultural and applied economics.
Shively's research in many developing nations has given him a unique perspective on issues the world faces as well as the vast potential Purdue has to address these issues.
"We all want to live on a healthy, sustainable planet, and that means solving some big challenges. The College of Agriculture should be known widely for being involved in that activity," he said. "That's the view at 35,000 feet. On the ground, what that means is that every day I need to be thinking about how we leverage the people, the knowledge and the resources that we have on campus in support of that."