When Bob Thompson began his tenure as dean of agriculture at Purdue in 1987, one agriculture student in four years had studied abroad. When he left in 1993, 10 percent of Agriculture's students graduated having had a meaningful international experience.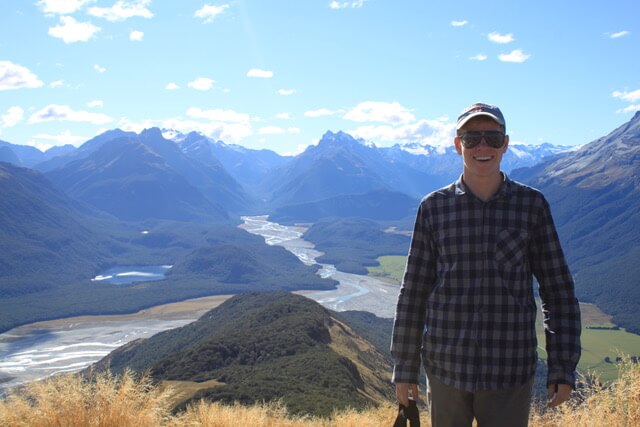 "That's my proudest contribution as dean at Purdue and I think, probably my most lasting legacy," Thompson says.
His commitment to study abroad laid the groundwork for the nearly 40 percent of Agriculture students who now graduate having studied abroad in hundreds of wide-ranging programs the college offers through the Office of International Programs in Agriculture (IPIA).
Thompson was so passionate about providing international opportunities to undergraduates that he and his wife established the Robert L. and Karen H. Thompson Scholarship to support students who participate in international study programs in agriculture.
Among its most recent recipients are senior agricultural communication major Sheradan Hill, who studied at Aberystwyth University in Wales for the fall 2018 semester. The Thompson scholarship allowed her to participate without taking out a loan, travel on weekends, and manage unexpected expenses.
Sharing cultural experiences with new friends from England, Poland, Zambia, Norway, and the Czech Republic gave Hill perspectives that she believes will benefit her career: "It gives you a competitive edge because you're going to be working with people with different backgrounds in the workplace. You learn our way isn't the only way, especially in agriculture."
"I'm convinced that to be competitive in the 21st century, our students are going to have to have an international perspective," Thompson told the audience at the 2019 Ag Alumni Fish Fry. In his remarks, he advocates for more international content in the curriculum through faculty "who gain international experience so they understand, use and teach technology and knowledge from around the world."
Tony Hoch, a senior in Agricultural and Biological Engineering, spent his spring 2017 semester at Massey University in New Zealand. Hoch had never ventured far from Indiana, and the Thompson Scholarship helped cover his travel expenses.
Hoch joined Massey's Outing Club for weekend adventures like whitewater rafting, hiking and climbing in rugged terrain. "The mental resilience to step into things I hadn't tried before — I've taken that mindset into everything I've done since then, including internships and coursework."
He'll take it next to the Global Operations Leadership Development program at Catalent Pharma Solutions, where in his first two years, he'll complete three rotations — somewhere. "Now I know it will work out if I try new things," he says. "I think people who have gone abroad have an advantage in being comfortable in new situations."
Thompson learned that firsthand when he studied abroad his junior year as an undergraduate at Cornell. Bachelor's degree in hand, he worked as a volunteer agriculturalist in Laos before earning master's and doctoral degrees from Purdue. An expert in agricultural policy, trade, and development, Thompson was assistant secretary of agriculture under President Reagan.
As dean of agriculture, Thompson focused both on internationalizing the undergraduate experience and on reducing poverty and hunger worldwide through the development of environmentally sound agricultural policies.
The Thompson Scholarship reflects these priorities. "With broader perspectives, both our faculty and students will be better prepared for the global and scientific frontiers of the future," he says.