During a trip to Poland in June, Courtney Dawn Kelley, an incoming Agricultural Sciences Education and Communication (ASEC) senior, put her coursework into practice.
Kelley traveled to Poland as part of the 2019 General Electric Poland Immersion Trip, an initiative designed to enhance multilateral cooperation in areas of trade and technology between Europe and the United States. Twenty college students participated in the program, four from Purdue, but Kelley was the only participant with an educational background in agriculture.
"I did feel like the odd one out in the group," Kelley said. "I spent a lot of time figuring out what I could gain and also what I could contribute."
Kelley added that she became an unofficial guide to students on the trip, educating them about issues in agriculture. The group traveled to several cities, winding their way through the countryside, where Kelley found herself answering questions about harvesting practices, soil health, irrigation, and other topics.
"I made it my mission to figure out how something was connected to agriculture, whether it was walking through a park and thinking about pest management or driving past farms and thinking about crop management. I also asked a lot of questions about agriculture," Kelley said.
The trip sparked new intellectual interests for Kelley. "I never thought I'd be so interested in political and economic issues," she said. "But I really began to see how these issues impact agriculture and the other way around."
In addition to exploring cities like Warsaw and Krakow, the group met with a number of dignitaries, including Andrzej Duda, President of Poland. They also spent time at the American Embassy and spoke with the presidential cabinet and a number of industry representatives. For Kelley, the culminating moment of the trip, however, was when she spoke about the trip in front of the entire Polish population.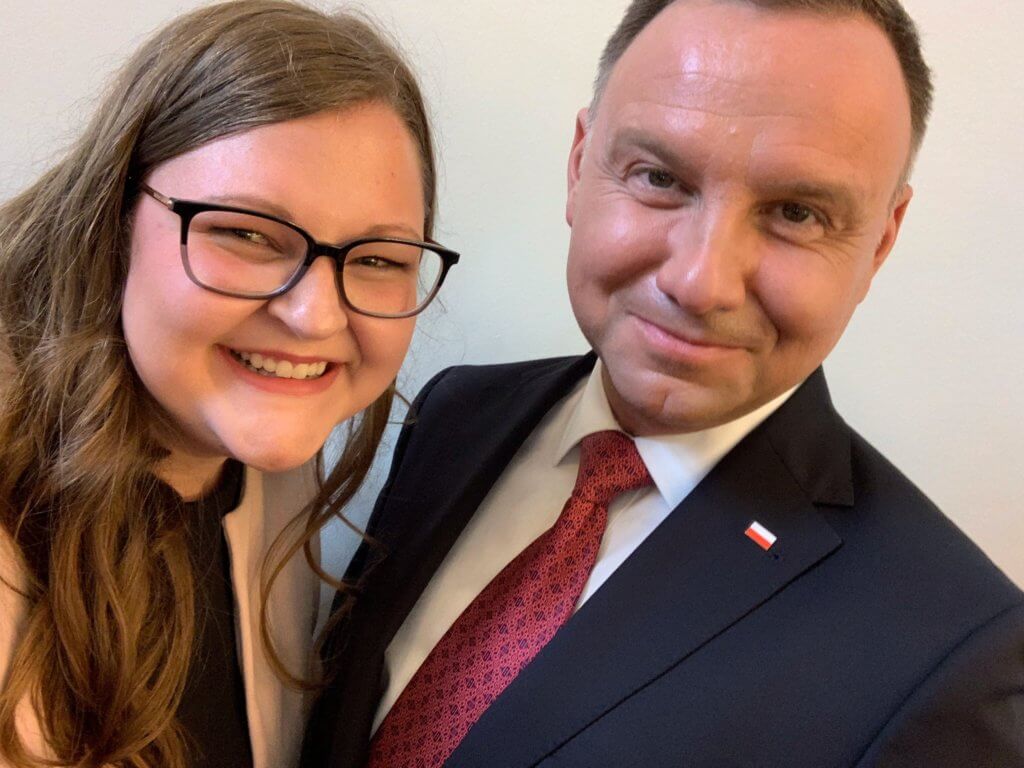 Kelley spoke about the trip at a press conference, stressing the importance of Polish-American relations and a commitment to this relationship. After the conference a reporter told Kelley the conference was broadcasted on national television, reaching roughly 40 million people.
"I had no idea," she laughed. "I'm so glad I didn't know beforehand."
Applying for the program was a last-minute decision, Kelley said, but the experience may have a lasting impact on her future.
"I discovered I'm interested in teaching the world about agriculture and I think that might be through the avenue of governmental affairs," she said. "My reality now is that I want to make a difference in agriculture and I think the key to that might be through policy work and encouraging the international exchange of ideas."