"My community, friends and peers are the reason I am making it through graduate school," Katherine Rivera-Zuluaga said. "One hundred percent."
Rivera-Zuluaga is a Ph.D. student in botany and plant pathology. She is one of four Colombian students from Icesi University in Cali, Colombia  currently pursuing a doctorate in the plant sciences, and one of many Colombian students in the college and university at large. This community of countrymen and women has been a key support system for Rivera-Zuluaga and many others, especially during the COVID-19 pandemic.
"We were all away from home in the middle of a pandemic where everyone is getting sick and is scared," she continued. "It was hard and depressing, but we gathered together when we could, we tried to keep each other safe in many ways. Most of us didn't travel home over Christmas, but we had each other."
Rivera-Zuluaga decided to pursue her graduate degree at Purdue after coming to the university in 2016 for a summer program arranged by Mike Mickelbart, professor of botany and plant pathology.
Mickelbart began hosting an annual summer research program in 2013 with his colleague Thaura Ghneim, a professor at Icesi University. Students spend 10 weeks working in a College of Agriculture lab and then present their completed work during a poster session at the conclusion of summer. To date, the program has hosted 27 students across six departments in the college. Four of these students are pursuing doctorates in the College of Agriculture and many others went on to attend graduate programs or work in the U.S. and other parts of the world.
This program has been successful both in terms of offering new opportunities to Colombian students and bringing productive, passionate students to Purdue labs. "The summer research experience is a win-win: Principal Investigators have a chance to assess students and the students have a chance to demonstrate the capabilities," Mickelbart said. "Also, there are 27 students scattered around the world in various positions or graduate programs who had a great—some of them would say life-changing—experience at Purdue University, so that's pretty good advertising."
For Santiago Franco Lopez the summer program was definitely life-altering.
Now a Ph.D. student in botany and plant pathology, Franco Lopez said when he initially attended the summer program he was wooed by the high-level research taking place and the welcoming atmosphere of the college and other Colombian students on campus.
"I worked with the Mickelbart lab that summer and I just really came to appreciate how beautiful plants are. I remember I was in charge of some plants, and some had died, but I didn't stop watering them for some reason. After a couple weeks they suddenly just started to grow again," Franco Lopez recalled. "I also really felt comfortable here because of the strong network of other Colombians. I have a strong support network and am at a top university, it's the best of both worlds."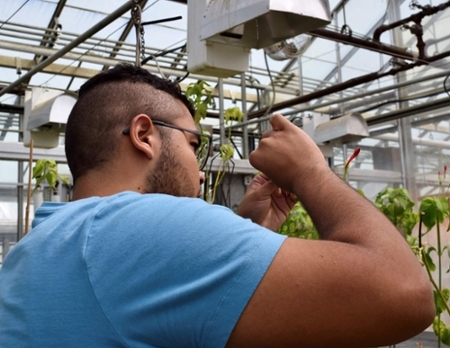 Juan Diego, another botany and plant pathology Ph.D. student from Colombia, has a similar perspective and said it can be difficult to get involved with research in Colombia. Here, he has exposure to a laboratory environment and peers that support him in and out of the academic environment.
"Purdue's Colombian community is family," he added. "We are always getting together, often to cook, but even just to see a movie or take a walk. The past year has especially been difficult, so having this second family was essential."
Mickelbart said even as a professor he sees the strength of this network.
"I see established students encouraging new students when they first arrive," he said. "Grad school is tough for everyone, let alone when you are leaving your family, culture and language to take on this really tough endeavor, so having someone here who has gone through the same struggles and emotions helps."