Phenotyping at Purdue University is pushing the limits of technology, offering researchers powerful insights into plants without disturbing a single leaf.
Purdue's Ag Alumni Seed Phenotyping Facility (AAPF) is a high-throughput,  controlled-environment facility equipped with multiple imaging systems and a professional team to help with experiments and data analysis.
A phenotype, an observable characteristic of an organism, is like the flip side of the record from genotype, an organism's genetic code. In addition to characteristics like height or disease resistance that may depend on a plant's genes, its phenotype might also include a plant's physical responses to changes in environmental factors such as drought or flood, rich or poor soil and pests. For plant sciences, an understanding of both the genotype and phenotype is a complete album with all the hit songs of that plant.
"We aim to close the gap between the rich genomic data that has been developed in the last few decades and an understanding of the traits those genes  lead to in a plant," said Yang Yang, director of digital phenomics at Purdue who leads the AAPF. "Doing so will improve crop resilience and food security and enhance the nutritional quality of what we grow. However, through digital phenomics we can do more than that. We can create tools to improve farm management and quickly identify threats to crops, food safety or human health."
The facility, a key component in Purdue's Next Moves in Plant Sciences, houses two growth chambers and multiple imaging systems including a color imaging system (red, green, blue, or RGB), a hyperspectral imaging system, and an X-Ray CT root scanner. All imaging systems in the facility are fully automated and integrated into a single operation management system.
From zero to 60 megabytes in 12 seconds: the power of digital imaging

The RGB system is like a souped-up version of the digital cameras in our cell phones, but when paired with tailored, machine-vision software, it becomes an elite measurement machine.
In a matter of seconds, the system scans a plant and extracts an assortment of measurements from height, stem width, and number of leaves, to custom measurements for the research project, for example leaf curvature, number of particles per head of wheat, or the angle between each leaf and stem.

"This system uses digital technology to extract and record measurements in a matter of seconds that would take much, much more time if done by hand," said Yang, who has expertise in both engineering and plant physiology. "These measurements are the foundation of most experiments in the facility, and from there the plants move on to measurements beyond human perception."
Colors beyond what the eye can see
When thinking of plants, color may be the first thing to come to mind – lush green leaves or flowers of any hue – but there are colors beyond what our eyes can see that reveal a plant's health or the presence of a threat.

"Hyperspectral imaging goes beyond the red, green and blue color bands humans can see," said Yang. "It is highly sensitive to changes in plants and can reveal signatures of plant stress from different pests, diseases or environmental challenges."

The hyperspectral imaging system extract traits identified through the light reflectance from different wavelengths.

A dual pair of hyperspectral cameras can capture the full spectrum of optical sensing from both top and side views of a plant, from seedlings to a 15-foot corn plant.

"This system offers the power to look into the physiological characteristics of a plant without having to sacrifice it for chemical analysis," he said. "It also allows a researcher to follow a single plant or stress signal of the plant through different growth stages. Plants are dynamic and a lot changes over its lifetime."

The AAPF team has helped researchers identify plant stress from heavy metal toxicity, insect stress, as well as examine water and nutrient contents within plants, Yang said.

"The possibilities are up to the creativity of the scientist," he said. "This facility was designed to push the envelope of research activities, and we have only just begun to explore its capabilities."
X-ray vision reveals roots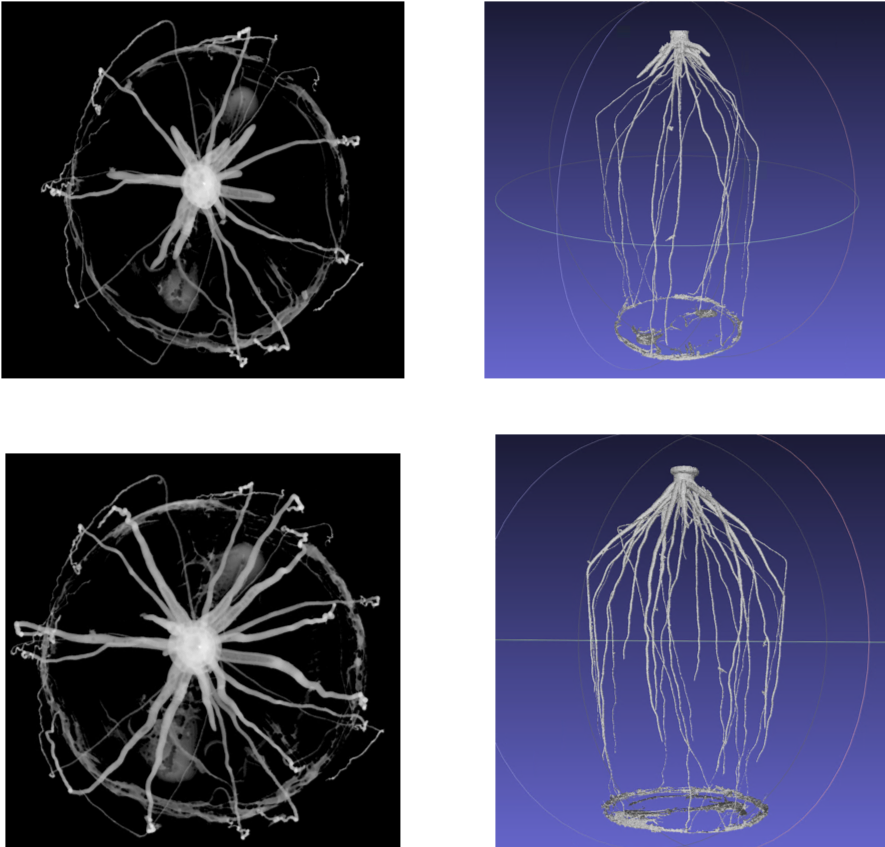 Purdue is the only academic phenotyping facility in the nation to offer a fully automated, high-throughput X-ray computed tomography (CT) root scanner, Yang said. The system combines many images into one 3-Dimensional representation of the root architecture.
"This is the future for root studies," Yang said. "It allows one to see the root system without disturbing the roots. We've achieved a resolution of 100 microns, which lets us see very fine roots, which puts us far ahead of many other institutions."
Plants can be grown in traditional potting media, and researchers can observe and measure the roots without having to dig up, wash and manipulate them, he said. The system can measure an array of root traits, such as root length, thickness, total volume by depth, root diameter and the angle of crown root.
Purdue's X-ray CT system generates vast amounts of high-quality data throughout a plant's life cycle. As with the other imaging systems, the AAPF team develops algorithms and data-pipelines to extract the traits of interests from the images. The team published a
paper
in the journal Plant Methods detailing their model and method to digitize root data.
"Through our imaging systems plant scientists can see a plant both above and below ground to better understand how their gene of interest impacts the growth of a plant," Yang said.
Walking plants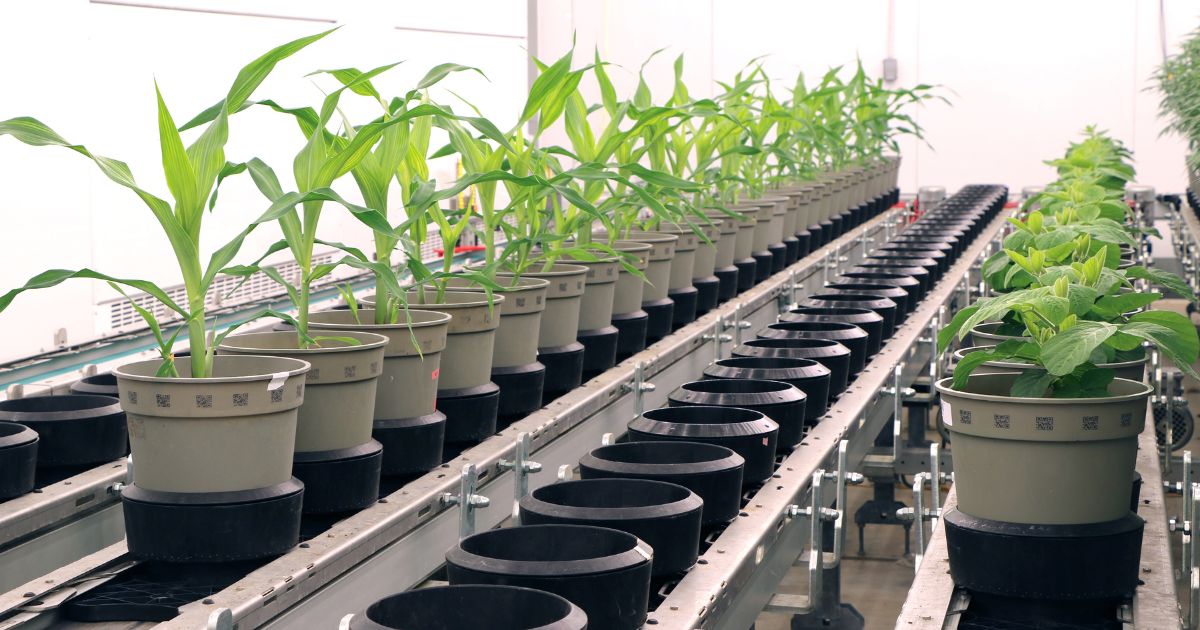 A conveyer belt winds its way throughout the AAPF facility, moving plants from growth chambers to the imaging stations and back.
Each plant has its own unique digital mark. The automated system tracks the digital mark and lets the team know where every plant is and ensures a plant keeps to its scheduled imaging.

Two growth chambers hold 620 plants up to 13 feet tall. The chambers provide environment in which air temperatures, atmospheric humidity, carbon dioxide level, and lighting can be maintained consistently, Yang said. An automated irrigation system manages plant fertigation using a weight-based method.

"Purdue's team created an integrated system drawing from the best technologies around the world" Yang said.
Field testing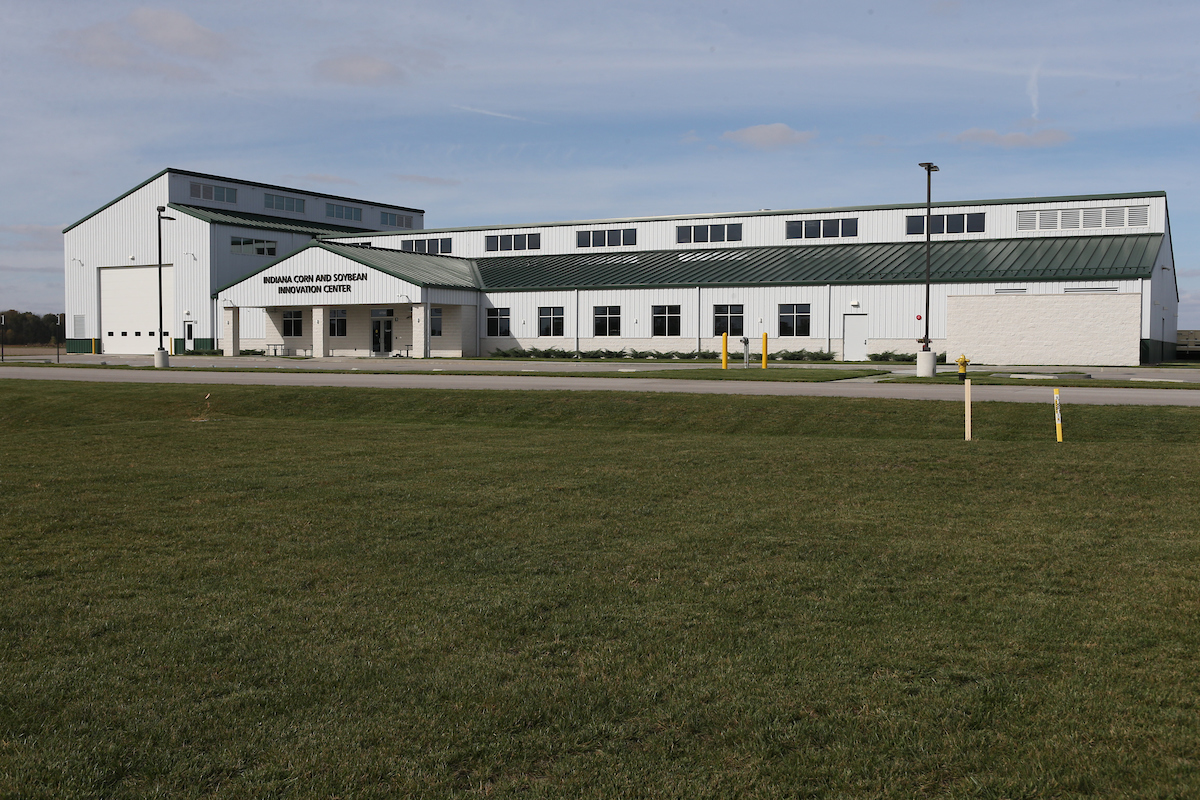 Yang also leads efforts within the
Indiana Corn and Soybean Innovation Center
(ICSC) at the Agronomy Center for Research and Education, or
ACRE
, a field testing facility near campus. The center, which also is part of Purdue's Next Moves in Plant Sciences, is the first field phenotyping facility of its kind in North America.
Through the center researchers have access to unmanned aerial vehicles, or drones, and a field rover equipped with sensors. In addition to cameras and hyperspectral sensors, the drones offer light detection and ranging units, or LiDAR sensors. LiDAR evaluates the range between the scanning system and objects using the time it takes for the signal to travel to objects and back to the sensor. It works like radar, but uses light from a laser as the signal.
For researchers who don't have expertise in remote sensing, a support team is available to provide data acquisition and processing.
Just outside the backdoors of the center is a gantry, a bridge-like structure that supports moveable sensors over a small plot of land to gather data on plants throughout the days.
The center also offers equipment supporting plant analysis, including a high-speed seed sorter that records the length, width and color of each seed, as well as an ear photometry box that measures more than 30 physical traits of an ear of corn, and a root scanner. In addition, it offers stations and equipment for sample preparation including threshing, shelling, grinding and treating.
"These phenotyping facilities combine to create a multiscale research pipeline," Yang said. "They enable Purdue's scientists to take research from a highly controlled environment to a full-scale field – to make new connections and test models at different scales. We have and are continuing to build the infrastructure to pursue ground-breaking research."
The team 
Yang Yang, director of digital phenomics
Chris Hoagland, facility manager, Ag Alumni Seed Phenotyping Facility
Mike Gosney, facility specialist, Ag Alumni Seed Phenotyping Facility
Sungchan (Sun) Oh, research scientist, Ag Alumni Seed Phenotyping Facility
Jason Adams, facility manager, Indiana Corn and Soybean Innovation Center