Purdue Agriculture offers study abroad programs in locations around the world that can provide opportunities for incredible, life-changing experiences. Miriam Cook, a senior in the Department of Agricultural Economics (AgEcon), decided to take advantage of the exceptional opportunity that study abroad promotes.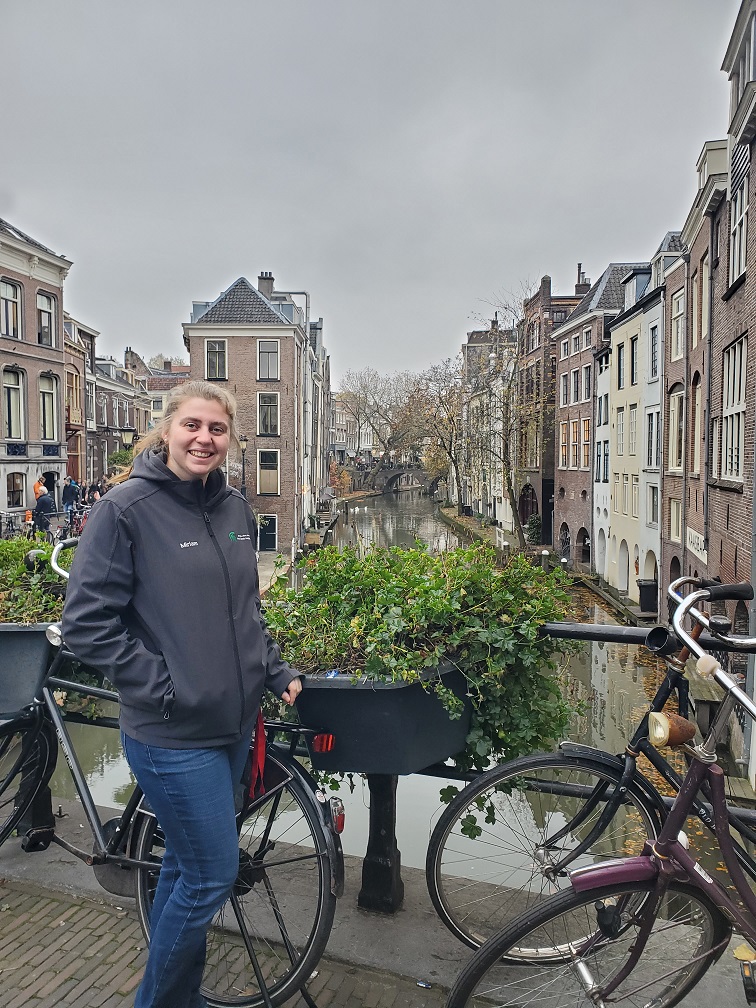 A Michigan native, Cook grew up on a dairy farm, but she has always had a passion for global work and dreamt of studying abroad. She chose to spend the Fall 2021 semester at Wageningen University (WUR) in the Netherlands.
"The Netherlands is known for being the 'home of the Holstein cow,'" said Cook. "So, it seemed like the perfect location for me to travel abroad to for the first time."
Holstein cows are known as the world's highest-producing dairy animals. They originated in Europe, specifically the Netherlands, over 2,000 years ago. While abroad, Cook became involved with the Animal Science Study Association "De Veetelers," which connected her with the genetics company, URUS, a global leader dedicated to serving dairy producers around the world.
"I began interviewing for a summer internship with Peak Genetics, a subsidiary company within URUS during my time abroad in the Netherlands," said Cook. "In January 2022, I was offered a summer internship to work with research projects funded by the United States Agency for International Development (USAID) and the Gates Foundation."
During her internship, Cook worked with projects in both Peru and East Africa and traveled to Peru for ten days to work with rural dairy farmers. One of her main projects focused on researching, teaching and implementing a tropical breed of dairy cow, the Girolando. to help increase dairy production in developing nations. The Girolando is tick and heat resistant and is a tropical breed that has significantly higher dairy production compared to breeds often used in East Africa and Peru.  
"I graduate in May 2023," said Cook. "I'm not sure what my plans are yet, but I know I will continue searching for global work and experiences. I have become an advocate for international work and studying abroad. Go abroad! You never know what you will learn or experience."
For more information, visit: ag.purdue.edu/ipia/studyabroad/
Follow: @AgBoilersAbroad