Just as her agronomy class was beginning on Monday morning, NRES director and Agronomy professor Laura Bowling was taken by surprise as university officials, with Purdue Pete in tow, walked into the room to present her with the 2023 Charles B. Murphy Outstanding Undergraduate Teaching Award. 
The Charles B. Murphy Award, Purdue's highest undergraduate teaching honor, recognizes up to five recipients each year as models in excellent undergraduate education, with awards presented in the spring. 
Ronald Turco, professor and department head of agronomy, said the recognition for Bowling is well deserved, marking a significant milestone in her career.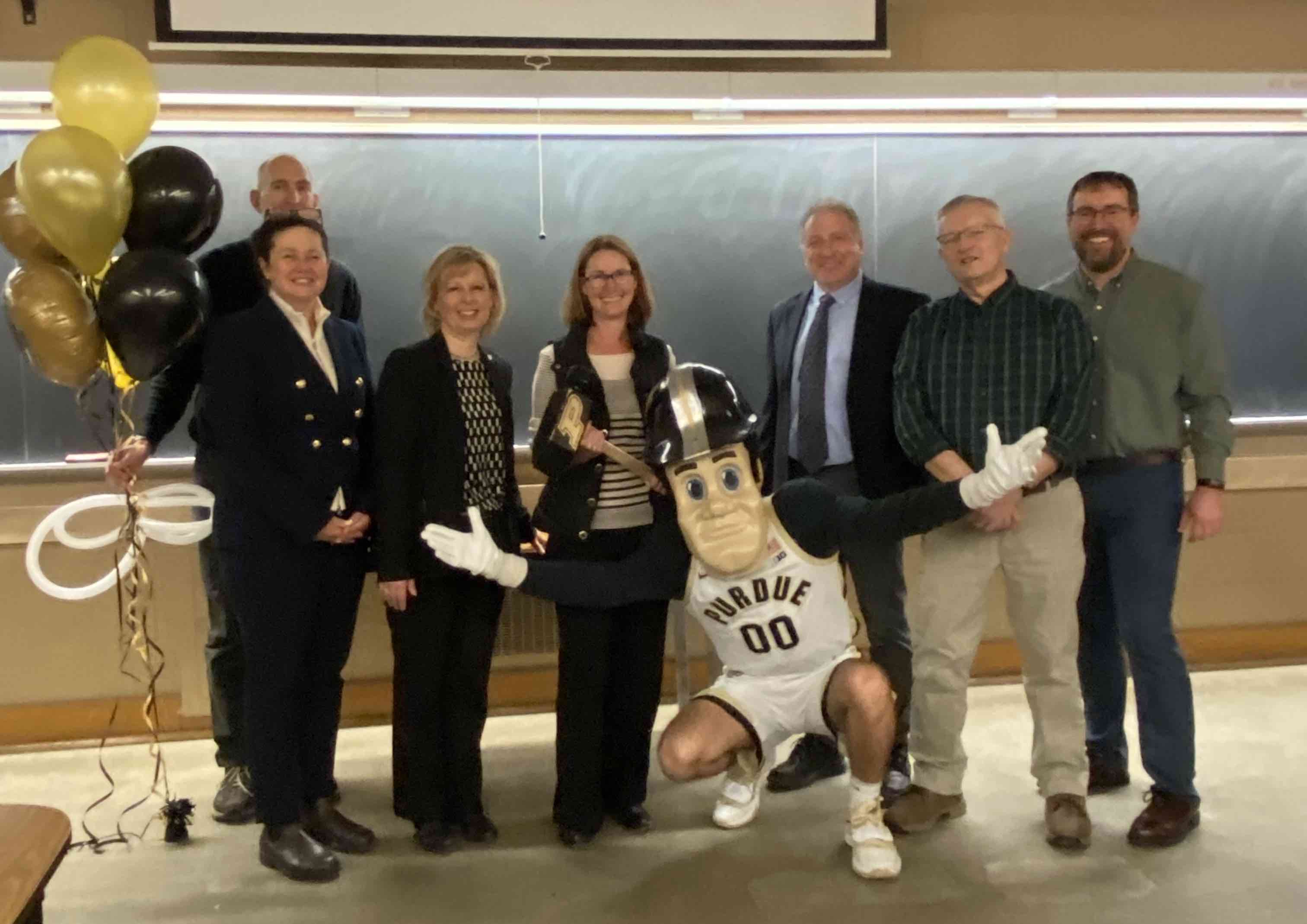 "I think receiving this award means a lot to Laura, as it represents recognition for her hard work and contributions to the lives of many students," Turco said. "Additionally, the Murphy Award will enhance Laura's reputation and credibility as someone who really cares about students and teaching." 
Bowling's award also signifies the Department of Agronomy's support and encouragement to teach cutting-edge classes.  
Bowling said the award is humbling. 
"Overall, I don't have a flashy teaching program, I don't lead amazing study abroad trips, and I don't put on awe-inspiring lectures. I just do my job. I work hard and I interact with a lot of students, and I am thrilled to be recognized for the effort that I make," she said. "Purdue has had some amazing teachers, and I have had the honor of being mentored by several, and I am thrilled to have earned their respect." 
Bowling said she loves the topics she teaches each semester, but she also cares about whether her students love the topics as well. Reflecting on advice she received during her first year of teaching, her remarks were definitely a bit ironic considering the morning's surprise celebration. 
"I had a teaching mentor who said, 'Purdue students don't like to be caught by surprise,'" Bowling said. "So having a plan and communicating it to the class is important. I can't say that I always do that, but I try my best to make sure that's what happens. I have the pleasure of working with some of the best students Purdue has to offer, and that makes all the difference." 
Banner image by Tom Campbell.