Tian Li, assistant professor in the School of Mechanical Engineering, has received a $958,000 grant from Advanced Research Projects Agency-Energy (ARPA-E) to develop a transformational "living" wood with the strength of steel, self-healing capabilities and combined carbon-sequestering benefits from wood and microbes.
This first-of-a-kind concept entails harnessing the natural activities of microbes and their interaction with wood scaffolds to fundamentally change how the wood is processed and engineered for future sustainable construction.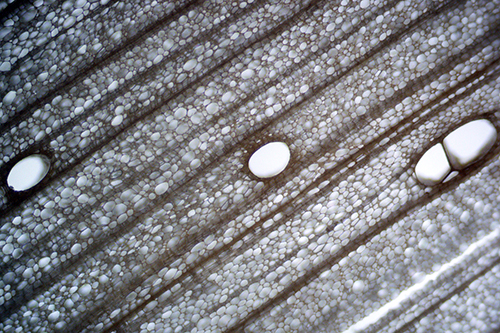 "We are harnessing the microbe properties that are already there in nature," Li said, adding that this process will enable a new type of structural material that can store ambient carbon for high performance.
Other members of the Purdue team are Fu Zhao, associate professor in the School of Mechanical Engineering, and Eva Haviarova, professor of wood products engineering in the Department of Forestry and Natural Resources. In addition, a team from Michigan State University will lend expertise to the project.
Being highly porous, wood is ready for filling, creating opportunities to be strengthened.
"The right type of microbes build inside the hollow channels and convert carbon dioxide from the air to biominerals so channels will be filled up with minerals," Li explained. "By filling up this empty volume in wood, you're going to have improved mechanical strength and flame resistance because the air pockets aren't there anymore. Also, wood is inherently very hydrophilic. By having those minerals converted by the microbe, the wood is more moisture resistant."
Besides its high porosity and ease of combustion, one common drawback of wood is its susceptibility to imperfections. Living wood solves that problem.
"Sometimes wood has cracks. They could be internal and impossible to be seen. The microbe will be able to detect cracking, take the carbon dioxide, and fill up the cracks to prevent propagating," Li said.
Haviarova, co-PI on the project, believes that their efforts also will promote and invigorate the local forest products industry.
"For example, in Indiana, private landowners own approximately 80 percent of the timberland. These hardwood forests generate a lot of high-quality wood resources, but the low-quality material is still underutilized," Haviarova said. "Only a fraction of these forests is managed because it is not feasible to extract and process low-value and low-quality wood species. Excessive woody biomass and fast-spreading invasive species in these forests prevent healthy forest function.
"There is an urgent need to develop innovative value-added wood products that will utilize abandoned low-quality wood and promote forest management. Similarly, accumulated woody biomass in the U.S. western coniferous forests is one of the causes of extreme forest fires. Without higher-value products, there is no motivation to utilize this resource. When dead trees burn or decompose, they release even more carbon into the atmosphere. But potentially, this material could be converted into renewable engineered wood products used in more advanced building construction."
Larger commercial buildings are predominantly made of steel and concrete — non-renewable materials that require high embodied energy consumption, elevated carbon emission during production, limited design flexibility and low carbon storage capability during their lifetimes, Zhao said.
The research team hopes to contribute to developing a local building material that can sequester the maximum amount of carbon and utilize local resources, Haviarova said.
"The intrinsic scalability of both wood and the microbe will eventually help with the deployment of the technology," Li said.
Research for this project, which is set to begin in fall 2022, will be conducted at the Flex Lab, 25,000 square feet of space designed to adapt to creative and innovative research, and the Ray W. Herrick Laboratories, 83,000 square feet of space devoted to large-scale testing of mechanical engineering initiatives.