Our lives are defined by opportunities, even the ones we miss. – screenwriter Eric Roth
When David Savage was an undergraduate student studying ecology at the University of California, Santa Cruz, he signed up to take a limited availability field course which takes students all over the University of California Natural Reserve system, to the Sierra Nevada Mountains, to the Mojave Desert and to the Channel Islands off the coast of Los Angeles, but he didn't get in. Instead, he spent the spring learning the coding language R, something that would change the direction of his professional and educational career.
"That's sort of where my story starts," Savage explains. "Instead of taking this field course that everyone in the department wanted to take, I ended up learning R, which, in hindsight, I really appreciate, but at the time, I was like 'I wish I was out camping right now.' But I learned R and then when I was looking for jobs immediately after my undergrad, a graduate student I had been working with recommended me to this company called Conservation Metrics, which was a monitoring consulting firm focused on applications of big data and machine learning and, at the time, primarily in acoustics and primarily looking at seabirds."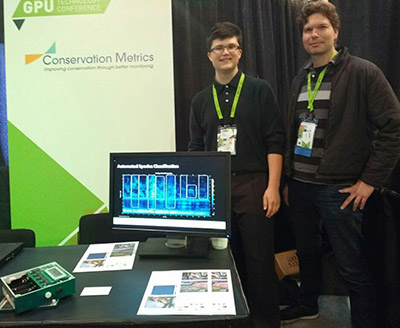 Savage, who graduated from UC Santa Cruz with a degree in ecology and evolutionary biology in 2014, utilized his background in R and worked for the company for three years, before deciding it was time to move on to the next thing, graduate school. Looking for programs that would allow him to continue using similar methods and concerts, his search eventually led him to Purdue University and to the lab of Dr. Bryan Pijanowski, the Center for Global Soundscapes.
"I basically went into undergrad wanting to do a degree that would let me do interesting things and go to interesting places," Save said. "Now, I am working with Dr. Pijanowski on the use of acoustic monitoring to track biodiversity and improve conservation decision making. I'm doing that because my first job out of undergrad was doing something similar and I really enjoyed it, so I started looking for people that were doing this kind of work and there are really not many in the world. Purdue was one of the only places doing this kind of work in the U.S."
Savage's first year Purdue, the Pijanowski lab received a grant to work in Colombia with the Instituto Alexander von Humboldt. Savage's experience working with data management for acoustic data allowed him to step in and offer advice to the large biodiversity research group by providing an outside consulting analysis of their data management and product recommendations. The plan was to continue that into the broader scope of his dissertation, focusing on coffee plantations and the use of acoustics to monitor biodiversity across a gradient of coffee growing practices.
Missed opportunity again changed his course as COVID-19 hit in the spring of 2020 just as the team was preparing to go to Colombia to deploy the acoustic monitors for the coffee plantation research.
"When that didn't happen, we pivoted," Savage shared. "Now, I am focusing on a couple of things. My coursework got me interested in environmental natural resource economics. I am in the ESE (Ecological Sciences and Engineering) program, and they have a broad range of courses and you have to take something off every section of the list, so I ended up in some Ag Economics courses and I thought it was really cool. I ended up taking four classes, and now one of my chapters is on economics and how can we figure out the economic value of all of the data that people are collecting with conservation tech.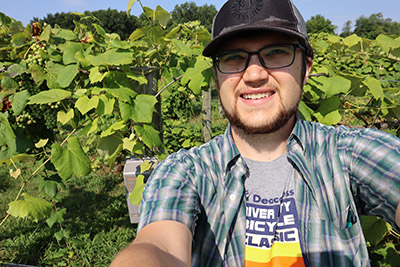 "I am also trying to tackle the same sort of problem I was planning to work with in coffee, but doing it domestically in vineyards. There are some strong similarities as they are both premium crops and both have a strong sense of place on the consumer side of things, which means there is more incentive to focus on local biodiversity on the grower side than there would be in industrial corn and soy, etc. I get to tromp around in vineyards in California with wine growers. It is not a bad life."
Savage's research involved deploying acoustic recorders in the vineyards for months to collect a long-term series of recordings, which would be brought back to the lab and analyzed. Analysis focused on broad patterns, looking at the whole soundscape of the vineyard, while also trying to detect daily trends as well as seasonal trends of when sounds pick up or stop, and also the differences between research sites.
"We are trying to establish that we can use acoustic monitoring to identify both harmful and beneficial species with the hope of eventually using that knowledge to provide early warning of things that will enable growers to make better management decisions," Savage explained.
Between placing the acoustic devices and analyzing the data, Savage also had to figure out what exactly to look for in the recordings and then train the computers to look for those things within the audio files.
"My dream job growing up was to work on the Discovery Channel show Mythbusters, which films in the Bay Area where I grew up," Savage said. "It's weird, in some ways I think I ended up doing something similar because in a field like ecology and conservation you are always working on a really diverse set of problems and applying a really diverse set of skills. Sometimes you are writing code, sometimes you are doing social science and sometimes you are trying to build stuff out of duct tape and PVC pipe."
The vineyard project connected Savage to Dr. Christian Butzke in the Department of Food Science, who is a wine expert and has a vast knowledge of the industry and viticultural practices, as well as an extension specialist, Miranda Purcell, who specializes in horticulture focusing on vineyards.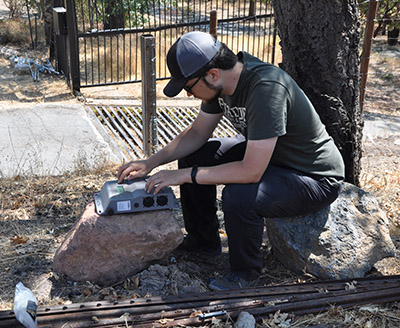 "We're bring this technical, soundscapes and analytics side of things to the project and they're bring the knowledge of the wine industry," Savage said of the interdisciplinary project. "Coming into Purdue has really pushed my limits. I was very much focused on the technical side of things, and that is still where a lot of my skills lie, but I have been exposed to a lot more things as well. I've talked to people doing policy work. I've done some work in economics and also began thinking more about how to make these tools more useful to different kinds of people. My interests lie in how can we use this to try to make the world a better place or at least slow down the process of making the world a worse place."
In addition to his research at the vineyards, Savage was part of a collaborative study with researchers around the globe to determine the impacts of COVID-19 quarantine on urban and peri-urban soundscapes. He also has helped the Pijanowski lab complete the development of an educational curriculum on using sound to teach children about ecology and natural resources.
After working as a teaching assistant in Dr. Pijanowski's Spatial Ecology and GIS class (FNR 35900) for three semesters, Savage developed skills in both spatial data and remote sensing while also gaining teaching experience.
He also worked with developers from the Purdue College of Agriculture's Information Technology research computing area to refresh the Center for Global Soundscape's data management and workflow.
Outside of Purdue, Savage also was involved with the early phases of the Greater Lafayette Youth Climate Strike, helping the group develop local climate policies.
"That was really fascinating to work on, just meeting with some of the local politicians and trying to figure out how you balance all of this empirical information that I know about with what the community actually needs and wants and cares about," Savage noted.
That desire to impact the community was ingrained in Savage at a young age through his father, one of many influential individuals he has encountered over the years.
"My first big influence was my dad, who was a consumer protection and civil rights attorney, but has done a lot of really important work that helped people," Savage explained. "I feel like I am trying to live up to his example of making a positive impact on the world. He is also the first person that started taking me into the outdoors to go backpacking, rafting and hiking and those kinds of things.
"Then, during my undergrad, Professor Bruce Lyon, who is an ornithologist at UC Santa Cruz, and the grad student who TA'ed for him when I took ornithology, Abe Borker, were big influences. Abe was the first guy who really got me interested in acoustics at all and he referred me to my first job, where the founder of that company, Matthew McKown, also was a big influence in terms of exposing me to a lot things and influencing my thinking about technology and how it can apply to conservation.
"Then, Dr. Pijanowski has been a pretty big influence in terms of pushing the interdisciplinary side of things. He has done great work integrating education with the acoustic research that we do. Without his influence I could very easily have been in an office behind a computer writing code all of the time, but there is a lot of thinking about other issues and getting other perspectives I wouldn't have had without his influence."
Savage has in turn mentored others during his time at Purdue, both in academic and social activities.
"I've really enjoyed opportunities I have had to teach and mentor, which has mostly been as a TA" Savage said. "I was helping people out with various sorts of random problems and that's something I really enjoyed. I was also able to go out and present on some of this work a couple workshops, one down in Colombia to Colombian researchers, talking about some of the things that we've learned about working with acoustics. As part of our work, I was in Bogota on my own for like six weeks, and that was really interesting.
"I also have raced for the Purdue cycling team. Some of those race weekends have been a little crazy, driving home from a race weekend in Wisconsin, trying to beat storms and kind of playing team dad to a bunch of undergrads who are eight or nine years younger than me. That has been really fun."
Savage successfully defended his dissertation on Ecological and Economic Frameworks for Biodiversity Monitoring on Oct. 27. From there, he will take a position as a Clean Energy Innovator Fellow with the U.S.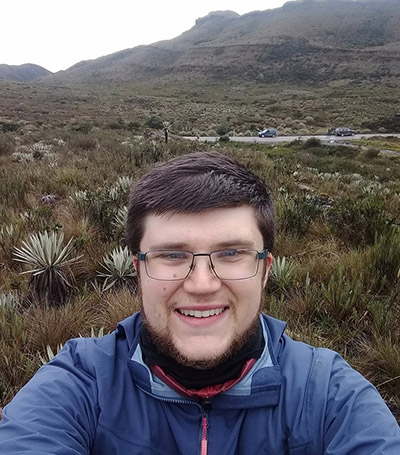 Department of Energy, hosted at the Indiana Utility Regulatory Commission and focusing on planning transmission for a decarbonized power grid. In that role, Savage hopes to bring to bear his expertise in land use analysis and biodiversity monitoring while developing new skills and contributing a vital service for people.
In the end, no matter what field Savage ends up working in or which company or agency he works for, his focus on the greater good and leaving things better than he found it will be key.
"I'm focusing on how we can use these tools to improve conservation decision making and land-use planning," Savage said. "For me, it is really going to come down to working on problems that are satisfying to work on and where I am going to feel like my work is making a positive impact on the world. I'm not going to pretend I always succeed, but I definitely try."