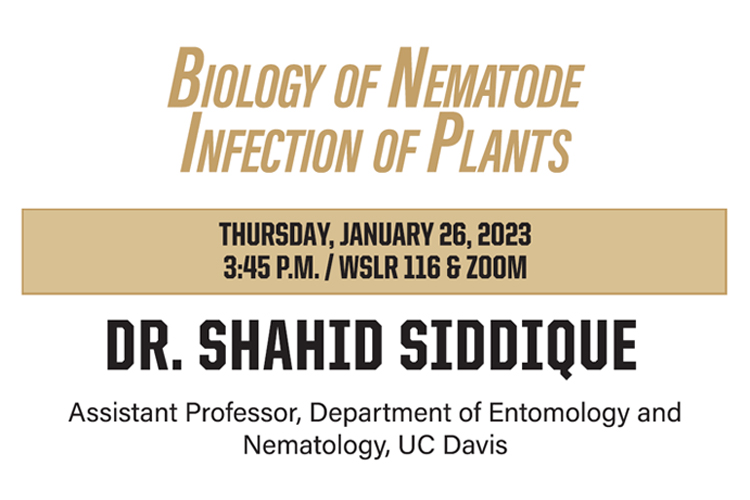 DEPT OF ENTOMOLOGY SEMINAR | DR. SHAHID SIDDIQUE
DR. SHAHID SIDDIQUE
UC Davis
JANUARY 26, 2023 | WSLR 116 & Zoom | 3:45-5:00 P.M.

Root-knot nematodes are highly evolved obligate parasites that threaten global food security. These nematodes have a remarkable ability to modify host cells that serve as their only source of nutrients throughout their life cycle. A wide range of nematode secretions have been implicated in modulation of host pathways for feeding site development. In my seminar, I will present our recent work showing that how root-knot nematodes use mimicry of host proteins to modify the host environment and facilitate parasitism. Resistance to root-knot nematodes conferred by the single dominant gene Mi-1 is available in many varieties of fresh and processing tomatoes. However, an increased reliance on Mi-1 due to limited availability of nematicides has led to the emergence of resistance-breaking nematode populations in tomato fields. In second part of my presentation, I will present our work to use comparative genomics to elucidate the genetic mechanisms and identify genetic factors that contribute to root-knot nematodes outbreaks in resistant tomato fields.