Purdue's West Lafayette campus, home to nearly 11,000 trees of more than 400 different varieties, was awarded its eighth consecutive Tree Campus USA award by the Arbor Day Foundation.
The award was presented at the Earth Week/Arbor Day event on April 20 which recognized Purdue as a campus that maintains a tree advisory committee, utilizes a campus tree-care plan, dedicates annual expenditures toward trees, and organizes student service-learning projects.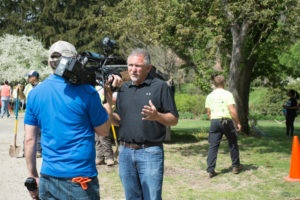 "Grown under the care of the Purdue Arboretum for the last few years, nearly 70 native trees and shrubs were planted at the event," said Paul Siciliano, professor of Horticulture and Landscape Architecture and director of the Purdue Arboretum.
"Receiving this award for the eighth year is such an honor and highlights our continuous planting and tree-care efforts," said Michael Gulich, director of Campus Master Planning and Sustainability.