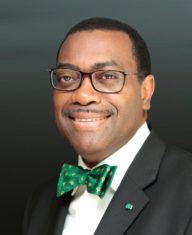 Purdue University alumnus Akinwumi Ayodeji Adesina, president of the African Development Bank Group, has been named the 2017 World Food Prize Laureate for his work as a reformer and leader of the agricultural sector in Africa. Adesina joins Purdue faculty members Gebisa Ejeta (2009) and Philip Nelson (2007) as the third World Food Prize Laureate from Purdue in the past decade.
The World Food Prize, often referred to as the Nobel Prize for food and agriculture, is the highest international honor recognizing the achievements of those who have advanced human development by improving the quality, quantity and of availability of food in the world. Ambassador Kenneth Quinn, president of the World Food Prize, made the announcement and Sonny Perdue, U.S. Secretary of Agriculture, delivered the keynote remarks at the ceremony held in Washington, D.C. on June 26.
"Purdue's researchers and alumni have helped feed the planet by making significant contributions in science-based agriculture and food science, and there is no calling that is both more noble and necessary," said Purdue President Mitch Daniels. "Akinwumi Ayodeji Adesina continues that tradition, and we join in congratulating him and celebrating this recognition of his achievements."
Jay Akridge, Purdue's Glenn W. Sample Dean of Agriculture, who attended the announcement with World Food Prize Laureate Gebisa Ejeta, said: "From our time together as graduate students at Purdue, it has been a privilege to watch Akin's career advance and to applaud the difference he has made in the world through his combination of intellect, vision, passion, and drive. This singular recognition is most deserved, and for all of us in Purdue Agriculture, it is truly exciting to anticipate what comes next as this very proud Boilermaker continues to invest his extraordinary leadership capabilities to end hunger and poverty in Africa."
Adesina, who was awarded an honorary doctorate from Purdue in 2015, earned his master's (1985) and doctoral (1988) degrees in agricultural economics from Purdue. After graduating, he returned to Africa where he launched his career.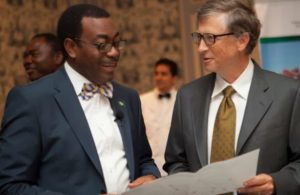 Ejeta, World Food Prize Laureate, Purdue Distinguished Professor, and director of the Center for Global Food Security, commented on the contributions of Adesina: "I have known Dr. Adesina since he was a graduate student and I was a young assistant professor at Purdue. I have followed his growth and accomplishments over his entire professional career — a career in which he has created innovative financial instruments and policy changes that have transformed African agriculture. He is a brilliant man with extensive knowledge, experience and a gift for oratory that combined have enabled him to be a most powerful and constructive voice in African agricultural development."
In 2015 Adesina was elected president of the African Development Bank Group (AfDB). The mission of the AfDB is to reduce poverty by spurring sustainable economic development and social progress in its regional member countries. Commenting about this mission, Adesina said: "Africa must feed itself, rapidly unlock its agricultural potential, and help feed the world. And we must end malnutrition in Africa. That's the life challenge and exciting task ahead of me now in my current position as president of the African Development Bank, to feed Africa. I know we can do it. The World Food Prize gives me an even greater global platform to make that future happen much faster for Africa."
The 2017 World Food Prize Laureate Award Ceremony will be Oct. 19 in the Iowa State Capitol Building in Des Moines, where Adesina will receive the $250,000 prize and his award at the Laureate Award Ceremony and then deliver his laureate address during the Borlaug Dialogue, to be held the day after the ceremony.