W
hen Songlin Fei was a young boy in China, his parents took him to a local fortune teller to assess his balance in the five elements that many Chinese people believe make up everything in the world. Their son, they were told, had enough fire, earth, water and metal, but he lacked wood.
Maybe this wasn't a surprise. Fei's family lived on a delta in southeast China where cropland and rice paddies stretched as far as the eye could see. Scanning his family's property and the landscape beyond, Fei might have seen only a handful of trees.
The solution, as proposed by his first-grade teacher, was to change his first name, giving Fei the name he'd go by for the rest of his life — Songlin, meaning "pine forest."
"The seed was planted early," Fei said. "Nature is part of me."
Songlin, it turns out, is an apt name for a man who has travelled from those fields to a career devoted to studying and protecting the world's forests. Fei, a professor of forestry and natural resources, has transformed from a little boy lacking wood to a scientist pioneering methods for bringing forestry into the digital age.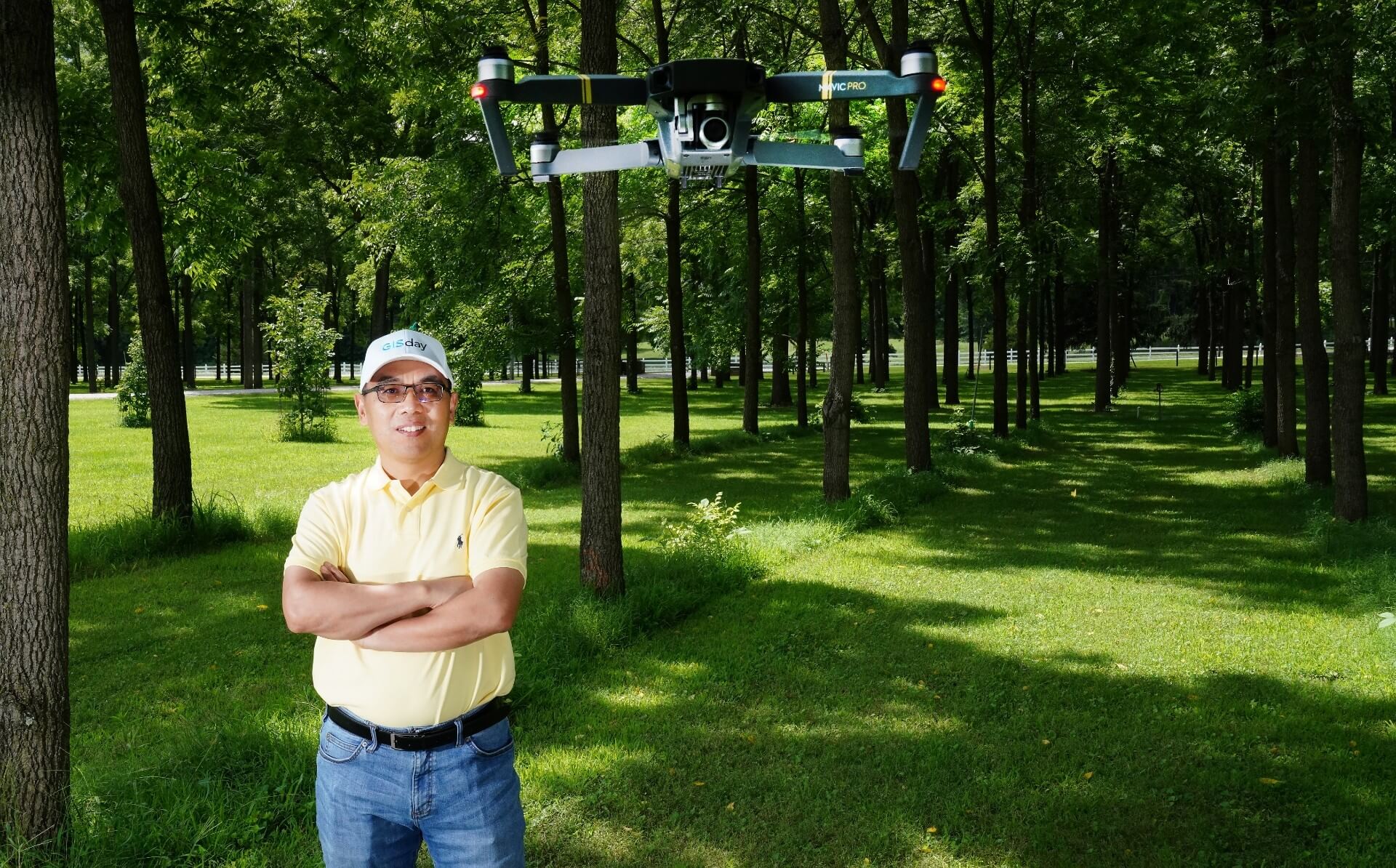 That journey also led him to Purdue University, where his work over the last nine years led to the College of Agriculture naming him the Dean's Chair of Remote Sensing in August and now naming him the 2020 recipient of the Agricultural Research Award.
"Songlin's research in digital forestry is a great example of how data science and related technologies are advancing our understanding of complex natural systems and facilitating sustainability of our natural resources at the same time," said Bernie Engel, Purdue associate dean of agricultural research and graduate education. "His work has exemplified the type of impact research can have on a global level. We're proud to bestow upon Songlin this year's Agricultural Research Award."
INTO THE WOODS
Many of the people who grew up with Fei on that delta in China are still there today. But Fei's forefathers, who had once been wealthy, knew that there was more — maybe not for them, but certainly for future generations.
"My grandfather would read to me by candlelight when I was little. He would tell me to study hard. 'Others can take our wealth, but they cannot take away our wisdom and knowledge,' he would say," Fei said. "My dad sacrificed to put us through the school system. He farmed, had a small grocery store and ran a barber shop. He tried everything to support us.
"I feel so lucky," Fei said. "Without these men, I would still be like those kids I grew up with. I wouldn't be allowed to utilize my talents to service society."
That's the other value Fei's parents and grandparents instilled in him. All they did wasn't just to rebuild their lost wealth or improve their own stations in life. They believed these opportunities they were fighting for should be leveraged to make positive change in the world.
As a young boy, Fei became fascinated by science and technology, these "magical tools" that would equip him to make a difference. As one of the lucky young men in his generation, Fei started his scientific journey at Nankai University, where he studied environmental science and ecology. 
"I have been interested in numbers all my life," Fei said. "My quantitative skills were always there, and this allowed me to pair statistics and modeling with my love for nature."
Fei still hadn't been in a pine forest, or any forest for that matter, until becoming a graduate student at Peking University in 1996. There, he finally felt the crunch of leaves and twigs under his feet as he stepped into the woods on a field assignment in a subtropical, mountainous virgin forest in southwest China.
"There is a sense of liberation and joy when in a forest. It was just jaw-dropping, so many big trees. You're sort of on a different planet," Fei said. "I take my own kids to Martell Forest here at Purdue all the time, and there is still a sense of energy. When you inhale, it makes you stronger, makes you better."
COMING TO AMERICA
From China, Fei moved to the United States to earn a doctorate in ecology with a concurrent master's degree in statistics under Kim Steiner, a professor of forest biology and director of the arboretum at Penn State University. A career devoted to the marriage of data and forestry was coming into focus.
Steiner has stayed connected to Fei and watched his career grow. He's been excited to see how Fei has applied his strengths to come up with innovative methods for answering questions related to forest dynamics.
"Songlin has unusual capacity for imaginative insight into scientific problems, especially how to use existing data in novel ways to answer important questions," Steiner said. "He's very smart, and he's a very hard worker. I'm proud of what he's accomplished. Purdue is lucky, I think."
After a stint at the University of Kentucky, Purdue lured Fei to West Lafayette. Since his arrival in 2011, Fei has made an international name for himself as a leader in digital forestry.
Fei is particularly known for mining existing data to reveal hidden nuggets of information. In 2017, he analyzed 30 years of U.S. Forest Service data on 86 tree species to show how they're responding to climate change. The study noted not only the movement of some species northward in response to rising temperatures but westward movement of species such as oak and maple because of water stress, something not observed before. Discover Magazine named Fei's work as one of the top 100 science stories of the year.
Similar data work, in which Fei and colleagues from the U.S. Forest Service analyzed 10 years of forest surveys covering 93,000 field plots in the contiguous United States, showed the impact of invasive pests on forest ecology and climate. The study found that the number of trees those pests kill each year could store the carbon emitted from more than 5 million vehicles.
"When most people think about climate change, they think about issues that won't affect them in their lifetimes. What Songlin has done is put a point on the fact that this is happening in real time," said Rob Swihart, a professor of wildlife sciences and former head of Purdue's Department of Forestry and Natural Resources.
Fei is leading efforts to modernize forestry. His work there has employed aerial and satellite-based remote sensing to map invasive species and the impacts they're having on forests. He's also developing methods for using light detection and ranging (LiDAR) to map forests, estimate biomass and even get finer-scale data, such as height and diameter, on individual trees.
"I'm interested in how we can use remote sensing to accurately measure trees and estimate biomass and carbon storage capacity. This has application not only for forest management, but could serve a great need in understanding forest roles in climate change," Fei said. "There's potential here that we could inventory every single tree on the planet without setting foot on the ground."
As the director of Purdue's Integrated Digital Forestry (iDiF) group, he has assembled researchers from agriculture, engineering, computer science, aviation technology, information science and other disciplines to explore remote sensing, big data and artificial intelligence and methods for applying them to forestry.
"He is rigorously assessing technology and the scientific fields of ecology and forestry and using what he learns to guide those fields into the future," Swihart said. "Maybe more than any other faculty member I've been affiliated with in my 30 years at Purdue, he has so quickly established himself and made a real effort to get to know his colleagues and understand their interests. He did that very purposefully because he wanted to see how his skills could align with those individuals and create synergy with them."
AWARDS AND HONORS
Fei has already enjoyed a decorated career, earning the W.S. Cooper Award from the Ecological Society of America in 2019 for outstanding contribution to the fields of geobotany and/or physiographic ecology; being named a 2018-2023 Purdue University Faculty Scholar; and being recognized as an Outstanding Graduate Student Faculty Mentor in his department in 2016, among other honors.
Earlier this year, Fei was named the Dean's Chair in Remote Sensing, recognizing his pioneering use of sensing technology, mapping and modeling, and his leadership in interdisciplinary digital forestry efforts.