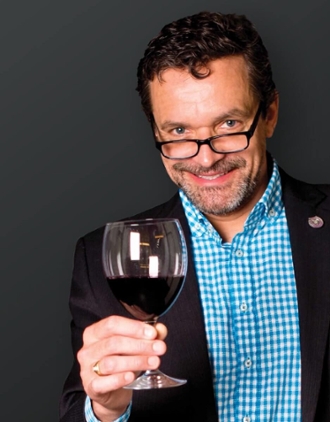 Engel calls 2013 a turning point. "We were sort of bumping along prior to that," he says. "Commercialization wasn't such a big focus." But discoveries from the newly opened Institute for Plant Sciences helped clarify possibilities, with the university providing strong, consistent support. The latest example is a new campus-wide program, coordinated by the Burton D. Morgan Center for Entrepreneurship, to connect innovators with novel paths to commercialization. To kick off that program, in January the College of Agriculture appointed Butzke as its first innovation and entrepreneurship (I&E) fellow.
An enology professor and co-founder of VinSense, a 2015 startup, Butzke wants to upgrade a "somewhat sporadic" approach. Eleven faculty members will be ambassadors to the 11 College of Agriculture departments, acting as mentors and motivators to professors who want to explore commercialization. College-to-college liaisons will also be appointed.
Butzke learned firsthand the benefits of collaboration with other disciplines. One of his VinSense co-founders is David Ebert, a former Purdue professor of electrical and computer engineering. "Purdue is so large. Even within a college it's hard to know all of your colleagues," Butzke says. Not every introduction fostered by ambassadors and liaisons will lead to a breakthrough, of course. However, Butzke says, "New combinations, even outside of our college, create the best startups." At the Morgan Center, to explore applications for intellectual property in fields beyond their original intent, director Matthew Lynall is developing platform technology workshops.
Already on the job are business relationship managers (BRMs) – staff members who help navigate and connect professors to the Purdue technological ecosystem and explore their interests and I&E potential.
"BRM continues to listen and identify I&E opportunities throughout faculty members' careers at Purdue, and we are eager to connect," says Leanne McGiveron, director of business relationship managers for Agriculture Information Technology (AgIT).
"Our directive is to bring Purdue's technical investment directly to faculty. The program is wider than I&E, but we have a unique opportunity to listen and identify I&E possibilities. As digital ag innovation is increasingly front and center for faculty, there is an evolving interest in I&E and a lot of opportunities to innovate, pioneer and make an impact in the agriculture industry."
Brandon Reese, another business relationship manager, sends follow-up messages soon after the initial meeting. "I often get replies months later with additional questions or consult requests," he says.
Such delays don't surprise Butzke. "Professors have a gazillion things on their plate," the I&E fellow says. Maybe they take the leap now, maybe later, maybe never. If they choose to try, Butzke says, entrepreneurs should know that Purdue is behind them – and in it for the long haul.
"They say 90 percent of startup companies fail if they don't have the support system to sustain them," Butzke says. "That's where Purdue comes in. The consistency that Purdue can provide, with its resources, to see a project through all the way, to help them find that bit of extra time to run their own company, create a startup – that needs to flow very smoothly, because otherwise people will say, 'I can't take on one more thing.'"
About eight years ago, Klein Ileleji, a professor of agricultural and biological engineering, began to realize the depth of Purdue's capabilities.
"Purdue has many resources that faculty can tap into,"  Ileleji says. "And one resource led me to the next. It depends on where you start on the spectrum of entrepreneurship. I started out in the position of, 'Is this something I want to do? And if it is, what would it look like?'"
The Morgan Center's Entrepreneurial Leadership Academy helps faculty answer such questions. The sessions steered Ileleji to "the go/no-go position point of my career as a faculty entrepreneur. A decision point."