Angelica Weaver was determined to create a communal gardening and gathering space in the middle of her Hammond, Ind., neighborhood, even if that meant carrying buckets of water from nearby houses to water the plants while she was eight months pregnant. 
Weaver, a social worker and organizer of the InnerMission Neighborhood Farm, said after meeting Purdue Extension educators at a neighborhood meeting, she reached out about assistance in creating a fully functional garden space on a vacant lot that had no access to potable water. Kara Salazar, assistant program leader and Extension specialist for sustainable communities, and Sara McMillan, former associate professor in Agricultural and Biological Engineering, partnered with Purdue Extension to assist the InnerMission Neighborhood Farm, as well as a community garden center in nearby Michigan City. Their team was a collaboration among Illinois-Indiana Sea Grant, Minnesota Sea Grant and Pennsylvania Sea Grant programs, all part of the National Sea Grant College Program, a federal/university partnership between the National Oceanic and Atmospheric Administration (NOAA) and 34 university-based programs. They were awarded funds to support this work through a national competition aimed at creating water equity with their project "One Block at a Time."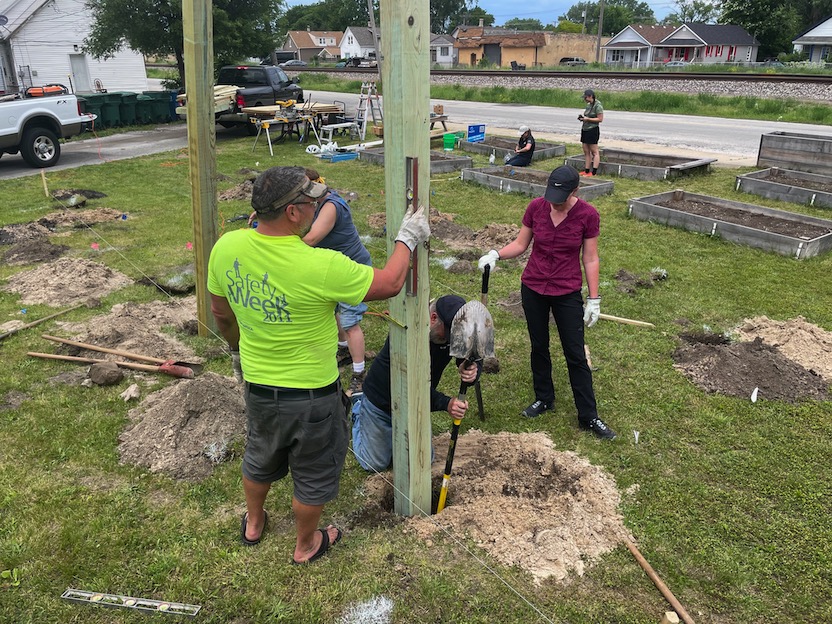 Weaver explained that in February 2020 InnerMission Inc., a faith-based organization aiming to assist Hammond residents through housing, food access and education, organizers sat down with Purdue Extension and Illinois-Indiana Sea Grant to discuss the needs of their urban farm. By May they had rolled up their sleeves to make the community garden a reality. 
"Before we started this garden, there was no public park or true green space in this neighborhood," Weaver said. "It was a lower income neighborhood that had been unfairly labeled as crime ridden, and if kids wanted to get to a community park to play, they had to cross several busy streets to get there. It felt good that Purdue Extension could see the value in this garden space, too." 
A standalone rainwater irrigation system was designed and installed, and a landscape design was implemented with the support of Aaron Thompson, associate professor of horticulture and landscape architecture, at the Hammond neighborhood farm site. This work would not have been possible without contributions from student interns from engineering and agriculture and the support of several departments within the College of Agriculture, Salazar said.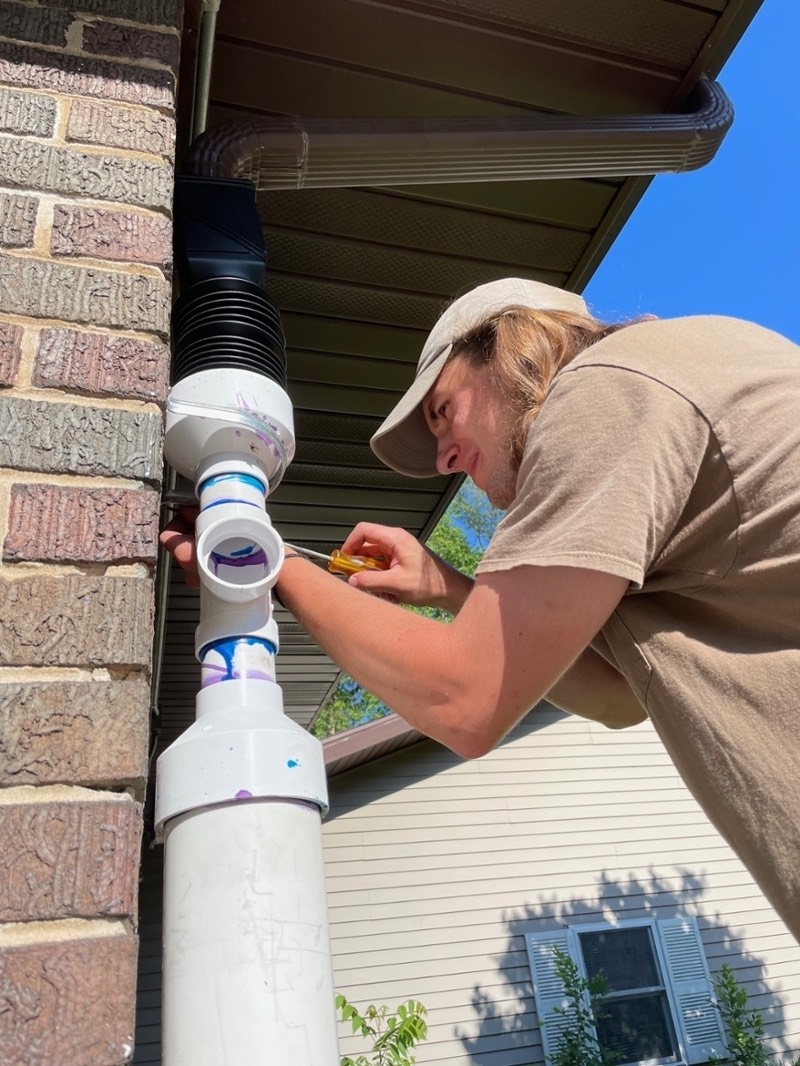 Sebastian Stambaugh, a senior in agriculture and biological engineering and one of the students involved on the project, said seeing the InnerMission Neighborhood Farm's struggle with water first-hand motivated him to see the project through. 
"This project really combined a lot of things I was passionate about, and I was able to apply a lot of what I've learned here at Purdue," Stambaugh said. "The community members we worked with were so invested in making everything around them better for everyone in their neighborhood, and knowing I was playing a positive role in all of it was a great feeling." 
With the space now completely transformed, Weaver said community members approach her and other volunteers weekly asking how they can get involved. 
Weaver said she doesn't believe in coincidences, but she can't fathom what the space their neighborhood farm stands on would look like today had she not attended the initial community meeting where she encountered Purdue Extension. 
"Everything we have is pretty much through Purdue Extension," Weaver explained. "We were able to build raised beds through a Master Gardener's grant, and they helped us fund and construct ADA accessible raised beds through another grant project, but it has all trickled down into more community partnerships that have brought us to where we are now." 
Principal investigators on the "One Block at a Time" project included Madison Rodman, resilience Extension educator with the University of Minnesota Sea Grant; Tiffany Sprague, stormwater resilience Extension educator with the University of Minnesota Sea Grant; and Sara Stahlman, Extension leader with the Pennsylvania Sea Grant. Collaborators on the project included LaPorte County Extension educators Caroline Arnett, Azad Chalal and Mary Foell; Lake County Extension educators Rebecca Koetz, Jose Guadalupe Valtierra and Amber Zimmer; Aaron Thompson, associate professor of landscape architecture at Purdue University; Jesse Schomberg, University of Minnesota Sea Grant educator; Peter Stempel, associate professor of landscape architecture at Penn State University; Daniel Walker, community development regional educator with Purdue Extension and Illinois-Indiana Sea Grant; Victor Roman, an organizer with InnerMission Neighborhood Farm; Brian Thomas, an organizer of the Michigan City Madeline & George Smrt Community Center manager; Hanna Fulford, a senior studying environmental and ecological engineering; Payton Ginestra, a senior studying natural resources and environmental science;  and Krysztof Davis, who graduated in 2022 with a bachelor's degree in landscape architecture.
Photos seen in this story were provided by Purdue Extension.