As a Latina and first-generation college student, Jessica Sotelo, a sophomore in agricultural and biological engineering, knew she needed to find a place for support and community. She has found that and more with the MANRRS chapter housed within Purdue Agriculture.
"I think personally, as a Latina woman, it's sometimes challenging to get opportunities or to know exactly who to talk to with issues I am going through," said Sotelo, who is president of the Minorities In Agricultural, Natural Resources and Related Sciences (MANRRS) chapter at Purdue. "My experience in MANRRS has shown me different routes to get to where I want to go and provided me many connections to get there."
MANRRS is a national society that welcomes people of all racial and ethnic groups in agricultural and related sciences careers. The Purdue chapter currently has 47 members. With increased attendance and activities, Sotelo says it has been a successful year.
Chapter members recently traveled to Atlanta for the MANRRS37 Annual Training Conference and Career Expo. The Office of Multicultural Programs, Farm Credit Mid-America and Purdue MANRRS funded 22 students to attend. Through the Cargill fund outreach efforts, the Office of Multicultural Programs also partially sponsored eight members of Jr. MANRRS from Indianapolis to participate in the event. 
Zac Brown, MANRRS Purdue advisor and assistant director of student recruitment and retention for the Office of Multicultural Programs, said the annual conference provides students with access to educational training sessions, inspirational speakers, student competitions, networking and career opportunities.
"The conference also helps reaffirm students' self-efficacy regarding their ability to be successful within agriculture, natural resources and related sciences by exposing them to the breadth of diverse individuals who share similar interests and career aspirations," said Brown.
Several members from Purdue received recognition at last week's event.
Brown was a nominee for the chapter advisor of the year. Brown serves as the 2022-2024 national secretary for the National Society of MANRRS, chair of the communications committee, and contest superintendent for the impromptu public speaking contest.
Drew Parker, a first-year student in agricultural economics, was elected to serve as the Region V undergraduate vice president and will represent 13 universities and colleges, including eight in the Big Ten.
Victoria Parker, a PhD student in agricultural sciences education and communication, concluded her term as the Region V graduate vice president.
Feyisayo Akande, a graduate research assistant in botany and plant pathology, won the graduate business pitch contest.
Ronald Smith, a PhD student in agricultural and biological engineering, received second place in the graduate research poster contest and first place in the research discussion contest.
MANRRS37 Annual Training Conference and Career Expo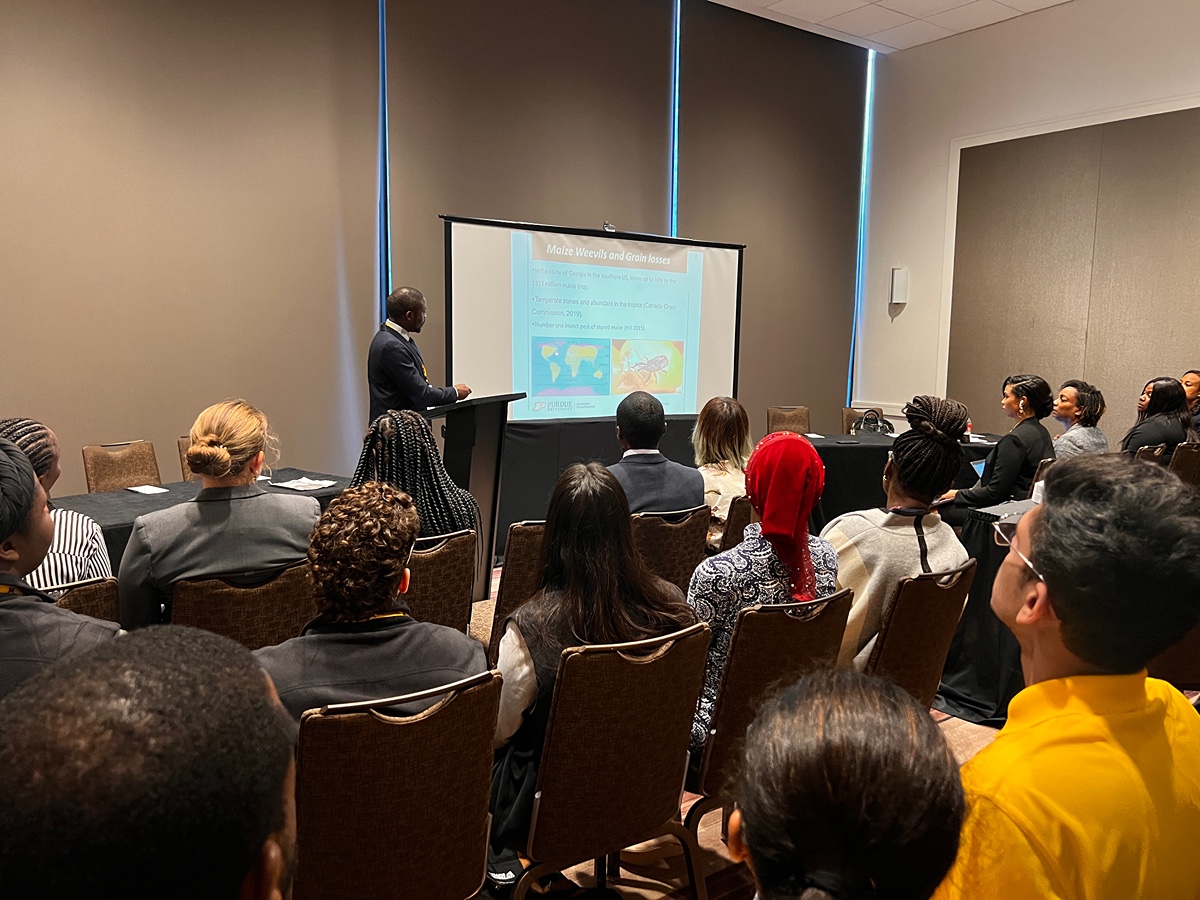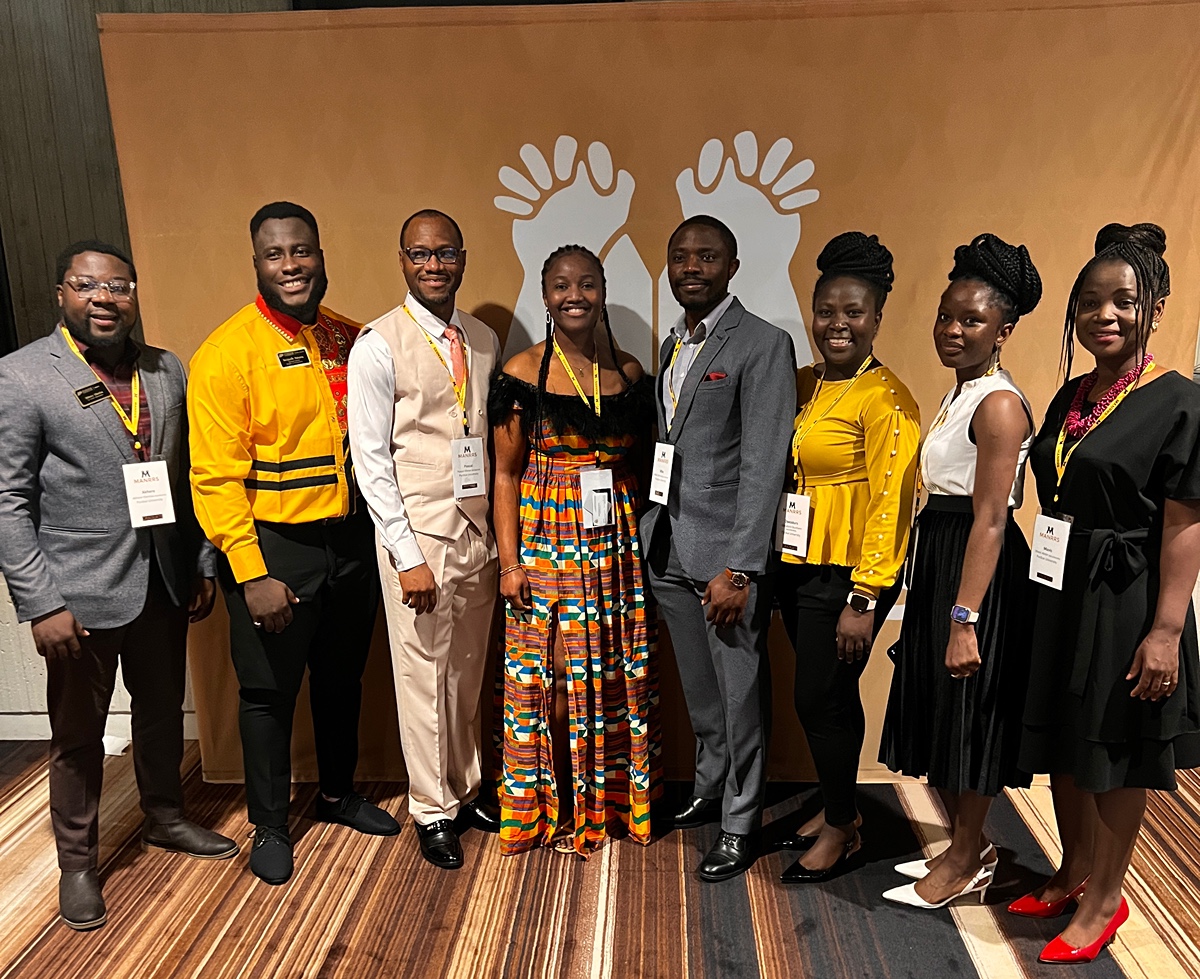 The MANRRS Annual Training Conference and Career Expo is just one highlighted benefit for members of the organization. The Purdue chapter offers various activities and resources for its members year-round, including regional conferences, social events, biweekly meetings, professional development opportunities, networking and study tables. "We want to be a resource for people whenever they need extra help and support," Sotelo said.
Finding a community that he can go to when he faces challenges is also something that Mike Sserunjogi, a PhD student in agricultural and biological engineering and the co-graduate Ag Council representative for Purdue MANRRS, has benefited from during his time in the organization. As an international student whose parents did not go beyond high school, he wanted to meet others who have experienced similar challenges.
"I have had many people through MANRRS guide me on my path." Sserunjogi said. "I have found a family and people I can rely on for advice."
As board members, Sserunjogi and Sotelo are focused on ensuring that MANRRS continues to provide a strong community for other undergraduate and graduate students.
Sserunjogi hopes to one day serve as a sponsor for the program and give back to students in a way that others have for him.
Sotelo looks to the remaining time of her presidency with one clear goal. "I want to continue to create a place where other students can feel at home."
Learn more about the MANRRS Chapter at Purdue from President, Jessica Sotelo.
Banner image by Tom Campbell