The crunch of fallen twigs and dry brown leaves under your hiking boots is all but background noise to the swell of a mourning dove's call and the flute-like notes of finches hopping above you in the trees. Black raspberries collected carefully off the side of a trail taste sweet in our mouths, but they were meant for sharper beaks. Birds play a major part in our experience of the forest, but we sometimes lose sight of how the woodlands are just as essential to the health of our native bird populations.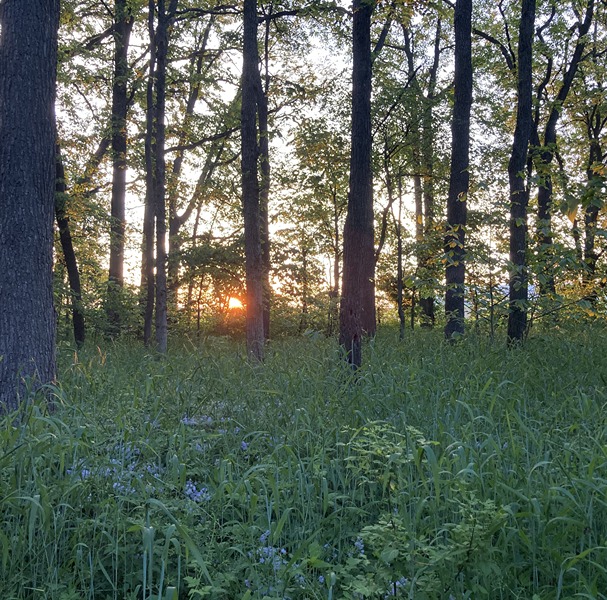 Kaitlyn Young is a recent alumna from the Purdue Wildlife major in Forestry and Natural Resources (FNR). She spent her summer monitoring birds at eight different FNR properties as an Avian Monitoring and Extension Intern for The Nature Conservancy's Forestry for the Birds program. Studying bird migration patterns, Young identified avian species by sight and sound alike and kept record of the birds flying around the forest from before sunrise until midmorning.
Sitting and listening to birdsong and counting wings up against the backdrop of a painted sky wasn't always as dreamy as it sounds. Young shared, "The most challenging part of my job was traversing through some less-than-pleasant forest types. Early successional forests are necessary for a variety of bird species, but they are not easy for humans to hike through. Those dense thickets are not forgiving to human skin or ankles."
Still, Young was not deterred by harsh terrain or hard work. Her experiences in the FNR summer practicum as an undergraduate taught her how to safely navigate forest environments. Plus, one of Young's favorite parts of the internship was getting to see the different properties that Purdue managed. Not only were the different forest types all "gorgeous" to Young, but they also gave her a glimpse into how forest management practices affect avian diversity.
As Barny Dunning, a professor of wildlife and ecology at Purdue, explained, "The Forestry for the Birds program is an important initiative to encourage private landowners and public land managers to consider how their actions on the land may affect our native birds. Kaitlyn's work during her internship will help our department determine whether our land management is consistent with the goals of this national program. In this sense, her data will play a large role in making sure that the FNR department is leading the way in forest bird conservation in our region."
Even though bird surveying is quiet, independent work, Young says she never felt alone. "My supervisors, Brian Beheler and Jarred Brooke, cared about my safety and well-being in the field, made me feel so valued and shared their invaluable expertise with me. Several Purdue employees at the different Purdue properties took time out of their day to show me around the property and help me out when I was in a sticky situation."
Not only did this internship help reinforce Young's interest in the connection between wildlife conservation and habitat management, but it also gave her a chance to make real-world impacts. Some of the birdsong and calls she recorded over the summer are being used to create extension deliverables that combine 360 photos, audio recordings and other resources to help land managers invest in bird conservation on their property.
Seeing a future in studying bird movement and forest management, Young has returned to Purdue as a graduate student in Dunning's lab. Motus towers, which make use of radio signals and receivers to track birds, are being put up in several Purdue properties across the state, and Young will use these to study the fall migration of Eastern Towhees.
My internship definitely shaped my master's research. Overall breeding bird survey trends have illustrated annual declines in Eastern Towhees since 1966, and long-term population change is estimated at -43 percent. I hope that my research will shed some light on their natural history as it relates to migration."

- Kaitlyn Young, graduate student in Forestry and Natural Resources