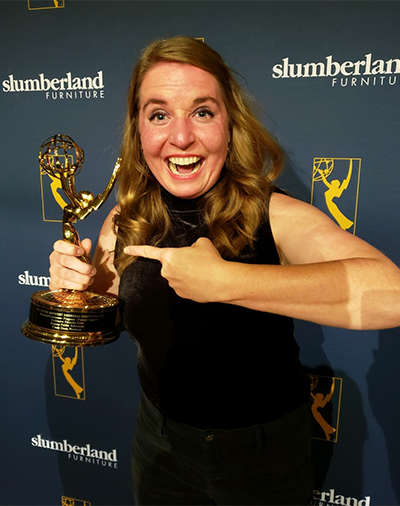 Megan Benage has accumulated many titles in her career, beginning with a bachelor's degree in wildlife science at Purdue in 2005 and a master's degree in restoration ecology in 2007. Benage, now a regional ecologist for the Minnesota Department of Natural Resources division of ecological and water resources, gained a new title on Oct. 5, Emmy winner.
Benage was honored for her participation on the PBS show Prairie Sportsman, which won an Upper Midwest Regional Emmy from The National Academy of Television Arts & Sciences for an episode entitled "Pollinator Friendly Solar."
The idea of pollinator friendly solar was hatched by Benage and her coworker Kevin Mixon a few years ago. The pair worked with the Department of Commerce and Board of Water and Soil Resources to write guidelines and make pollinator friendly solar part of the permit process for commercial solar projects. Benage and Mixon's work has developed into industry collaborations with native seed companies, bee farms, breweries and restaurants thanks to the work of Fresh Energy and other key partners.
The Pollinator Friendly Solar episode, which features the 1,200-acre North Star Solar Array, was honored in the Emmy's Business/Consumer Feature Segment category. Instead of being planted with traditional turf grass, the array was planted with native grasses and wildflowers in the perimeter, which creates habitat for bees and other wildlife.
In addition to Benage's involvement in the episode, the cast and crew also included producer Cindy Dorn, editors/videographers Dyland Curfman and Max Grabow, assistant producer Bret Amundson and voice artist Lisa Cownie among others.
Those interested in learning more about the science surrounding prairie conservation, restoration/reconstruction, and management can listen to Benage's podcasts found here:
Prairie Pod
.