Purdue Extension wildlife specialist Jarred Brooke was honored by the College of Agriculture PK-12 Council on Thursday with the Staff Excellence Award for his work with PK-12 audiences to expand their interest in and preparation for careers in natural resource sciences.
The Council's Outreach and Engagement Awards were established to recognize, reward and celebrate faculty and staff involved in successful outreach and engagement activities and to encourage the improvement and expansion of those activities.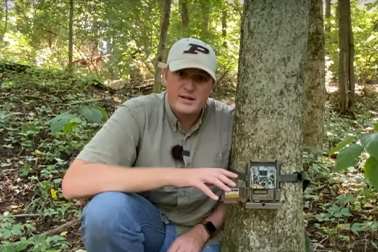 "Winning this award is truly an honor," Brooke said. "Working with PK-12 youth and youth educators is one of the most rewarding aspects of my job. Each time I see students or teachers have those 'aha moments' while connecting with nature it reaffirms that I chose the right career. I would not have been able to win this award if it were not for the help of my many great colleagues at Purdue, other universities, and beyond.
"Connecting youth with nature is so vital because their outdoor experiences now will shape how they view and understand nature as adults, ultimately influencing their willingness to protect and conserve the natural world in the future."
Brooke, who earned his wildlife degree from Purdue Forestry and Natural Resources in 2012, joined the FNR staff in August 2016. His extension work impacting youth includes conservation field days, writing natural resources-based curricula for The Nature of Teaching signature program and also planning and overseeing the 4-H and FFA Wildlife Habitat Education Program contest among other things.
Brooke not only educates youth directly, but he also provides resources and education opportunities to other educators.
"Although Jarred's PK-12 activities are within the scope of his job, it is only a portion of his extension, research, and teaching activities," said colleague Dr. Rod Williams professor of wildlife science, in nominating Brooke for the Staff Excellence Award. "Jarred recognizes the importance of connecting youth to nature; both for the individual students' well-being and the future of our natural resources. This recognition and his passion for youth education have compelled Jarred to take a leadership role in a variety of PK-12 activities at the state and national level. And these leadership positions are beyond the expected duties of his position."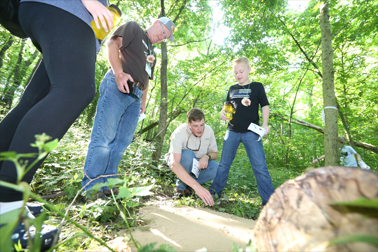 Through his involvement in field days and career days and the Wildlife Habitat Education Program, Brooke has reached more than 1,500 students. For the last three years, Brooke has led sessions for the annual Tippecanoe County Partnership for Water Quality's conservation field day, which engages more than 300 fourth-grade students each year. He also has been part of Indianapolis' Stout Field Elementary School's career day every year since 2017.
Since 2019, Brooke has co-led the Natural Resources track of the 4-H Academy. He also helped lead a Wildlife and Aquatic Sciences session of 4-H Grandparents University in 2019.
The Wildlife Habitat Education Program (WHEP) is a national 4-H and FFA career development program aimed at teaching high school students about wildlife and fisheries conservation and exposing students to careers in those fields. Brooke has been involved with WHEP at the state level since he arrived at Purdue. In 2016, he was elected to the National WHEP committee and has served as chair of that committee since 2019. Brooke has assisted with the organization and administration of nine regional, three state and three national competitions, involving more than 500 students across 20 states.
As part of the WHEP national committee, Brooke also has assisted with the redesign of the WHEP website to increase visibility of the program and create a clearinghouse for resources that aid teams in preparing for the contest. He also has helped expand WHEP in other states by hosting youth educator workshops, webinars, planning meetings and more.
Brooke' work sharing knowledge with other educators reaches more youth indirectly and can multiply the impact of his programs. His involvement with the Nature of Teaching educator workshops has engaged more than 200 PK-12 and extension educators and has impacted more than 2000 students indirectly.
The Nature of Teaching is an interdisciplinary extension program centered on connecting youth to nature. Brooke began his involvement with the program in 2017 and has helped lead 12 educator workshops since joining the team, six in Indiana and six in Maine. He also was instrumental in helping coordinate the expansion of the program to Maine in collaboration with the Maine Department of Inland Fisheries and Wildlife. Brooke also assisted with the expansion of The Nature of Teaching as an Ag and Natural Resources (ANR) signature program. He helped lead the initial workshop for Purdue Extension county educators as part of the 2018 ANR Extension Retreat.
Brooke also has led a natural resources session for high school educators as part of the Agribusiness Science Academy Teacher Institute since 2017. He also has assisted with programs such as the Natural Resources Teachers' Institute, an Indiana Department of Natural Resources program which helps teachers learn how to incorporate natural resources education in the classroom.
Brooke is the fourth member of the FNR faculty or staff to receive an award from the College of Agriculture's PK-12 Council, following 2016 Emerging Faculty Impact Award honoree Dr. Rod Williams, 2017 Emerging Faculty Impact Award winner Dr. Bryan Pijanowski and 2020 Staff Excellence Award winner Megan Gunn.