When Lindsey Purcell, Matt Ginzel and Cliff Sadof began working on a research grant for Rotam North America regarding the use of trunk-injected emamectin benzoate to manage emerald ash borer, they set out to compare three commercially available insecticide injection systems.
They looked at the variance in number of injection points, whether or not ports were plugged and more, while also conducting a long-term study examining the difference in protection provided by spring and fall injections.
"We know that Emamectin benzoate is an excellent tool for protecting ash trees," Sadof explained. "The trick is to get it into the tree before the tree has exhibited substantial decline. After the tree's vascular tissue has been compromised, it becomes less able to transport the insecticide through the phloem into the canopy where it can kill leaves."
A publication detailing the results of the research will be published soon in an article titled "Diffusion and Efficacy of Trunk-injected Emamectin Benzoate to Manage Emerald Ash Borer."
Sadof and Ginzel also published a separate article "Factors influencing efficacy of an area-wide pest management program in three urban forests" in Urban Forestry and Urban Greening in March 2021, which details how early applications of insecticide can help with area wide protection of ash trees.
Due to his involvement in the Rotam grant, the Pacific Northwest National Laboratory (PNNL) and SymTree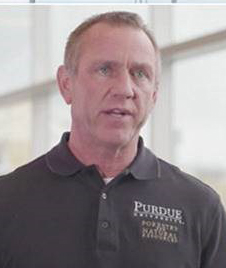 Science owner Terry Marie Braniecki asked Purcell if he would contribute his expertise and time as a plant healthcare subject matter expert toward PNNL's better, more environmentally sensitive and economical delivery solution for their tree-health products.
After two years of research and development sponsored by Elemental Enzymes, and several iterations of prototypes made on 3D printers, the patented device, designed by the team of PNNL staff, Purdue faculty and private companies, is currently being beta tested by the industry with select distributors for commercial use.
"There are several similar devices out in the plant health care industry, but SymTree Science and Elemental Enzyme asked me what do you use, what do you like to use and can we make something better," Purcell said. "Out of research always comes additional research and innovation, so I said here's what I have in mind and PNNL's engineers took my input and made it happen. It was initially made to deliver pesticides. However, it can also be used for micronutrient packages to correct deficiencies in the tree or applied for emerald ash borer control. Additionally, a product is in development for dates and coconut palms, which have major pest problems that are hard to control. These chemical injections can help the tree proactively and reactively to manage current infestations, but also act to prevent infestation."
The reusable injection device works in conjunction with prepackaged recyclable injectors, which are installed directly into the tree vascular system at the root flare. If a tree is translocating efficiently, chemicals can be fully injected in minutes.
"The device is user friendly, it is simple and it protects the applicator because they have little to no exposure to chemicals and the environment has no exposure to chemicals," Purcell explained. "It is very focused on the tree. It is not like you are broadcast spraying, where chemicals are vulnerable to drift. It is very safe for the environment and the people around it."
On the PNNL website, the device, its design and functionality are described as follows: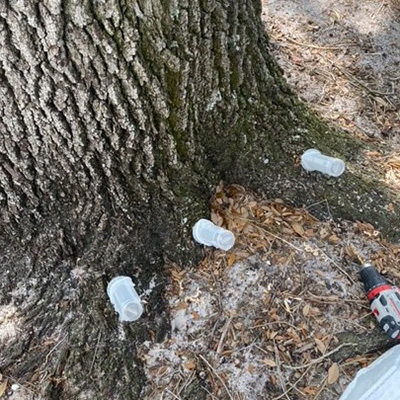 "The Tree Micro-Injector delivers nutrition, pesticides and fungicides faster and easier than similar commercially available injectors. The device resembles a laboratory syringe, with an exterior housing holding a uniquely designed compressible pod. The housing and pod are made of polypropylene, a versatile, recyclable materials. An internal steel spring holds the pod in place and allows it to be precisely compressed to eject a liquid formulation through the housing's nozzle. The single-use disposable pod can be prefilled with a variety of specialty formulations, such as nutrition fertilizers, pesticides, fungicides or plant growth regulators."
Purcell worked in conjunction with Kevin Simmons, Allan Tuan, Dustin Clelland, Stan Owsley and David Long from PNNL; as well as Terry Marie Braniecki, owner of SymTree Science LLC; and Stacie Schumer, product manager at Elemental Enzymes, on the project.
The group was recognized for their work with the Excellence in Technology Transfer Award presented by the 2022 Federal Laboratory Consortium for Technology Transfer. The Excellence in Technology Transfer Award recognizes employees of FLC member laboratories and non-laboratory staff who have accomplished outstanding work in the process of transferring federally developed technology. The award is based on contributions during the past 10 years.
The annual FLC awards are among the most reputed honors in the technology transfer field. PNNL has received 98 FLC awards since the program's inception in 1984, including three in 2022. In addition to the injector, PNNL developed an airport security device that scans passengers' shoes, which earned the Interagency Partnership Award; and a home energy efficiency assessment tool, which received the FLC Impact Award.
The FLC winners will be recognized at the 2022 FLC national meeting on April 6 in Cleveland, Ohio.
About PNNL
The Pacific Northwest National Laboratory draws on its distinguishing strengths in chemistry, Earth sciences, biology and data science to advance scientific knowledge and address challenges of sustainable energy and national security. Founded in 1965, PNNL is operated by Battelle for the U.S. Department of Energy's Office of Science, which is the single largest supporter of basic research in the physical sciences in the United States.