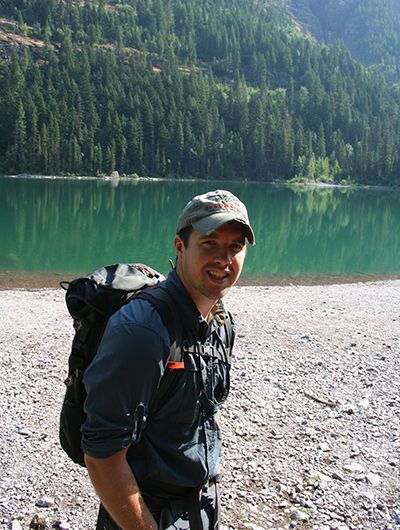 Seth Harden is a third generation Boilermaker, following in the footsteps of his father and grandparents who are Purdue alumni, but it was his desire to be involved in science with an agricultural component and a conservation component that brought him to Purdue, just up the road from his home in Clinton County, Indiana.
Harden comes by his passion for agriculture naturally as his family has very deep agrarian roots and history in the state of Indiana. His paternal grandparents live on their family farm in eastern Indiana with roots dating back to 1829.
The desire to be involved with nature came from his parents and maternal grandparents, the latter which purchased an RV when they retired and traveled all over the U.S. with Seth and his family in tow. Trips included stops in northern Wisconsin, to the beaches of South Carolina, to the Great Smoky Mountains and even a tour through the north woods of Ontario, Canada.
Harden's parents encouraged he and his brother to go outside, use their creativity and discover whatever they could in the fields and forest close to home and on many family trips. His father, a lifelong outdoorsman, was a great teacher and mentor. His mother Leah, the soil and water district coordinator for Clinton County (now retired), took the family to volunteer at many of the organization's activities, which exposed Seth to the career opportunities in conservation.
Despite his family ties to farming and nature and his experiences as a participant in FFA and 4-H, Harden discovered his passion for educating others in a high school environmental science course.
"I took an AP environmental science course, which most students took because it was a blow off, easy credit instead of taking advanced chemistry or biology," Harden recalls. "I got into the class and the teacher knew my background and what I was interested in, so the last two weeks of the class she said, 'you are probably going to relate to your peers better than I will, so why don't we work together,' so I ended up teaching the last part of the class and I enjoyed every minute of it. You get a whole lot more out of teaching people than you do absorbing it yourself sometimes."
Another seminal experience for Harden came in the form of the Canon Envirothon Contest, a North American continent level competition, which included local, state and national competitions, and involved both test based and oral presentation components. Harden was part of a team under an advisor from Rossville High School, Dale Griffin, and out of the four years he competed, the team won state all four years and went to the North American contest three out of the four. The national competition allowed Harden to travel to the Chesapeake Bay in Maryland, to the foothills of southern Missouri and to the shores of Lake Winnipeg in Manitoba, Canada, and also experience the natural resources profession first hand.
"When you go to the North American contest, you are there for an entire week and you have to take the exams and do an oral presentation at the end of the week, but the remainder of the week you are out in the field with conservation professionals, learning what they do, where they do it," Harden said. "They aren't just sitting down and telling you about it. They are getting you in the water or down in the soil pit or making you measure trees, etc. You are getting hands-on experience. Having a week of concentrated study and learning from real life professionals was absolutely transformative and that is when I started thinking about conservation as something I wanted to do the rest of my life, rather than something that was an interesting social experience."
The Clinton Central High School alum, however, decided to major in engineering once he enrolled at Purdue thanks to a visit with Dan Taylor, an advisor and recruiter in the Department of Agricultural and Biological Engineering.
"I chose ABE because of Dan's influence; it was a strong department and engineers make a whole lot more money than natural resources professionals," Harden said slyly. "I have an artistic and creative side, so engineering seemed to be a crossover between that and science, and I could still work on environmental problems and solutions. Well, it turns out I couldn't cut the math or the computer coding and I loathed sitting in front of a computer all the time. I would rather go out and apply what I know in the field."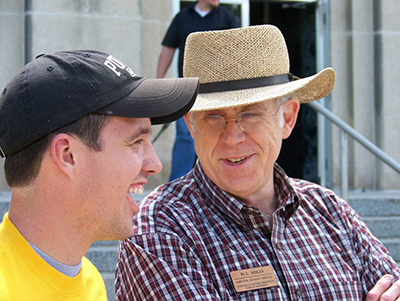 Taylor convinced Harden to try ag systems management, which is a more practical field, but would allow him to keep an environmental concentration. Harden quickly realized that he wanted to do something outdoors and was introduced to the Department of Forestry and Natural Resources through advisors Dr. W.L. Mills and Shelley Opperman, who prompted him to join FNR his sophomore year after matching Harden's passions with the department's curriculum.
"I got into the forestry major and I knew that was the best fit at the time, because there wasn't really an environmental/natural resources planning major," Harden remembers. "I knew Indiana had a fragmented landscape and I was going to need to understand the interactions between agricultural landscapes and forested landscapes if I wanted to practice conservation in this state. I added on a Natural Resource and Environmental Sciences minor, which was in the department of agronomy at the time, because I knew I still wanted that agricultural component."
Harden gained practical hands-on experience and valuable knowledge in forest management, GIS, tree physiology, mensuration and forest ecology courses from a who's who in FNR from Dr. W.L. Mills to professor emeritus Dr. Bill Hoover, (recent professor emeritus) Dr. Rick Meilan, and more.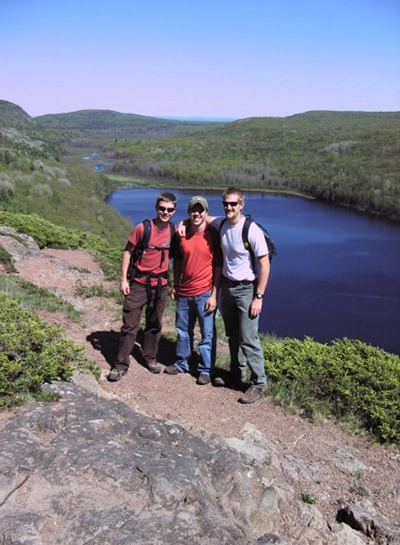 His experience at Summer Practicum in the Upper Peninsula of Michigan, however, was what sealed the deal that natural resources was where his career was headed.
"The five weeks in the U.P. absolutely cemented the fact that I was going to be in this field for my career, partially because it provides a lot of fellowship with your fellow students and faculty," Harden explained. "You are not distracted by everything going on campus, you're there and there is no getting away from it. There are classes and you have to do your work, but you work hard and play hard. It was absolutely a transformative experience for me, spending that time there and getting my hands on what I was actually going to do in my career, that applied science, was absolutely imperative to my FNR experience."
In addition to his involvement in his major courses, Harden found a home in the policy and social science realms.
"I was absolutely absorbed and passionate about the human component of all of this," Harden said. "Our capstone class with Dr. Linda Prokopy was a watershed management planning exercise which involved all majors and you had to put it all together. I also did undergraduate research with Dr. Prokopy and Dr. Shannon Amberg, around conservation practice adoption with farmers. That was an incredible experience, specifically because Dr. Prokopy is the elite in her field. We shared the same passions around the agricultural and conservation overlap. I also had a passion for policy along with the drive to be outdoors.
"Citizenship was a big thing in our family, so I have always had a passion for service. When you brought service, discovery in science and policy into the same equation, I was all in."
The desire to marry policy, agriculture and forestry led Harden to three summer internships with the United States Department of Agriculture National Resources Conservation Service as part of the Student Career Experience Program (SCEP) soil conservationist program. He spent one summer in Covington Indiana, one summer in Benton County and the third summer in Rensselaer.
"The program places students in a field office somewhere in the state for an entire summer, shadowing a district conservationist, while being given tasks to fulfill," Harden said. "You are not doing this side project, you are working with real farmers, doing real things. It was a great experience and led to my first career position."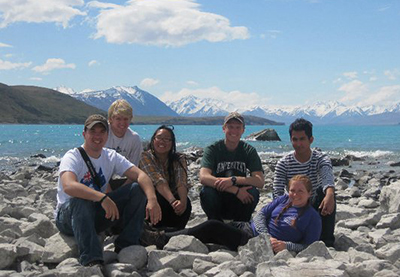 Before stepping into the real world, Harden had one more item to check off his college bucket list, a study abroad experience. After four years on campus, he had a few more credits to finish up because of his time in ABE, so he spent a semester on exchange at the University of Canterbury in Christchurch, New Zealand. In addition to taking courses in soil fertility, international politics and sustainable development, he was able to enjoy the natural landscape.
"I went all in and lived with a host family there," Harden shared. "I went to class for in-person course work four days a week and spent the three-day weekends out in the mountains, glaciers, and beaches of New Zealand. It is an incredible place, and if you are in any environmental or conservation field, there are not many better places to go to learn about those interactions."
While in New Zealand, Harden received a job offer from the NRCS as a soil conservationist in Salem, Indiana.
"My internships were very much the lead into getting a full-time position, so I moved to southern Indiana and worked as a soil conservationist for two years. I got to work with farmers and landowners all over Washington County, Harrison County and Jackson County, and really came to appreciate some of the administrative burdens that are associated with government programs. I was able to do some field work, but was also tasked with learning the managerial and administrative side and some of the government processes on the policy side, all of which were very good experiences."
While working for the NRCS, Harden maintained his drive to be civically involved and was encouraged by friends through work to get involved with Indiana Farm Bureau. Joining as a volunteer and sitting on the board for a year and a half, Harden was able to tap into the aspects of agriculture and policy that weren't always part of his daily work in soil conservation.
"I realized that I really enjoyed this other stuff that I was doing on the side," Harden said. "I had the opportunity to join Farm Bureau as a regional manager, which is essentially someone that works with the grassroots organization in counties within the state. I worked with folks in Perry, Crawford, Orange, Martin and Lawrence counties. That is a very forested, different kind of landscape, which was cool because it allowed me to again work with agriculture, but these people also had forestry operations associated with their farms, and they had livestock. That diversity provided a lot of challenges which I really enjoyed solving.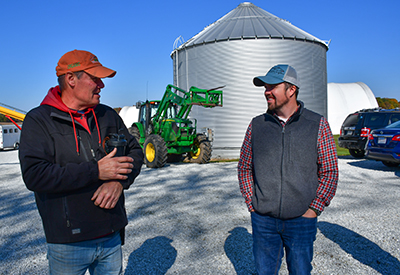 "This job also let me dive into the policy space, which had been an integral part of my college career. I was able to go to the state house and to Washington D.C. to advocate for things policy wise. While it is an agricultural organization, because of the setting, I was able to bring some of my environmental and conservation ideas into it."
Although he loved working to educate the public on agriculture issues and working with stakeholders to develop new initiatives and recruiting new members with Indiana Farm Bureau, his personal life had Harden looking for a career opportunity which would help him move geographically north toward Indianapolis, where his future wife worked as a registered nurse. As luck would have it, a colleague within Farm Bureau alerted Harden to a newly created education specialist position with the National FFA Organization, located in Indianapolis.
In that role, he developed an internal strategy for agricultural literacy and advocacy, facilitated educational workshops and provided experiential learning experience for the national student membership. After a year in the role, Harden and the FFA parted ways. Yet again, however, the timing was perfect for him to land a new role with The Nature Conservancy.
Harden had just completed the 26-month Agricultural Leadership Program (ALP) facilitated by AgrIInstitute. Mike Dunn, an ALP classmate who had just joined The Nature Conservancy a few months before, mentioned a job opening at TNC and told Harden he might be a good fit for the position.
In August 2016, Harden accepted his current role as Upper Wabash River Project Director for The Nature Conservancy. In the position, he works with landowners, farmers and watershed groups in the 32-county region of the Upper Basin of the Wabash River. He directs all science and field projects, develops new partnerships and initiatives, and collaborates with scientists from around the globe to develop sustainable solutions for complex environmental issues which interface with agriculture.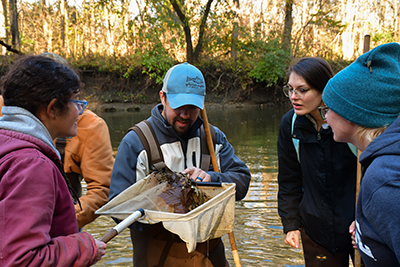 "I provide leadership and direction for TNC's work in the freshwater space for the region," Harden explains. "TNC is a science-based conservation organization through and through, but by the nature of what is in the Upper Wabash River Basin, I get to work with agriculture as well. I spend my day discovering solutions that are mutually beneficial to agriculture, the economic viability of the state and freshwater conservation.
"Having the chance to think about our land resources and how they affect our beautiful rivers and streams in Indiana really allows me to accept my position as a generalist. I have interests in all of these things and I love connecting the dots and putting them all together. I have a passion for bridging the gap and finding opportunities for forest landowners and agricultural folks to work together at a watershed scale. There's a lot of mutual space in the middle where we can work together for meaningful change and that is what my job is for."
Harden has not only made an impact professionally, but also through his involvement with the Purdue College of Agriculture Alumni Association. He has been a part of the Ag Alumni Association since 2011 and currently serves as Vice President. In fact, he was nominated for the FNR Outstanding Young Alumni Award in 2022 by one of his fellow board members, Mary Beth Adams, along with FNR department head Dr. Bob Wagner and his mentor, Dr. Linda Prokopy.
"To be nominated for this award means a lot and it means different things depending on the nominator," Harden said. "I've known Dr. Prokopy for almost 20 years. She was a major influence and mentor then and she still is now because she works in that same middle space that I work in. Dr. Wagner came into my life within the last five or six years, so to have him see my value and impact through new eyes means a lot because that shows that my current work and what we are doing at TNC is really important to the department and staying connected to campus really matters. Mary Beth Adams is an even more recent friendship through our work with the Ag Alumni Board. MaryBeth is a great part of that, so I am excited and honored that she saw merit in what I have done with that as well as what I am doing in my professional role."
In her nomination, Adams pointed to Harden as an example for others to follow in both his career endeavors and leadership characteristics.
"Throughout his varied endeavors, he has advocated for excellent, enlightened land management in the Hoosier state by working collaboratively with a variety of customers and audiences. Seth has consistently demonstrated his dedication to education and communication as a means of positively influencing land management," she said. "In short, Seth Harden has already contributed significantly to his profession and to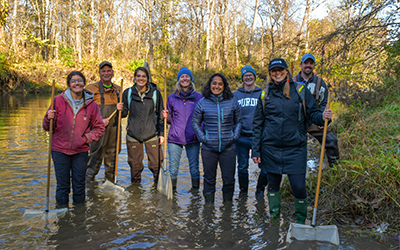 society as a whole through his conservation education and leadership efforts. He serves as a role model for many who admire his energy, his ethical approach to leadership and his dedication to scientific land management and conservation. He is likely to continue to advance in the profession and will continue to be an influential alumnus of Purdue Forestry and Natural Resources."
As Harden continues his career in science-based land management and conservation education, he looks to the Outstanding Young Alumni Award as a sign that he is on the right path.
"There are not a lot of accolades that are given out for people in the fields of conservation and forestry for the early part of your career, so for that reason, this award means a lot to me," Harden said. "It is a pretty exclusive group of individuals that receive this award. I just hope that I can continue to improve our world and invest my time meaningfully in forestry, natural resources and agriculture in Indiana for the rest of my career. Having this award just gives me confirmation that I am doing the right things in my life."