Students from Purdue Forestry and Natural Resources took their classroom knowledge to the field for summer internships and paid positions across the country, gaining valuable experience, hands-on training and career guidance. The FNR Field Reports series will offer updates from those individuals as summer positions and experiences draw to a close.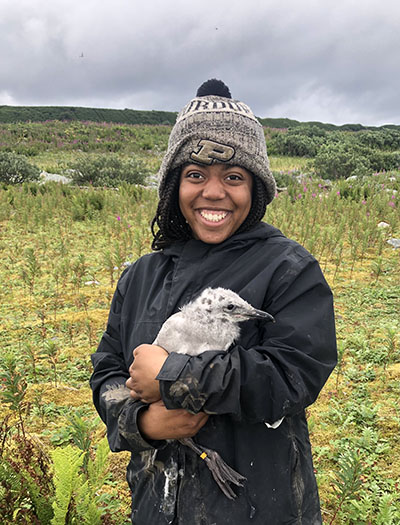 Sophomore wildlife major Gabby Dennis was a research assistant with research biologists on Middleton Island in Alaska, where she and her coworkers were responsible for feeding, banding and monitoring the various bird species on site.
Middleton Island, which is located in the Gulf of Alaska, is about 70 miles from mainland Alaska and was originally used as a radar station during the Cold War. Dennis spent more than 100 days on the island.
"One of the most important features of the island is the tower," Dennis explained. "Middleton's tower hosts hundreds of nesting setting for black-legged kittiwakes (BLKI's) and some areas where Pelagic Cormorants (PECO's) nest as well. My coworkers and I were in charge of monitoring them. We fed and banded black-legged kittiwake adults; measured and banded BLKI chicks; measured, weighed and banded rhinoceros auklets (RHAU), glaucous-winged gull (GWGU) and tufted puffin (TUPU) chicks; banded and handled pelagic cormorant chicks; measured and weighed BLKI and GWGU eggs; found TUPU and RHAU eggs and collected TUPU and RHAU diet samples."
The diversity of species gave Dennis a truly awe-inspiring experience.
"The amount of hands-on experience I had with a variety of birds absolutely blew my mind," she said. "Every day was unique and I felt like I was living in a National Geographic documentary. I liked how, on Middleton, you had the rare opportunity to witness the life journey of your study species from egg to fledgling. I really appreciate the amount of responsibility the crew leads gave the crew members, while also giving plentiful advice and guidance. I developed phenomenal friendships and I had some of the most thrilling experiences of my life."
The remote location also offered unique experiences for Dennis and her coworkers.
"There is no normal running water; we'd get our water from a freshwater stream and we'd filter it," Dennis shared. "We got most of our supplies from charter planes about once a month. Throughout my time there, I lived with seven to 13 other research biologists. The weather ranged from 25-65 degrees Fahrenheit and wings got up to 35-40 miles per hour at times. There was quite a bit of rain. Overall, though, it felt warmer than I expected and it stayed light outside for quite a bit. We would have "sunsets" at 1 a.m. and sunrises at 4 a.m., yet it always seemed light outside, particularly in June and July."
During her time in Middleton, Dennis learned a variety of skills ranging from how to take multiple measurements of different seabirds (i.e. head-bill, wing cord, culmen, and tarsus), how to efficiently and safely handle and band different seabirds and how to identify small Alaska fish, to various remote hiking and camping skills for colder climates and also information about general seabird biology, migration and breeding ecology.
Although Dennis, who is also part of the Purdue Honors College, had only completed one year in the FNR
program, she was able to utilize some of that knowledge in the field.
"Being a part of Dr. Barny Dunning's bird banding lab gave me a huge boost in animal handling experience," Dennis said. "Taking FNR125 (Environmental Science and Conservation) helped me gain a deeper understanding of environmental issues, which was important for my job."
Through her amazing experiences and challenges, the Toledo, Ohio, native said the internship confirmed her future plans.
"My favorite part of the job was banding the rhinoceros auklet chicks," she recalled. "The most challenging part was having summer days that were 30 degrees with 35 mph wind and rain. It was rough, but exhilarating at the same time. (This position) solidified that I definitely want to be a wildlife biologist and it helped me realize that I'd like to have a job with a decent fieldwork component. I truly couldn't see myself not being a wildlife biologist."