"We should always have a plan, but the key to a successful life and a successful career is a flexible mind." – Dave Case, 2023 FNR Lifetime Achievement Award honoree, BS Forestry 1980
Growing up Dave Case spent his childhood going outdoors and, by the time he was in high school, he knew that he wanted to do conservation as a career.   
"I was interested in everything to do with nature and the outdoors from an early age," Case said. "I was all about going outside in our neighborhood and at the two acres on a stream that my maternal grandparents owned on part of the Saint Joe River. By the time I was in fifth or sixth grade, I was watching Jim Fowler wrestle with alligators on Mutual of Omaha's Wild Kingdom. By high school, I had looked up in books in the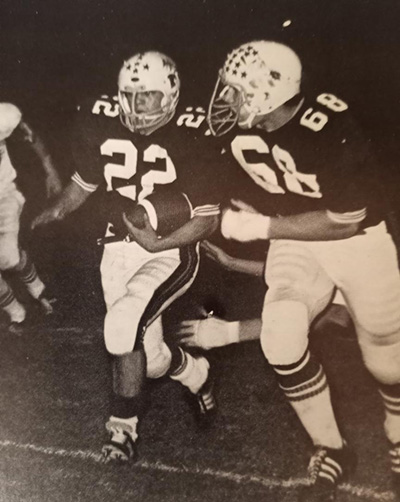 library and saw that you could be a conservation officer, a forester and different kinds of nature related things. My hope was to go to Purdue and get a football scholarship to pay for it."
As fate would have it, Case did not receive a football scholarship to Purdue as he planned, but he did earn one at the University of South Dakota, where he played for two seasons and studied in the school's biology program.
"It was not a wildlife or forestry program, but it was enough to really make me excited about delving into the whole conservation field," Case recalled. "I also realized that I wasn't smart enough to play football and get good grades both. At the time, jobs in the field were hard to come by, so I learned pretty quickly that I was probably going to need a master's degree and have work experience, so I decided after my sophomore year of football to give up my scholarship and transfer to Purdue."
By following in the footsteps of two uncles that were Purdue graduates, Case could be a part of the natural resources programs and career opportunities he had read about in books at a school that was well-known across the country.
"Durward Allen wasn't teaching any longer, but he was a legend who had published a book, Our Wildlife Legacy, and of course his connection with Isle Royale and the mystique of all of that was just cool," Case said. "Dr. Charles Kirkpatrick was there and Charlie Miller and Bill Hoover. There were just so many outstanding professors. There wasn't anybody that wasn't top notch. For me, Mickey Weeks was far and away the most influential professor followed by Fred Montague. The opportunities for field work, the quality of the professors and the quality of the students were all just fantastic and nothing but a wonderful experience."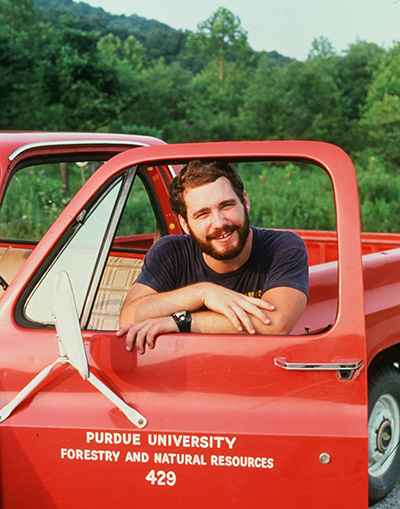 As a transfer student, Case already had completed many of his general requirements, but he was behind on his forestry and wildlife courses, so he jumped right in.
"I didn't have the responsibilities for football anymore, so I was just focused on the many opportunities at Purdue," Case shared. "I was taking 18 hours a semester and it was all forestry and wildlife. It was so cool, because a lot of those classes had labs and field trips. I couldn't believe my luck that all of a sudden, I was wearing jeans to class and we could go out and look at trees. I was only at Purdue for 21 months, but pretty much the rest of my career is based on those experiences, not just philosophically, but my career path was informed by those experiences."
One of those formative experiences came through a hands-on opportunity working at a deer check station with the Purdue student chapter of The Wildlife Society. Research on white-tailed deer and eastern phoebes with Weeks during the following summer provided another.
"I had never hunted deer before, but doing the deer check station, I immediately and literally got in the middle of things," Case explained. "That summer, I got a job working with Mickey on Crane (Naval Surface Warfare Center, Crane Division), helping graduate student Gary Wiles with a deer study. Mickey also had me banding and keeping track of nesting phoebes. In addition, I went to forestry camp that summer, so I would do camp during the week and then work weekends at Crane. It was a crazy time."
In addition to giving Case his first taste of field experience, Weeks acted as a personal and professional mentor.
"Mickey Weeks was a great role model, with his demeanor and his personality, but also, partly because he was really busy, he would let you do a lot of stuff and figure it out yourself," Case said. "He trusted us and there wasn't much handholding or control. He just let you do your thing, but was there as a mentor to provide advice, guidance and direction. That immediately paid off for me."
One piece of advice Weeks offered to Case was to start looking for graduate schools early. Beginning the fall of his senior year, Case began researching professors at various universities and the kinds of work that they did across the country.
"I ended up finding Dale McCullough at the University of Michigan, who studied the George Reserve deer herd and had actually written a book about it," Case recalled. "The cool thing was that he had a contract with the National Park Service to study the deer herd on North Manitou Island. He offered me the position because of all the experience I had working on deer at Crane. Within two weeks after my graduation in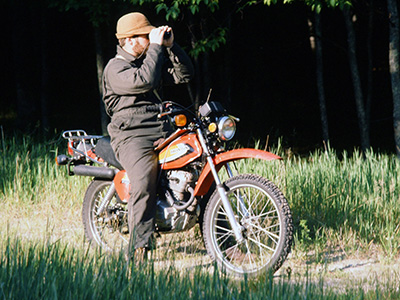 1980, I was there on the island. By then, McCullough had transferred to the University of California at Berkeley and wasn't even on the U of M campus, but I went right to the island and to work, because he trusted that I had enough experience in field work."
For his master's project, Case studied the impact of prolonged over-browsing by white-tailed deer on the forest ecosystem of North Manitou Island.
"There were four people on the island, including me," Case shared. "The W.R. Angel Foundation still technically owned it and maintained it as a hunting preserve but they let us come out and do the research. It was in the budget to buy a Honda 125 motorcycle and that is what I used for much of the research. I was a 21-year-old studying deer on this island basically by myself with a dirt bike as my transportation."
Case did vegetation surveys to document the impact on the habitat. He worked with staff from the National Park Service and Michigan Department of Natural Resources doing pellet counts, conducting deer searches and conducting autopsies on any mortalities. The research and news of a deer harvest on the island was covered by a Detroit television station and Case was thrust into the media spotlight.
"I cannot imagine why in the world they would let a graduate student do an interview on a Detroit television station, but the reporter was very gracious and it went fine," Case said. "After I graduated at the end of 1982, I couldn't even get interviews for volunteer positions because the job market was such a mess. But then, I got this interview in Kansas and they asked, 'Do you have any experience working with the media?' I said, I sure do. I milked that one television interview for everything it was worth and they hired me."
That one interview and the position as the information and education specialist for the Kansas Fish and Game Commission would change the course of Case's life and career. Interestingly enough, that position was not the one Case had originally applied for.
"We should always have a plan, but the key to a successful life and career is a flexible mind, having the flexibility to see opportunities and take whatever is dished out to you," Case said. "I interviewed for an urban wildlife biologist position and I was really excited about it, but I didn't get the job. When they called me back for the wildlife information specialist interview, I thought, this could be cool. It had never occurred to me to pursue that type of position, but I always enjoyed communicating and talking to people. It didn't take me long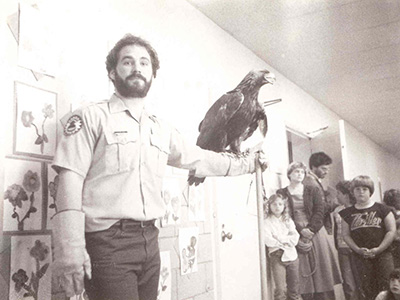 to be pretty excited about it. They gave me a state car and a state boat and said we want you to go to schools and to the Rotary Clubs, and to be on TV and the radio and talk about nature in Kansas and what the Kansas Fish and Game Commission is doing to conserve it."
Within a few weeks of accepting the position, Case was doing radio shows and television programs. At one point, he was a part of three weekly radio shows.  He also began producing a weekly television news segment for the local CBS television affiliate.
"People were interested in wildlife and I could come up with interesting stories for them," Case said. "I would get calls on a Saturday morning from a reporter asking if anything was going on that they could cover and I'd think of something like the migrating Canada Geese arriving in town. It worked like a charm. It was just a really great experience and there's no way I could have been any better prepared than the foundation and the bricks that were laid at Purdue."
Along the way, Case was building a portfolio as well as gaining experience with the ins and outs of the communications business. He got involved with the local chapter of the Public Relations Society of America and the International Association of Business Communicators and attended various educational conferences. He discovered that the public loved and cared about wildlife and natural resources, but often the professionals in the conservation field had difficulty translating the science into terms that they could understand.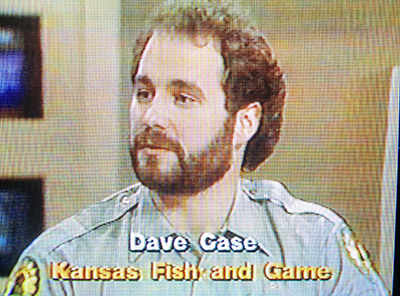 "I could read about stuff in a public relations textbook and go out and try it the next day because I was doing so many radio and TV shows," Case recalled. "I got immersed in all the communications activities and realized that there was a whole field out there about how to understand humans and how to communicate in a systematic way to persuade people or influence their behavior. I was putting some of that to work and I noticed that in the agency we weren't doing a very good job of doing that in a big picture way, and I thought I could do something about that. In your twenties, it only takes you a few months to figure you've learned everything there is to know about something. I was full of myself at the time and thought, I've been doing this for 36 months, I am an expert now, I am going to start a business. It was kind of foolish, but it turned out ok."
Case had visions of becoming a TV personality like American zoologist Marlin Perkins, host of Mutual of Omaha's Wild Kingdom, but Warner Bantz, a salesman at one of the radio stations he worked at, recommended starting a public relations firm that did conservation work, because it would allow Case to have more of an impact by employing other people.
Before he dove head first in to entrepreneurship, Case gave himself options. In March 1986, he went to the North American Wildlife and Natural Resources Conference in Reno, where he had a job interview scheduled with the National Wildlife Federation in Washington D.C.
"I was either going to take the position with the National Wildlife Federation or I was going to start DJ Case & Associates," Case recalled. "Needless to say, I didn't get the NWF job. In May, I left the agency and opened up an office. The concept of the company was to assist agencies and organizations in the conservation space on a consulting basis, to help them with communications planning, both strategically and through the implementation of communications efforts. Basically, we would do what a PR agency would do for you, except applied to conservation."
One of the first projects Case undertook was developing a strategic plan for the city of Wichita to help develop and implement an urban wildlife program. Another early project was with Quails Unlimited, for which Case would interview landowners in the Flint Hills of Kansas. Within a year, The Wildlife Society hired Case and Bantz to facilitate a national strategic plan for the organization.
In March 1987, Case met with Harvey Nelson of the U.S. Fish and Wildlife Service at the North American Wildlife and Natural Resources Conference in Quebec City, Quebec. Within a few weeks, he had secured a contract to help develop a communications plan for the North American Waterfowl Management Plan (NAWMP). With Case's help, the USFWS created a status report of communications efforts to date, identified roles for the USFWS, the states and flyway councils and non-governmental cooperators to play in external communications and recommended immediate actions.
In 1988, Case and Nelson's meeting led to another opportunity for the company to work with the USFWS in Alaska, this time evaluating an Information and Education Program developed for the Yukon-Kuskokwim Delta Goose management plan. The congressionally mandated plan, which aimed to restore four species of Arctic nesting geese, required evaluation of the information and education program through a literature review, public meetings and personal interviews in rural Alaska.
"I wasn't trained in human dimensions or social science, but I ended up traveling to Alaska four times over three months in the winter," Case recalled. "It was a fascinating project. The USFWS wanted an outside evaluator because of the sensitivities and the conflicts between some of the players. I was a non-native white person, coming into these small villages of Yu'pik people. It was a big learning curve for me and taught me the value of knowing and understanding your target audience at a deep level."
Case found himself interacting with locals in a very different environment in the Florida Keys for another project. The USFWS was aiming to convince residents and visitors to the Key Deer National Wildlife Refuge not to illegally feed the endangered deer. Case did an assessment of education and information efforts and developed recommendations.
"You have to immerse yourself in the community and learn about what is going on," Case shared. "I had to learn to see it from a visitor or tourist's standpoint, but also that of the residents. People that live there love to see the key deer and care about the deer, so they were feeding them in their backyards. The big concern was exposing the deer to disease."
Amidst the projects piling up on his desk, Case made his way to the Midwest Fish and Wildlife Conference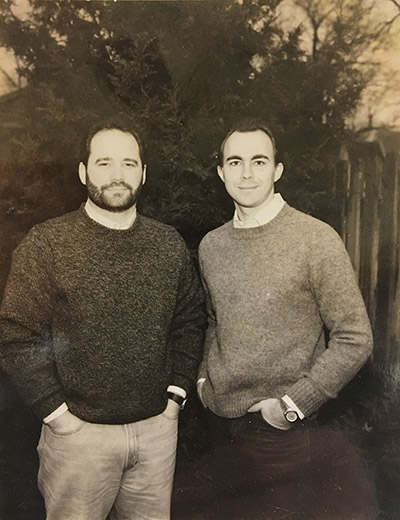 in Columbus, Ohio, in December 1988. There, another life-changing connection was made as Weeks, Case's mentor at Purdue, introduced him to another FNR alumnus, Phil Seng (Forestry 1986).
"In 1990 Dave took another big step—he decided to hire staff, which is to say, he decided to hire me." Seng said in presenting Case with the 2023 Purdue FNR Lifetime Achievement Award on Sept. 8. "Being six years behind Dave, our paths never crossed here at Purdue. Dr. Weeks made a big impression on both Dave and me in our years here, and if not for him, I certainly wouldn't be standing here today.  Thanks again, Mickey, for helping the lightning strike. I still had a year to go in my master's program, but I was highly interested in what Dave was doing, and when I graduated, Dave agreed to take a chance on a greenhorn. That was 33 years ago, and I'm proud to say that the job Dave gave me is the only job I've ever had, and the only thing I can imagine myself doing.
"43 years ago Dave learned the conservation trade in these hallowed halls, and then went on to leverage that Purdue spirit into monumental impact on natural resources conservation across the continent. It is so fitting that his path comes full circle here today, and I am so honored to be the one to introduce Dave Case as winner of Purdue's 2023 Forestry and Natural Resources Lifetime Achievement Award."
Seng was initially hired as an intern and then promoted to become the company's first full time employee and later its first vice president. Seng, along with vice president Jon Marshall, is now co-owner of DJ Case & Associates after the pair purchased the company in 2021. Case is now their part-time employee. All told, DJ Case & Associates now boasts 20 employees across five states. Half of the company's employees are biologists who have learned communications on the job and half are professional communicators who have an interest in conservation.
Case's conservation work has spanned the continent. From wolves to rattlesnakes, and from prescribed fire to fur hunting/trapping and overabundant/nuisance species, the work has found Case and his colleagues in the midst of controversial topics and bringing diverse groups together.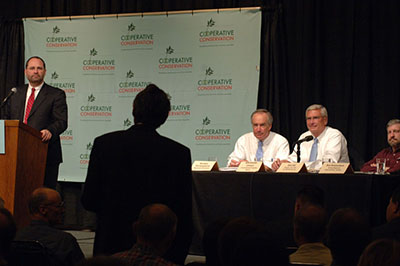 "The place where you have the most potential impact is at the spear point where the tough decisions are being made or people are being persuaded, or not, by how effective you are," Case said. "At DJ Case & Associates, we've been fortunate to be involved in projects that have some aspect like that, where clients need extra help or they have a challenge or opportunity that is more than they can handle. I would never have been in those positions if it weren't for the building blocks that were laid at Purdue and the confidence and training I had in forestry and wildlife. There was a lot to learn about ecology and biology and all of the technical things to be a forester or a wildlife biologist, but there was always this underlying emphasis on communication, especially with Mickey, even if he didn't actually call it that."
Weeks saw something in Case during his time at Purdue and has watched that evolve into a storied and impactful career.
"Dave was only at Purdue for about 1.5 years, but, in that time, he caught my attention as a capable and bright student as well as a "people-person," Weeks said. "I hired him without hesitation as a field technician for my graduate student and he performed outstanding in the deer project and also in my ancillary assignments on my long-term phoebe study. His realization of the importance of communication in the wildlife/natural resources field (and the lack of existing resources) ultimately led to the creation of DJ Case & Associates. It has evolved into THE natural resources communication company in the nation. Also important in the process was my introduction of Phil Seng, which resulted in the start of a mutually beneficial relationship, both for each of them and to wise natural resource management in the U.S. and worldwide."
Case was a charter member of the Human Dimensions in Wildlife Study Group, which was founded in 1981 by Dr. Stephen Kellert and others. In 2017, DJ Case & Associates collaborated with Kellert on "The Nature of Americans - a national initiative to understand and connect Americans and nature." The project included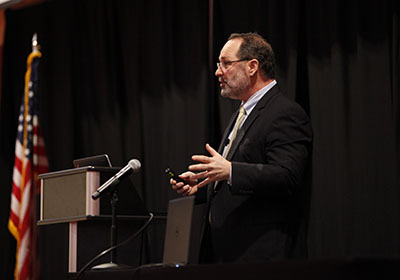 focus groups in five states, an online survey of more than 10,000 adults, webcam interviews with nearly 800 children ages 8-12 and an online survey of their parents. The results, which were provided to conservation agencies and organizations throughout the country, offer insights into topics such as interest in recreational activities, the value of nature and barriers to connecting with nature.
Digging into public opinion is a hallmark of DJ Case & Associates projects. The team has worked on information and education plans on the recovery of the once endangered Kirtland's Warbler and for the reintroduction of Mexican wolves in Arizona and New Mexico, compiled data from more than 36,000 public comments from national cooperative conservation listening sessions and facilitated more than 50 public meetings in the development of a comprehensive communications strategy for the U.S. Fish and Wildlife Service regarding the overabundance of snow geese, double-crested cormorants and resident Canada geese, just to name a few.  Today, DJ Case & Associates has five staff with advanced degrees in human dimensions and social science.
"Dave cultivated a habitat in which wildlife managers and biologists have come to understand the importance of communication and public engagement to their work," Jon Marshall, vice president of DJ Case & Associates, said. "He has developed practices and tools to support the work of scientists and public natural resource managers. Dave recognized early that the protection and conservation of wild resources is dependent on how much people value it and how they want to utilize it. Deeply understanding human motivation and behavior – individually and collectively – is what Dave has brought people together to do."
"Dave has managed DJ Case & Associates with a steward spirit. The successes have not been 'his.' The successes have been 'ours.' He has brought smart, creative, and talented people together in pursuit of his conservation-through-communication mission. By just about any measure, I would say, 'mission accomplished.'''
Stemming back to his days as the William A. Rafferty Award honoree at Purdue in 1980, Case's work and
commitment, as well as that of DJ Case & Associates employees collectively, has been honored by numerous organizations for long-term impacts as well as individual projects, videos and programs. In 1994, Case received the U.S. Forest Service's Eastern Region Honor Award for his work on Kirtland's Warbler information and education programs. In 1996, DJ Case & Associates was named as the Indiana Wildlife Federation's Conservation Organization of the Year. In 2009, the company received the Ducks Unlimited Conservation Achievement Award. Most recently, in 2017, the U.S. Fish and Wildlife Service and Canadian Wildlife Service honored DJ Case & Associates with the International Canvasback Award for its more than 30 years of active engagement in waterfowl conservation throughout North America.
"Dave has had a significant impact on fish and wildlife conservation throughout North America," Seng said. "Dave has consistently pushed himself and his staff to achieve excellence. Dave's career has directly impacted countless fish and wildlife species through the projects he has worked on, but, perhaps even more importantly, he has impacted the very practice of fish and wildlife management itself. His legacy will be felt in conservation circles long after all of us are gone."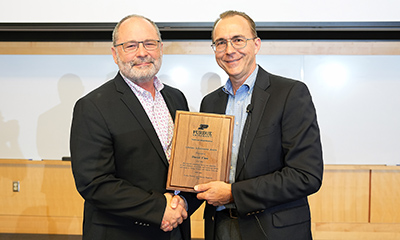 Despite the many accolades that have come his way and the legacy he has built through DJ Case & Associates, Case is quick to deflect the attention to others.
"The building blocks for everything we have done, the 20 people at DJ Case & Associates that are totally focused on conservation projects across the country, and the legacy I have of this machine humming along doing conservation work, are from Purdue," Case reminisced. "The company wouldn't exist if it hadn't been for what I got from Purdue, from Mickey and the other professors, and the opportunities that it presented. It all stems from that. To be recognized, relative to all of the other great people that have gone through Purdue including my classmates when I was there, is an honor. It is the pinnacle to be recognized by your peers and by your alma mater."